MAGLPRolston
From MasonicGenealogy
PAUL WILLIAM ROLSTON
Senior Grand Warden, 1992
BIOGRAPHY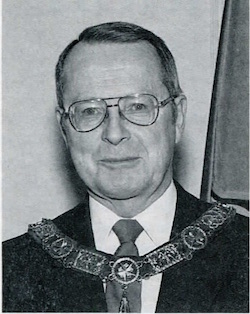 From TROWEL, Spring 1992, Page 5:
The youngest of four children born to Glenn E. and Leta C. Rolston, Paul W. Rolston was educated in the Rome. NY schools until 1950 when he attended Mercersburg Acadmey (PA) and was graduated third in his class in 1952. He was a member of the varsity swimming team there and at Yale University where he graduated in 1956 with a Bachelor of Engineering in Metallurgical Engineering. Following a few months employment with Kaiser Aluminum Co. in Spokane, he was drafted into the U.S. Army in December. Following basic training at Fort Dix. he was sent to the Watertown (MA) Arsenal. Like the man who came to dinner. Paul Rolston came to stay at what is now called the U.S. Army Materials Technology Laboratory.
Our Senior Grand Warden has held varied administrative roles at the arsenal. The mission of his branch is to conduct the materials technology laboratory's long range technology planning and short range program based on technological forecasts and assessments of the Army's needs and to promote and negotiate technology transfer efforts as a liaison to all Army and other Department of Defense echelons and commands.
Raised in Belmont Lodge in 1962. Paul W. Rolston was Master in 1969-70. He was the Senior Grand Steward in 1971. and District Deputy of the Brighton Fifth in 1972-73, serving the same years as Master of the 34th Lodge of Instruction. He holds membership in The Masters Lodge. Newton.
An Eagle Scout while living in Rome. Paul is active in the Belmont Youth Soccer program as a coach and referee. His wife, the former Jean Howell, has been the director of the Belmont School of Ballet for 20 years, teaching classical ballet, and a certified instructor of the Royal Academy of Dancing. London. England. Paul is the business manager for the school. They are parents of Leta Mabel and Paul Howell Rolston. and are members of the Grace Chapel. Lexington.
Paul is active in all York Rite Bodies, serving as High Priest in two Royal Arch Chapters and as Grand Royal Arch Captain. Grand Scribe and Grand Lecturer. He was Knighted in DeMolay Commandery No. 7 where he was Commander 1972-73 and is a member of St. Bernard Commandery No. 12. Boston. A member of the Valley of Boston. Scottish Rite, he was Most Wise Master of Mt. Olivet Chapter. Rose Croix, 1984-87. He was created a 33rd degree Mason in 1987.
---