MAGLPLPerkins
From MasonicGenealogy
PAUL L. PERKINS 1891-1974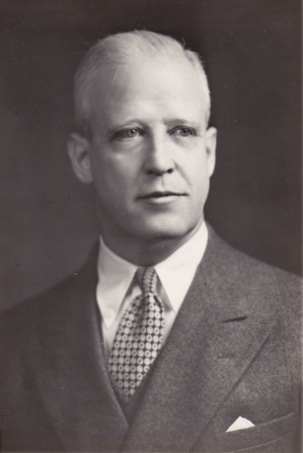 Junior Grand Warden, 1947
Deputy Grand Master, 1958
MEMORIAL
From Proceedings, Page 1974-113:
Paul Livingston Perkins was born on July 27, 1891 to Martin Van Buren Perkins and Ada Virginia Perkins of Lowell, Massachusetts. A life long resident of Lowell, he received his early education in the Lowell Public Schools. He graduated from Lowell High with the Class of 1910. The next four years he attended Dartmouth College and received his B.A. in 1914.
In his early professional career he was Principal of the Green School. Later, Brother Perkins became involved in real estate, stock brokerage and banking. At the close of World War II, he was the Manager of the Sub-Regional Office of the Veterans Administration.
Right Worshipful Brother Perkins was raised in William North Lodge on June 9, 1915. He served as Worshipful Master during 1927-1929. While he was Master, he emphasized interesting meetings, special events, and attention to the sick and unfortunate. The William North Bowling League owes its existence to Right Worshipiul Perkins' bowling parties. At the celebration of William North Lodge's 75th anniversary, Brother Perkins was historian; and while acting as Worshipful Master, raised his only son, Parker W. Perkins, to the Sublime Degree of Master Mason.
Right Worshipful Brother Perkins was not only an active and enthusiastic member of William North Lodge, but also of the Grand Lodge. He rvas Junior Grand Deacon in 1938 and District Deputy Grand Master of the Lowell 12th Masonic District in 1939-1940. ln 1947, he became Junior Grand Warden and was voted an Honorary Member of Mount Holyoke Lodge. It was in this year he also received the Henry Price Medal. From 1948 to his death this year, Brother Perkins served as the Grand Lodge Representative for Bolivia. He was Deputy Grand Master in 1958; in 1965, after 50 years of honorable and distinguished service to Masonry, he received the Veteran's Medal.
Brother Perkins served his country in World Wars I and II. He was an active member in community aftairs and the Christ Church United in Lowell.
Right Worshipful Paul L. Perkins is survived by his wife, Mary; his son, Parker, and three grand children. Paul Perkins was a true Christian gentleman, ever practicing the Masonic teachings of brotherly love and affection. This led to his high sense of duty and faithfulness to his family and friends. He was happiest when doing something to help someone else.
Thus, it was in harmony with Paul's philosophy of life that his last ten years of semi-retiremeot were devoted to making the life of his invalid wife, Mary, as comfortable and happy as possible.
"He has laid down the working tools and is now
at home in the beautiful hands of God.
By the valley of rest, so fair
Some day, some time, when our task is done
With joy we will meet him there."
Fraternally submitted,
Luther H. Cushing,
Andrew G. Jenkins,
Roland E. Mosley,
Ernest Shepherd,
Committee
SPEECHES
FEAST OF ST. JOHN, DECEMBER 1957
From Proceedings, Page 1957-269:
Most Worshipful Grand Master, Distinguished Guests and my Brethren:
The emotional effects of the beautiful and impressive ceremony of this afternoon, my acquaintance with many of the experts who have held the position of Deputy Grand Master, and my own inherent nature have induced in me that state of meekness and humility so ardently endorsed by the Holy Scriptures. To cultivate these qualities and to remember that the trappings of office must not blind the incumbent to his continuing duty to walk and act humbly will be my constant purpose.
Since today has something, inherent within it, of yesterday and of tomorrow, we enjoy the creative accomplishments of the many generations of able, high-principled men who have founded, perfected and bequeathed this great Fraternity for us, and the exacting obligation to prevent the loss of even the smallest bit of its value, as we transmit it to our successors. The search for truth and freedom has not ended, nor can we relax our vigilance.
Even in a world where changes of vast import are occurring with a rapidity formerly unknown, the gains that make for progress in human relations are won only over periods of time. We must not lose sight of the needs of mankind in the enjoyment of the blessings we possess.
To you, Most Worshipful Sir, I pledge my best efforts. Thank you for the confidence in me your appointment indicates and I assure you of my resolve to merit your approval when the term expires.
---