MAGLNKimball
From MasonicGenealogy
NATHAN S. KIMBALL 1820-1893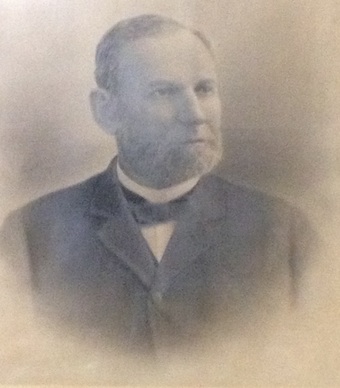 Junior Grand Warden, 1881
MEMORIAL
From Proceedings, Page 1893-38:
Nathan Swett Kimball was born in Haverhill, Mass., October 7, 1820. He received his education in the public schools of his native town, and after serving a regular apprenticeship at the currying trade, formed a copartnership and carried on the business of currying, under the firm name of Morrill & Kimball, for many years. When the readjustment of the shoe and leather industry, after the war, made the currying business in Haverhill unprofitable, lie connected himself with. a. leather house in Boston, with which he remained until his death.
He took an active interest in the affairs of the,,town, and frequently presided over the deliberations of its citizens in Town meetings. He served on the Board of Selectmen during the years 1858 to 1862 inclusive, and again from 1865 to 1869 inclusive, all, or nearly all, the time as Chairman of the Board. As his service extended over most of the years of the civil war, upon him devolved the duty of providing the Town's quota of men, and it is said that the duty was well and faithfully performed.
He represented the Town in the Legislature during the years 1858 and 1859, and was again at the head of the Town government in the years previous to its incorporation as a City. He was instrumental in securing the necessary legislation for the incorporation of the City and finally turning the Town over to the new form of government. In 1878 and 1879 he was honored by the City with an election as Mayor, in which office he served with ability and success. He was elected State Senator from the third Essex District for the years 1881 and 1883, and with the usual result of receiving the encomiums of his colleagues and the approval of his constituents.
He was at the time of his death a Trustee of the Public Library and the City Hospital and took an active interest in the success of both. He had lived to see his native Town grow from a sparsely settled village of no more than two thousand inhabitants, to a populous and thriving City of nearly forty thousand. He had contributed, by his wise counsels and personal efforts, his full share in laying its foundations and building it up to its present state, and was justly entitled to the position he enjoyed of one of its first and-most respected citizens. He was married in August, 1844, and from this union there resulted three daughters, only one of whom survives him. His wife died in 1864, and he again married in 1879. His second wife died in November, 1892, leaving no children. In his family relations he was all that a husband and father should be: constant in his love and devotion to wife and children in health; and in sickness and death showing by his untiring devotion the same characteristic tenacity of purpose which actuated him in his business and social affairs. The loss of wife and children, and the constant and untiring care during the latter months of his life tended greatly, it is believed, to break down his rugged constitution and hasten his death.
His religion conformed to the true Masonic standard — as broad as between East and West, as from North to South. An oft-repeated saying of his was, 'Salvation's free.' He attended regularly the Old North (Congregational) Church and may have subscribed to this faith, but it is probably true that, so far as creeds were concerned, he was equally in accord with other denominations with which some of his dearest friends were connected.
His Masonic career commenced later in life than is usual in most cases and particularly in those who receive so marked tokens of Masonic approbation. He was raised to the sublime degree in Saggahew Lodge, March 20, 1865, was immediately honored with official position, and elected Worshipful Master in 1868, 1869 and 1870. He was appointed District Deputy Grand Master of the old Sixth District, by Most Worshipful Brother Welch, in December, 1879, and in December, 1880, was elected Junior Grand Warden of this Grand Lodge. He was admitted to Capitular Masonry in Pentucket Chapter, Nov. 30, 1866, and received the Degrees in Haverhill Council of Royal and Select Masters, March 15, 1867. He was created a Sir Knight in Haverhill Commandery of Knights Templars, May 29, 1868, and was elected Eminent Commander in 1874, 1875.and 1876, and again in 1880 and 1881. He served in various offices in the Grand Commandery, and in October, 1892, was elected to that of Very Eminent Deputy Grand Commander, which position he held when he died.
As a Mason he was true and sincere, and our principles and tenets found in him an earnest and enthusiastic adherent. He was ever ready to serve his Lodge in any capacity, and by his practice and example he helped to maintain its high reputation and extend its benign influence, thus securing the respect and good will of those who were strangers to our mysteries. He died April 1, 1893, aged 72 years 5 months and 23 days, and was buried in the old Cemetery within the limits of the City he loved and whose interests he had served so well.
Thus endeth the record. It is sufficient to gratify the desires of any one, as a testimonial of the character and abilities of the man, and the recognition' of his deserts by his fellow-citizens and Brother Masons. For those who knew him it would be needless to add words. but for the benefit of those inquiring minds who are to follow, be it said, that our Brother was truly a man among men, and his sterling qualities and general 'man by characteristics needed only to be known to be appreciated. Taciturn and reserved he was, but not morose, and the quiet and oftentimes secret approbation of a measure or a man entirely misled his friends as to where he stood or what he thought. He was none the less true, good and honest, and appeared to act upon the belief that he should not let his left hand know what his right hand did. If it was in his power to aid or benefit a friend the chances were that his friend would never know that he had quietly, and with no flourish of trumpets, performed some service or spoken a kindly word in the proper place, resulting, no one knew how, in the success of some cherished plan. That he was not outspoken oftentimes misled his contemporaries as to his position on interesting matters, but that after a thorough and careful consideration of the matter he assumed, a position which he thought was right was well known to those who knew him best.
His genial and pleasant disposition will be best appreciated by his friends who can remember his quiet laugh, no more at their expense than at his own. When making an official visit with his suite his dignity and reserve apparently demanded that he be entertained in a manner befitting a teetotaler or a member of the cloth; the chagrin of his suite or his entertainers upon the discovery of the facts was no less a subject of mirth than a good stoiy or a twice-told tale; that he may have had some of the faults, which humanity is heir to no one desires to or will deny, but that he had well-recognized virtues far outnumbering them is amply proven. 'It were enough to say of any man, as it can be truly said of him: He was a good citizen, kind parent, stanch friend and an honest man. Peace to his ashes, and may the inspiration of his example be a constant encouragement to those who come after him!
"Dust to dust — it's true 'tis written
Of bodies only — not the soul.
And names from life may still be stricken,
But 'tis one more added to honor's roll."

Respectfully submitted,
DANA J. FLANDERS
Committee.
---