MAGLNGaylord
From MasonicGenealogy
NOAH GAYLORD 1823-1873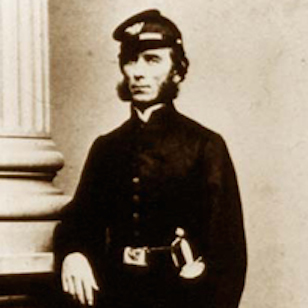 From the 13th Massachusetts web site
MM 1844, Washington #17, Hamilton, Ohio
Affiliated 1865, Mount Lebanon
Grand Chaplain 1857
BIOGRAPHY
From Proceedings, Page 1873-365:
REV. NOAH MURRAY GAYLORD, BOSTON, Universalist. 1857.
The subjoined outline of the life of Mr. Gaylord is contributed by his brother-in-law, General F. Van Deveer, of Hamilton, Ohio.
"NOAH MURRAY GAYLORD was born at Montgomery, in Hamilton County, Ohio, on the 20th day of January, 1823. He was educated at the Methodist College in Lebanon, Illinois; and, at the age of 17, he began to preach the doctrine of Universalism. His first sermon was preached at the village of Delhi, near Cincinnati. His preceptors in theology were the Revs. John A. Gurley and Chas. Pingree. Afterwards he preached at Rising Sun, Indiana, and then at Hamilton, Ohio. While at the latter place he studied law, and was admitted to practice in the State of Ohio. However, he only spent a few years at the bar, and then went back to the ministry.

"I have examined the records of Washington Lodge of Free and Accepted Masons, of Hamilton, and find that he was 'initiated' on the 12th day of Feb., 1844; was 'passed' on the 19th of the same month, and was on the same day 'raised.' The Chapter Degrees were conferred upon him at Memphis, Tenn., where he went to preach in the latter part of 1844. The dates I have been unable to learn.

"He married Susan, daughter of Col. Wm. B. Van Hook, in 1844, at this place. His ministry at Memphis lasted about two years. Thence he removed to Lowell, Mass., where he had charge of a parish for several years. Thence to Columbus, Ohio, where he preached for some time, and afterwards settled in Boston, Mass. He was Chaplain of the 13th Reg. Mass. Vols. A history of his labors in the field may be better learned of his old comrades in Boston. After the war his voice and throat became affected, and he was compelled to stop public speaking.

"At one time Mr. Gaylord was a member of the Massachusetts Legislature, and I believe, at one time, its Chaplain. But these things I only mention so that your attention may be directed to them.

"He was a fair French scholar, and, I understand, translated several works from that language. After the failure of his voice he accepted a position as Deputy Collector of Customs at New York, where he remained until about six months before his death. His death, from bronchial and pulmonary consumption, took place here on the 26th day of March, 1873. His old Lodge buried him with Masonic honors on the 28th. He had suffered greatly from his diseases for more than a year previous to his death.

He was buried in Greenwood Cemetery, Hamilton.

"In the practice of the law he was remarkably forcible as a jury lawyer; very fluent and effective as a speaker. At various times he was persuaded to take the political stump; and, as a politician, was very popular."
Noah Murray Gaylord, formerly a Universalist minister of considerable prominence in Brooklyn, New York, and Boston, and once pastor of the Mound-street Congregation in Cincinnati, died at the residence of his brother-in-law, General Vandeveer, in the First Ward, Wednesday afternoon, of tubercular consumption, after a short illness. Until quite recently he had been an attache of the New York Custom House, for the past four years, having given up the profession of preaching.
He came West when his health began to fail, and was stopping with his brother-in-law when he was fatally attacked with his disease. The deceased was fifty years old, and was one of the most powerful pulpit orators and eloquent speakers in the country. His funeral will take place to-day at 2 P.M. The deceased was a Mason and Knight Templar in high standing, and his death will be greatly regretted by his many friends and acquaintances.
— Ohio newspaper.
Rev. Noah M. Gaylord died in Hamilton, on Wednesday afternoon, at the residence of Gen. Vanderveer, at the age of 50. He was educated in Monroe, Butler County, and commenced preaching Universalist doctrines on the steps of the Hamilton Court House, when about seventeen years of age, attracting considerable attention by the fluency and force of his oratory. He afterwards studied and practised law in Hamilton, and edited the Democratic paper of the county. He removed to Massachusetts, where, after preaching in Lowell and Boston, on the outbreak of the war, he went to the field as Chaplain of the 9th [13th] Massachusetts Infantry, and remained to the close, performing excellent work, and winning universal commendation. He afterwards represented one of the Boston districts in the Massachusetts Legislature, and for a short time practised law in Boston. His health failing, he retired from both professions, and accepted a clerkship in the New York Custom House, where he remained until so weakened by consumption as to be compelled to desist work of all kinds, when he returned to his friends in Hamilton to die. In the course of his ministry he officiated respectively at Hamilton, Cincinnati, Memphis, Columbus, Lowell, and Boston. He married a daughter of William B. Van Hook, Esq., of Butler County, and was connected thereby with Gen. Vandeveer and Thomas Milliken, Esq. He leaves a son and daughter, Mr. Thomas Gaylord, who has achieved some reputation as a painter, and Miss Julia Gaylord, who is growing in popularity as a singer. Mr. Gaylord was known as a man of warm, generous, and noble impulses, cultured, and so well informed upon all subjects as to be ready at any moment to deliver a stirring off hand speech. His generosity prevented him from ever saving money, and when he died was worth but little more in worldly goods than when he entered upon his public career in Hamilton.
— Ohio paper.
BOSTON, April 12, 1373.
MRS. M. H. GAYLORD : —
MY DEAR MADAM, — The members of the 13th Mass. Regt. have learned, with great sorrow, the death of Mr. Gaylord. There has been no time or opportunity, nor have they desired it, to clothe in any elaborate forms of rhetoric the sentiment with which this event has filled their hearts.
In conformity with the promptings of my heart, I offer to you my sincere and heartfelt sympathies in this season of your deep sorrow and affliction; and in so doing I but echo the feelings of the 13th Regiment. While his departure casts a gloom over the hearts of his friends, this bereavement has a deeper poignancy of grief to us who participated with him in those closer relations growing out of our service together during the rebellion, and to me, in our associate capacity, the feeling is very much enhanced as the recipient from him of many kindly words.
"For none that knew him need be told,
A warmer heart death ne'er made cold."
May his words live in our hearts, and may we honor his memory, and show our gratitude for his services by taking heed to his words.
I am, with great respect, your obedient servant,
CHAS. E. DAVIS, JR.,
Sec'y 13th Regt. Association.
Brother Gaylord was Chaplain of the House of Representatives of Massachusetts in 1866; and a member of that body in 1867 and 1868. He was Chaplain of the Campbell Hospital in Washington after he retired from the field.
He was assistant pastor of the First Universalist Church in Boston in 1855, and sustained that relation there during several years. Brother Alfred F. Chapman thus refers to him: "Rev. Noah Murray Gaylord was proposed for membership in St. Andrew's R.A. Chapter by Companion Robert Keith, and was admitted to membership, March 7, 1855. At the same Convocation he was proposed for honorary membership by our venerable Companion, Thomas Waterman, himself then recently made an honorary member, and was elected on the 4th of April following. He at once commenced to render service to the Chapter by officiating as Chaplain; and in October following, at the Annual Convocation, was regularly appointed to that office, which he held until 1862; discharging its duties as regularly as could be expected, and in a humane and Christian manner."
Brother William Ellison states that, "Noah Murray Gaylord was admitted a member of Boston Commandery, by demit, on the 21st of February, 1855; and withdrew his membership previous to his death." Brother Ellison states also, that when Brother Gaylord was Chaplain of Campbell Hospital, "He improvised theatrical exhibitions, and lectures by eminent lecturers, to amuse and instruct the sick soldiers, was the means of procuring quite a large library for the hospital, and was much beloved."
The writer is happy to be able to add his testimony to that of Brother Ellison as to the constant and untiring efforts of Brother Gaylord to infuse cheerfulness among the patients of the hospital. He had the gratification to witness, personally, the means employed to assuage the confinement consequent upon sickness and the disasters of battle.
---
13th Massachusetts Volunteers Site