MAGLNGay
From MasonicGenealogy
NORMAN M. GAY 1899-1985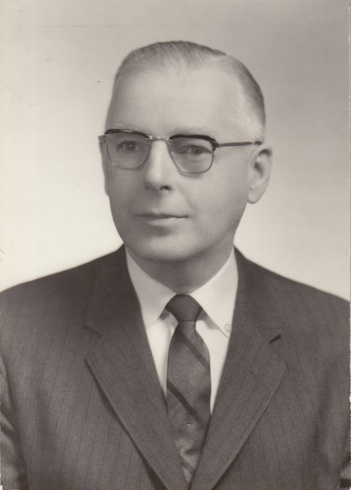 Senior Grand Deacon, 1940
Deputy Grand Master, 1965
MEMORIAL
From Proceedings, Page 1985-89:
Our Brother Norman Meade Gay was born in Belmont, Massachusetts on November 18, 1899, the son of Elizabeth (Stafford) and Walter Scott Gay. He received his education in the public schools of Waltham, Massachusetts and furthered his studies at Boston University, graduating with a B.B.A. Degree in 1926. For six years he was a securities salesman with the Goldman Sachs Company. In 1931 he was associated with Boston University as Director of the Book Stores, serving for thirty-four years and retiring in 1965. He was a past President of the National Association of College Stores. He was a corporator of the Charlestown Savings Bank and a long-time member of the Carter Memorial United Methodist Church of Needham.
Right Worshipful Brother Gay entered Masonry in Wayfarers Lodge, A.F. & A.M. of Swampscott, Massachusetts on September 6, 1923: passed October 4 and raised November 1, 1923. He was a Charter Member of Boston University Lodge, A.F. & A.M., on October 14, 1926, serving as Worshipful Master in 1931 and as Lodge Secretary from 1932 to 1947.
Right Worshipful Brother Gay served as Senior Grand Deacon in 1940, and as District Deputy Grand Master for the Boston 2nd Masonic District in 1942 and 1943. He received the Joseph Warren Medal for Distinguished Service in 1947, served as Grand Representative of the Grand Lodge of Iceland near the Grand Lodge of Massachusetts from 1953 to 1984, and served as Deputy Grand Master of our Grand Lodge in 1965, in which year he received the Henry Price Medal. He was a member of the Records Committee, 1966 to 1983, and in 1973 received his 50 Year Veterans Medal.
In York Rite, Brother Gay joined Saint Andrew's Royal Arch Chapter of Boston on March 17, 1928 and became High Priest in 1943, Grand Captain of the Host in Grand Chapter 1949 to 1951, and Grand King in 1952 as well as Grand Representative from the Grand chapter of Virginia from 1951 to 1984. He received the order of the Temple in DeMolay Commandery No. 7 in Boston and the Super Excellent Degree in Boston Council, Royal and Select Masters in 1959.
In Scottish Rite Brother Gay received his degrees in the Valley of Boston in 1945. He served as Most Wise Master of Mount Olivet Chapter of Rose Croix from 1960 to 1963 and as Treasurer for the Valley of Boston from 1962 to 1981. He was created a Sovereign Grand Inspector General, 33rd Degree, Honorary Member of the Supreme council at Philadelphia, Pennsylvania in September 1962 and served as Grand Seneschal of the Supreme Council from 1965 to 1979.
Brother Gay also held membership in Aleppo Temple, A.A.O.N.M.S., the Order of High Priesthood, the Red cross of constantine and societas Rosicruciana in Civitatibus Foederatis.
Right Worshipful Brother Gay was married to Gladys Evelyn Wood on September 14, 1925. Mrs. Gay survives him along with their daughter, Norma E. Finnegan, seven grandchildren and five great-grandchildren.
Right Worshipful Norman Meade Gay entered his eternal home in the celestial lodge from Needham, Massachusetts on Friday, February 15, 1985 and funeral services were held in Needham on February 19, 1985. we know that his dignified, quiet concern for others will grant him a glorious immortality.
Respectfully submitted,
John J. Daverio
Joseph B. Ferguson
Arthur L. Rockwell
Herbert H. Jaynes
Committee
SPEECHES
FEAST OF ST. JOHN, DECEMBER 1964
From Proceedings, Page 1964-353:
Most Worshipful Grand Master, Distinguished Guests and Brothers:
How does one respond to such an introduction as that? If I were sitting on the other side of this podium I would say that fellow has never done a lick of work in his life, but that is not so. I think one of the important features of that introduction was the Grand Master's remark that I had been employed at Boston University for a period. It has been a long period. That period has allowed me to eat fairly regularly and provide for my family, but I think it would be well for me to go on record unofficially, because I can't officially for Boston University. Throughout the long years of my association with Boston University, that world-renowned institution has been Masonically oriented; and when I cite two or three examples, I think you will agree with me.
Ill. Daniel L. Marsh, 33°, who was President of Boston University for twenty-five years and is now our Chancellor, became a charter member of Boston University Lodge the same time I did. He has always given me great encouragement to participate in Masonic affairs.
Following him in the Presidency came Harold C. Case, 33°, who has likewise given me enthusiastic support in anything I have done in Masonry.
The fact that Most Worshipful Joseph Earl Perry, our Senior Past Grand Master, although a Williams' man, was a Trustee of Boston University and its Treasurer for many years, and gave me two appointments in Grand Lodge, is a sign of further orientation in Boston University.
I want to tell you, Brethren, that I was completely overcome by the invitation to serve as your Deputy for this year. I mean that most humbly. I felt humility to the core. I took rather longer than was decent perhaps in making my reply to the Grand Master because I did want time for self-analysis, self-evaluation. Did the Grand Master really want me of all those eligible in the State Why should he select me? Did my background qualifications suit me for this important post on the team of the Grand Master this year?
Then in thinking it over I said to myself, "Now, the Grand Master is presumed to be infallible." Since that is so, I just had to say yes; so here I am and you have me for this next year.
In looking over the list of those who preceded me there are several of them sitting down in front of me and several have been introduced before. Each of these men has contributed to Masonry in general and to Masonry in Massachusetts in particular. I hope a year from now if only to prove the infallibility of the Grand Master it can be said that I too have made contributions to Masonry within the State.
Masonry has withstood the test and ravages of time, but there is continually much to do to preserve the Ancient Landmarks and traditions of our Fraternity. I attended a Masonic meeting in Detroit not too long ago, and one of the eminent speakers at that meeting remarked, and I am quoting, "Throughout the centuries Masonry has addressed and adjusted itself to the changing times." Well now this is a positive statement and leaves no room for contradiction. He could speak faster than I could write, so I don't know how he concluded the theme; but I picked that up as a theme and very briefly I am going to expand on it. Incidentally I think the man who made the statement is sitting at the head table.
Expansion of the theme, as I take it, is that this addressing and adjusting itself to the changing of times has not come about by itself. It has come about by foresight, by forecasting, by leadership of such men as our Grand Master, dedicated men, the Grand Master of Michigan, Grand Masters everywhere, and particularly by the cooperation of the working membership in our Lodges. It is that guidance and leadership and cooperation that keeps Masonry great and we know it will endure.
Every Officer installed this afternoon, every member at this delightful Feast tonight, every working member of our Lodges everywhere, those who could not get in to this Feast tonight, are solidly committed to the precepts laid down by the spiritual and moral virtues of our Degrees together with the necessary adjustments decreed by our leaders.
Most Worshipful Grand Master, I assure you that we will work together as a solid team during this next year. We will do anything we can to lighten your burden to the end that Masonry will advance and thrive during your final year and I speak for all of those Officers who were installed this afternoon.
I have just one more word for those Officers that I installed. I was not given a Ritual. As a matter of fact, I was told there was no Ritual that went with the installation. I had this thought while sitting here that we should all read, whether for enlightenment, whether in the search for knowledge or for whatever reason. Books are great contributions in the world today. Paperbacks have taken their place in the world. Recently I have been reading a paperback. It is a blue covered thing — I think it comes in hard bound too—and I say to you who were installed this afternoon if you will read that blue book called "Constitution and Regulations of the Grand Lodge," you will find the duties delineated for you in that book. Thank you very much
---