MAGLJoBartlett
From MasonicGenealogy
JOHN BARTLETT 1784-1849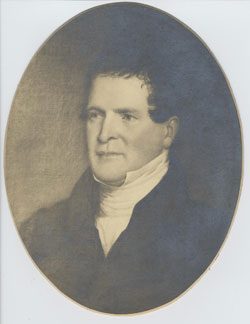 MM 1806, Amicable
WM 1821-1824, 1845, Philanthropic first Master under restored Charter
DDGM, District 2, 1825-1826
Deputy Grand Master, 1827-1829
Grand Chaplain 1815
BIOGRAPHY
From Proceedings, 1873, Page 1873-224:
He died at Marblehead in Feb., 1849, aged 66, having been a pastor of the Unitarian Church thirty-seven years. He published two discourses. — Allen's Biog. Dic.
Bro. Bartlett was Corresponding Grand Secretary in 1811 and 1816; District D.G. Master of District No. 2, in 1825 and 1826; and Deputy Grand Master in 1827, 1828 and 1829. He was admitted to membership in Amicable Lodge, Cambridge, in 1806.
In the address delivered before Amicable Lodge, on October 18, 1855, by R.W. Brother Lucius R. Paige, D.D., Brother Bartlett is thus mentioned : —
"It is, certainly, no disparagement to any other board of officers to say that the three principal Chairs [of Amicable Lodge] were never more worthily filled, at once, than during that year of severe [financial] trial. The Master was Samuel P. P. Fay, Esq., afterwards Grand Master of the Grand Lodge; the Senior Warden was Augustus Peabody, Esq., also afterwards Grand Master; and the Junior Warden was Rev. John Bartlett, afterwards Deputy Grand Master. I doubt whether another case like this can be found in the Commonwealth, where the Master and Wardens, serving together in a subordinate Lodge, have all been thus promoted."
John Bartlett was born in Concord, Mass., on the 22d of May, 1784, being the fourth of a family of twelve children. His parents, who were persons of great worth, survived to an advanced age. His early life was passed under the ministry of the venerable Dr. Ripley, whom he always continued to hold in reverent and grateful remembrance. In his childhood he evinced a remarkably frank, cheerful, generous spirit, and was always ready to put himself out of the way to confer a favor upon another. When he was about seven years old, it is related of him that he was sent to school wearing a pair of new shoes, but that he went home without them; and, on being questioned in regard to the matter, he said that he had given them to a poor boy whom he met in the street. The spirit which this incident betokened formed one of his prominent characteristics to the close of life.
At an early age he was placed with a relative in Maine, with a view to his engaging in mercantile affairs. But, as his tastes were rather literary than commercial, he returned, after a short time, to his family, who had now removed to Cambridge. The late Professor Frisbie was at that time living with them, and, under his instruction, young Bartlett very soon completed his preparation for college. He entered at Harvard in 1801, and, having sustained himself honorably throughout his whole course, in respect to both scholarship and behavior, graduated in 1805. Having resolved on entering the ministry, he remained at Cambridge two years after his graduation, engaged chiefly in the study of theology. The chaplaincy of the Boston Almshouse having been offered to him, he entered witk great zeal on the discharge of its duties, and made it virtually the first ministry at large in Boston. He devoted considerable attention, at this period, to the study of medicine, not with a view of ever engaging in the practice of it, but that he might know better how to adapt his ministrations to the physical condition of the sick and the suffering. At his suggestion a meeting of wealthy and benevolent citizens was called to consider what measures should be taken to procure suitable treatment for the insane, which resulted in the establishment of the McLean Insane Hospital at Somerville. Through his instrumentality, also, a society was formed for affording relief to destitute families during the trying period of the embargo. Of this society he was the chief agent; and, in connection with it, he performed a great amount of benevolent and highly effective labor.
Mr. Bartlett was engaged in the chaplaincy for about three years; and, during at least a part of this time, continued his theological studies under Mr. (afterwards) Dr. Channing. At the end of that period he offered himself as a candidate for settlement, and very soon received a unanimous call to become the pastor of the Second Congregational Church in Marblehead. Having accepted this call he was ordained on the 22d of May, 1811, the Rev. Dr. Holmes, of Cambridge, preaching the ordination sermon.
Here Mr. Bartlett spent the remainder of his life. Besides attending diligently to his duties, which were strictly professional, he identified himself with various benevolent projects, some of which were outside of his own denomination. He assisted in the formation and management of the Humane Society of Marblehead, composed of ladies of different denominations, whose benefactions to the sick and needy have been extensively useful. He was, also, a member of the Masonic Fraternity, and, for several years, was charged with the inspection of the Lodges in Essex County. He bestowed great attention upon the youth of his congregation, particularly in connection with the Sunday School, the importance of which, as a means of intellectual and moral culture, he thought it diffioult to overrate.
Mr. Bartlett was at length suddenly arrested in his labors. Some two years previous to his death, when his faculties and sensibilities had been for some time unusually taxed by the desolations which had occurred in many of the families of his flock, by reason of terrible marine disasters, he was suddenly brought to a stand in the midst of the services of the church, both his strength and his utterance having entirely failed him. It was supposed that he experienced at that time a slight attack of paralysis. His labors were now necessarily suspended, and arrangements were made to enable him to recruit his exhausted energies. During the summer following, accompanied by his wife, he journeyed first to the interior of New York, and passed several weeks with friends in the valley of the Mohawk. Thence he went to Staten Island, where he spent the remainder of the summer, and also made a short visit to West Point, which seems to have occasioned him high gratification. On his return home he seemed somewhat improved in both health and spirits; and he undertook to resume his accustomed labors. He quickly found, however, that it was impossible for him to proceed, and there were now signs of no equivocal import that he had nearly reached the end of his course. Added to his general weakness was a difficulty at the chest, which greatly obstructed his breathing, and for weeks prevented his sleeping except in a sitting posture. At length, in the midst of a circle of devoted friends, and in the bosom of a community with whom he had become most pleasantly identified by a residence among them of nearly forty years, he sunk gently into his last slumber, on the morning of February 3, 1849, in the sixty-fifth year of his age, and the thirty-eighth of his ministry.
The following is a list of Mr. Bartlett's publications: —
God not the Author of Sin, a discourse delivered before the Second Congregational Church and Society in Marblehead, 1819
Preaching Christ in Love, a discourse delivered before the Second Congregational Church and Society in Marblehead, 1825
A discourse delivered before the Second Congregational Society in Marblehead, 1829.
Mr. Bartlett was married, in 1811, to Rebecca, daughter of George and Sarah Dublois, of Halifax, Nova Scotia, by whom he had six children. Mrs. Bartlett died on the 23d of December, 1858, aged eighty-two. — American Pulpit.
---