MAGLJRay
From MasonicGenealogy
JAMES K. RAY 1945-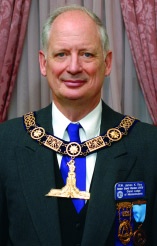 ---
BIOGRAPHY
From TROWEL, Winter/Spring 2005, Page 6:
Rt. Wor. James K. Ray is about to become well known in Massachusetts Masonry. Most Wor. Jeffrey Black Hodgdon named Bro. Ray his Grand Marshal.
Bro. Ray was born in Boston as World War II closed, and grew up in Arlington. While in Arlington, he joined Arlington Chapter, Order of DeMolay. There he served as a Master Councilor and Scribe, and was awarded the Degree of Chevalier, the highest honor that can be conferred upon an active member.
Following his graduation from Northeastern University in 1968, where he earned a Bachelor of Science in business administration degree, Bro. Ray joined the U.S. Army and was commissioned a 2nd lieutenant. On discharge from the Army, he continued his military service in the Army Reserves and the Massachusetts National Guard, where he rose to the rank of lieutenant colonel.
In 1971, Bro. Ray went to work at the Watertown Savings Bank as a branch manager. He is still at the bank, where he is now an assistant vice president.
The Grand Marshal joined Russell Lodge in 1967, and served as Master in 1977 and 1978. He has the distinction of being the only Master of Russell Lodge to cancel a regular communication. It was the first Monday in February, the date of the Blizzard of '78.
Rt. Wor. Bro. Ray served the Grand Lodge as District Deputy Grand Master for the Somerville 6th District in 2000–2001. He had previously served the district as District Deputy Grand Marshal in 1980–1982. He also joined Joseph Warren-Soley Lodge and served as Master there in 2001–2003. In April 2000, he raised his son, Christopher, in Joseph Warren Soley Lodge. Bro. Christopher Ray is now the Senior Warden of the Lodge. The Grand Marshal is currently the Chairman of Trustees for Joseph Warren-Soley Lodge, as well as Chairman of the Lodge's Angel Fund. He is also the current Master of the 14th Lodge of Instruction.
Rt. Wor. Bro. Ray married his wife, Betty, in 1968. Betty Ray is a first-grade teacher at the Estabrook School in Lexington. Bro. Ray is the father of three. In addition to his son, Christopher, he is also the father of two daughters, Beth and Beverly.
---