MAGLJKrigman
From MasonicGenealogy
JAMES KRIGMAN 1903-1996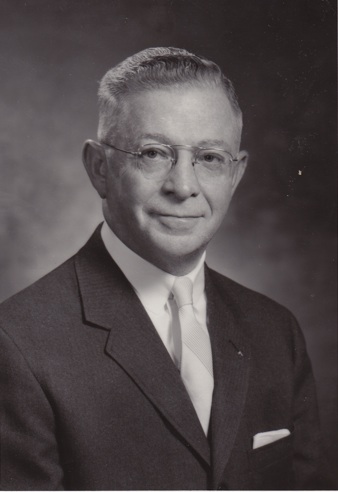 Junior Grand Warden, 1969
MEMORIAL
From Proceedings, Page 1996-13:
Right Worshipful James Krigman was bom on April 4,1903, at Mohliv, Russia, the son of Isaac and Bayla Krigman, and immigrated to the United States at the age of 3. He was graduated from English High School in 1922, and from the Massachusetts College of Art in 1926 while working nights as an errand boy at The Boston Globe. He aiso attended the Museum School in Boston.
His career with The Boston Globe spanned nearly half a century. He is said to have gained attention as an illustrator by having several drawings published in the competing Boston Post. In his profession as an artist, he covered many trials as well as social and political events. During the 1920s he drew a half-page of cornics and puzzles each week for the Sunday Globe. In 1936 he became founding editor of the Globe Magazine and subsequently Art Director of the Globe.
Known to all as "Krig", the name with which he signed his work, he also found the tirne to serve as a Director of the West End House and the Jewish Vocational Service, as well as Trustee of the Combined Jewish Philanthropies and Vice-President of the Jewish Memorial Hospital.
His Masonic Record follows:
Euclid Lodge, Boston

Initiated, 1930
Passed and Raised, 1931;
Worshipful Master, 1942.

Grand Lodge of Massachusetts

District Deputy Grand Master, Boston Second Masonic District, 1946-1947;
Junior Grand Warden, 1969;
Grand Representative, Grand Lodge of Nicaragua, 1956-1980;
Joseph Warren Distinguished Service Medal, 1950;
Henry Price Medal, 1969.

Scottish Rite

Received the Degrees from the Fourth to the Thirty-second in the four Bodies in the Valley of Boston 1931.
Created Sovereign Grand Inspector General, 33° Honorary Member of the Supreme Council at Boston in 1969.
Right Worshipful Brother Krigman died at his home in Fort Lauderdale, Florida on Thursday, January 18, 1996. He is survived by his wife, Rose (Kofman), two sons, Worshipful Stanley Krigman of Malden, Richard Krigman of Needham, and seven grandchildren. A funeral service was held on Monday, January 22,1996, at 10:00 A.M. in the Goldman Funeral Chapel, Malden, Massachusetts.
Right Worshipful Brother Krigman will be missed by all who were privileged to know him.
Fraternally submitted,
R.W. George R. Dewhurst
R.W. Benson Brown
R.W. Robert P. Beach, Chairman
Committee
---