MAGLJJacob
From MasonicGenealogy
JAMES EVERETTE JACOB 1885-1978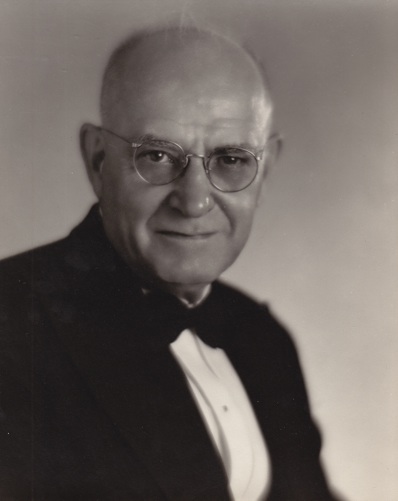 District Grand Master, Canal Zone, 1948-1954
MEMORIAL
From Proceedings, Page 1978-37:
"Right Worshipful James Everette Jacob (Brother Jake as he was affectionately known in the Zone) was born in Columbus, Mississippi on July 27, 1885. He graduated from Mississippi Agriculture and Mechanical College (now Mississippi State University) in 1905 with a degree of Bachelor of Science. After graduation he was employed by the Department of Chemistry of that institution until February 1909. It was at this point that he applied for membership in Abert Lodge No. 89 in Starkville, Mississippi. He was accepted and received the Entered Apprentice Degree on February 10, 1909.
"He then entered the service of the Isthmian Canal Commission as an Assistant Chemist in the Sanitary Department at Ancon, Canal Zone. Later he was appointed Chemist, Board of Health Laboratory at Ancon and continued in this position until his retirement on July 31, 1947.
"Meanwhile he picked up his interrupted Masonic Program and Sojourners Lodge, Cristobal, passed him to the Fellow Craft Degree on November 21, 1914 and raised hiri on March 3, 1915 as a courtesy for Abert Lodge No. 89. He demitted from Abert. Lodge in 1918 to become a Charter Member of Darien Lodge in Balboa.
"Again his Masonic career was interrupted by service during World War I in the Sanitary Corps, Medical Department, U.S. Army, first as a First Lieutenant and served from June 1918 to June 1919 with Base Laboratory No. 2, American Expeditionary Forces in Brest, France. He was discharged as a Captain in June 1919 and returned to the Canal Zone in July 1919.
"Brother Jake then resumed his Masonic service by working through the chairs of Darien Lodge and becoming its Worshipful Master in 1926.
"During this period he started in the Scottish Rite, the great love of his life. He became a Charter Member of the Panama Canal Scottish Rite Bodies, Southern Jurisdiction. He was Venerable Master, Panama Canal Lodge of Perfection in 1921, Commander Panama Canal Council of Kadosh in 1930, Master of Kadosh, Panama Canal Consistory in 1925. He was elected to receive the rank and decoration of Knight Commander of the Court of Honor on October 21, 1919, He received the 33o in Washington, D.C. on January 6,1922. On October 21, 1933 Brother Jake was appointed Deputy of the Supreme Council in the Orient of the Canal Zone and continued to serve until he resigned efiective October 31, 1963 after 30 years of dedicated service. He was also very active in the York Rite on the Canal Zone, serving as High Priest in 7927 and Illustrious Master in 1936, and became a member of Canal Zone Commandery. He became a Charter Member of San Lorenzo Conclave No. 70, Red Cross of Constantine and was its Sovereign in 1937. Brother Jake took an active part in the afiairs of Abou Saad Temple, A.A.O.N.M.S. and served as Illustrious Potentate in 1926.
"During this time he did not neglect his Blue Lodge work becoming District Grand Standard Bearer in 1926 - 1927, District Grand Marshal in 1928; District Grand Lecturer in 1929, District Senior Grand Warden from 1930 to 1932, Deputy District Grand Master from 1933 to 1948 and he was appointed District Grand Master in 1948 and served until 1954.
"From 1915 when he was raised until his death Brother Jake was an active and ardent worker in Masonry. There is not a single branch of Masonry in the Canal Zone that has not felt the beneficial effects of his untiring efforts. He was one of the leading Masons who helped strengthen the friendship and fraternal ties with our neighboring jurisdictions of Panama and Costa Rica.
"Brother Jake remained in the Canal Zone after his retirement and continued his work with the Craft and finally in December of 1963 Ieft the Isthmus and returned to his home in Columbus, Mississippi where he lived until he departed to the Celestial Lodge above on September 12, 1977.
"Many of us search here and there to find our place in life, but Brother Jake found his early in life, and we have abundant reason to honor such a man who found profound satisfaction while he walked among us and assisted our Brother Masons to gain more light.
Respectfully submitted,
Howard W. Osborn
---