MAGLJHews
From MasonicGenealogy
JOHN HEWS 1786-1870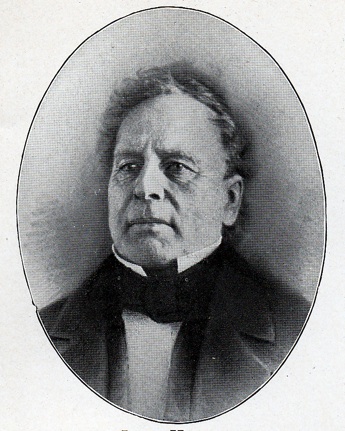 Junior Grand Warden, 1845.
MEMORIAL
From Proceedings, Page 1870-100:
"To the long list of departed brethren must now be added the name of R.W. Br. John Hews, who died at Cambridge, on the 17th of March last, at the advanced age of 83 years. He received masonic light in St. John's Lodge, Boston, about 1820, and in 1844 was elevated to the station of Junior Grand Warden.
"During the bitter storm of anti-masonic fanaticism, he nobly sustained the society whose interest he had early espoused. At the time of his decease he was a member of Amicable Lodge, of Cambridge, and an honorary member of St. John's Lodge, Boston; the brethren of these Lodges attended his funeral at Mount Auburn. A delegation of the Grand Lodge was also in attendance; and Past Grand Master Winslow Lewis, who had long been associated with Brother Hews, delivered an interesting and affecting address. Thus, brethren, one after another of the war-worn veterans of our Grand Lodge are passing away."
From Moore's Freemason's Monthly, Vol. XXIX, No. 6, April 1870, Page 184:
It is with deep sorrow that we record the death of this estimable and beloved Brother, — a sorrow that will be heartily shared by all, young and old, who at any time within the last half century were permitted to enjoy the privilege of a personal acquaintance with him. To the old, especially, — alas! the number is greatly reduced, and is rapidly being diminished, — who walked with him, labored with him, and sympathized with him in the hard trials and severe duties which forty years ago taxed the energies and tested the fidelity of every leading and active Mason in this Commonwealth, — to such will the announcement of his decease be received as the departure of a cherished friend, whom they had learned to love.
Our Brother was born at Weston, Middlesex Co., Mass., on the 30th day of July, 1786, and at his death was in the 84th year of his age. He took up his residence in Boston in the early part of the present century, and soon engaged in active mercantile business, in which he continued until some twenty years ago, when he removed to Cambridge-port, where he has since resided. We have not the official data at hand, but believe he was made a Mason in St. John's Lodge in this city about the year 1820, over which he subsequently presided as Master. He was also a member of St. Paul's Chapter of Royal Arch Masons, and having filled most of its subordinate offices, was in due time elected and served as its High Priest. He was also a member of the Boston Council of Royal and Select Masters, and of the Boston Encampment of Knights Templars, over which last body he presided as Commander for the usual term, to the great acceptance of his Companions. In this Body he and his contemporaries nobly fought the battle of Anti-Masonry from 1826 to 1834, when that vile faction was overthrown. And if he had never performed any other service in Masonry, his labors here should command for his memory the enduring respect and veneration of all his Brethren. This noble band of faithful defenders, to whom the Fraternity in this country is more largely indebted for the preservation of their Institution at that trying period than to any.
equal number of Brethren on its entire record, is fast passing away, and the remembrance of their deeds and trials, their virtues and fidelity, is passing away with them. Our Brother was spared to witness the fruits of his faithfulness, and to enjoy the only compensation he ever desired, in the renewed and unequalled prosperity of the Institution he so ardently loved. He had also presided over the Grand Encampment of Massachusetts and Rhode Island, and in 1844 was elected Junior Grand Warden of the Grand Lodge of Massachusetts.
He died at his residence in Cambridge on the morning of the 17th of March, after a long, though not particularly painful sickness, and was entombed at Mount Auburn on the following Saturday. His funeral was attended by delegations from the Grand Lodge, Grand Chapter, and Grand Encampment of the State, and also from St. John's Lodge, St. Paul's Chapter, and the Boston Commaudery. Amicable Lodge, at Cambridgeport, of which Body he had, for some years past, been an active member, was present in regalia, and full numbers, at his residence, — having previously performed the customary funeral ceremonies at their Lodge-room. The religious services were conducted by the Rev. Mr. Winkley, of Boston, and the Rev. Dr. Briggs, of Cambridgeport, and a select choir. At the conclusion of these services, an appropriate and sympathizing address was delivered by his aged and beloved Brother and intimate friend, Dr. Winslow Lewis, from which we are permitted to make the following extracts : —
Brethren, — We are now assembled around these mortal remains, and are about closing the last solemn duties of respect and attachment we owe to our loved departed friend and Brother, — one long associated with us, respected by us, but not known personally to the younger Brethren. But there is a small remnant gathered around this honored form, who for forty years have ever looked on that face with the deepest love and respect. There are here a few whose warm affections were ever with him, engendered by his kindness, courtesy, high-toned friendship, honesty, and truth, and their hearts are deeply touched that they must part to meet no more on earth. Let us be grateful that he was spared to us so long. Let us rejoice that his prolonged life was a blessing to so many. Let us thankfully revert to those characteristics which diffused so much happiness, and thank God that we are permitted to lay him peacefully in the earth, without any other regret than this separation, which severs so many loving ties.

Unto the grave we now resign the body of our departed Brother.



"So earth to earth, and dust:
And though the flesh decay,
The soul shall rest among the just
Until the Judgment day."
The sprig of acacia was then deposited in the coffin, and the remains were removed to their final resting-place at Mount Auburn.
The deceased leaves a widow of nearly his own age, a son and three daughters, and several grandchildren, and a large circle of personal friends to mourn his loss.
On the evening preceding his death, the Boston Commandery, on motion of Dr. Lewis, adopted and transmitted to his family the following resolution : —
Resolved, That the members of the Boston Encampment, in the hour of death, as in the by-gone days of departed years, still remember their dear, venerable associate, Sir John Hews; that their affections are with him to the close of his useful and honorable life, and commending his soul to God, that after its separation from the frail body, he may depart in peace, to meet us all above, to part no more.
---