MAGLISayles
From MasonicGenealogy
IRVING B. SAYLES 1839-1909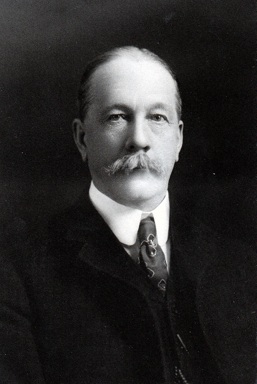 Junior Grand Warden, 1878
MEMORIAL
From Proceedings, Page 1909-162:
R.W. Irving B. Sayles, son of Madison Sayles, was born at Woonsocket, R.I., Dec. 10, 1839, and died at Millbury Nov. 20, 1909. He was educated in the public schools of Woonsocket and at a private school in Providence, but derived from reading and intelligent study of his fellows and his association with them a broader training than the schoolroom could give him. A short clerical experience with H. F. Walling, of New York City, well known as the map publisher of fifty years ago led to his entering the employ of Nelson Walling, a woolen manufacturer in Millbury, whose daughter he was to marry and of whose mills he became the superintendent. The gradual depreciation of this business made a change necessary. For half a dozen years, from 1884 to 1890, he was treasurer of the Point of Pines Company, and was then appointed National Bank Examiner. This was during the presidency of Grover Cleveland, and he held the position under successive administrations, until he resigned about three years ago to become treasurer of the Millbury Savings Bank, a more congenial office, in which he continued to the time of his death.
To his reliability as a business man, as indicated by these places of honor and trust, he added the characteristics of a public-spirited citizen. He was for many years a Trustee of the Public Library in Millbury, and served the town as one of its Selectmen. Although a Democrat in politics he entered the Legislature from a Republican district, and was elected to the Senate in 1886. Under the same conditions he was nominated for Representative in the Fifty-first Congress, receiving a vote largely in excess of that given to the nominee upou the State ticket, but was defeated at the polls by a small plurality. His strength as a candidate was specially shown in the towns of his district, where the people who knew him best gave him their confldence.
R.W. Brother Sayles received Masonic light in Olive Branch Lodge in 1863. He became a member of that Lodge October 21 of that year. Ife served as its Secretary in 1865 and 1866, was elected Junior Warden in 1867, Senior Warden in 1868, and Master in 1869. He was at the head of the Lodge three years, was District Deputy Grand Master in 1875, 1876 and 1877 (Twelfth Masonic District), and in December of the latter year was chosen almost unanimously Junior Grand Warden, becoming at the close of his term of office a Permanent Member of the Grand Lodge. Only three members of the Grand Lodge survive whose membership antedated his. He received the Royal Arch Degree, and became a member of Worcester Royal Arch Chapter Dec. 9, 1865.
He was one of the petitioners for a charter for Tyrian Chapter and was its High Priest under the dispensation issued in 1873 and for three years under the charter granted in 1874. In December, 1878, he was appointed District Deputy High Priest for the Fourth Capitular District, comprising the Chapters in Worcester, Southbridge, Warren, Millbury, Palmer and Clinton. He received the Cryptic degrees in Hiram Council and became a member March 23, 1865. He was Knighted in Worcester County Commandery Dec. 1, 1865.
Brother Sayles was so quiet and unobtrusive in his manner and his habits that only those who came to know him intimately were prepared to realize the strength of the man. He was a true friend, a wise and discreet counsellor, respected by all for his integrity.
He was twice married. His first wife was Amelia A. Walling, daughter of Nelson Walling. She died in 1888. Her children, two sons and a daughter, are living. His second wife was Cora Morse, who died not long after her marriage. For the remainder of his life his home was cared for by his daughter, who became in his last days his associate in the work of the bank. His illness was brief, occasioning no apprehension in its beginning, but weakness of the heart's action sapped his strength and made recovery impossible. His funeral was attended by a delegation of the Sir Knights of Worcester County Commandery, and the members of Olive Branch Lodge accompanied his body to the grave.
So long as those who knew him linger for the little while which is all that remains for even the youngest among us, he will b€e remembered as a kind father, a genial companion and a faithful Brother.
Respectfully submitted,
Forrest E. Barker,
Thomas W. Davis,
Fred H. Rice,
Committee.
---