MAGLIGillis
From MasonicGenealogy
IRVIN VAN GORDER GILLIS 1874-1948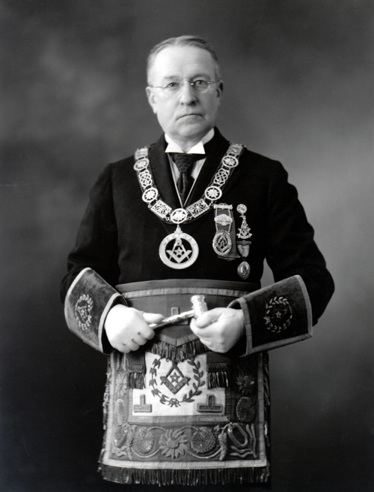 MM 1916, WM 1921, 1922, International
District Grand Master, China, 1923-1936
BIOGRAPHY
This biographical sketch is based on the biography of Gills, A Plain Sailorman in China, The Life and Times of Cdr. I. V. Gillis, USN, by Bruce Swanson et. al., published in 2012.
Irvin Van Gorder Gillis, the son of Commodore James Henry Gillis, was born in 1875 in Erie, Pennsylvania, while his father was captain of the USS Michigan, a gunboat assigned to the Great Lakes. Commodore Gillis was a Civil War hero, and imparted love of the sea and ships to his sons. Irvin followed his brother Harry into the Naval Academy, where he excelled during his four years. Despite his dimunitive stature he was elevated to the status of cadet lieutenant.
Upon graduation and commissioning, he was assigned to the USS New York, the flagship of the North Atlantic Squadron. He later served aboard the Texas and the torpedo boat Porter. While aboard the latter he experienced the Spanish-American War first hand, and distinguished himself in the recovery of a Spanish torpedo from Santiago Harbor by diving overboard. He later served aboard USS Annapolis during the Philippine conflict.
After the Russo-Japanese War, Gillis served in various capacities, including as a naval attaché in Shanghai and Peking. During this time the Manchu dynasty was in the process of coming apart, leading to economic and political instability. By 1912 the last emperor had abdicated and soon the government of the country was in the hands of generals and warlords. Gillis was a valuable source of intelligence on developments in military and political matters. He was in retirement for a short time but returned to active duty during the Great War; in all of his capacities he was highly respected and admired.
China became Gillis' second home. In 1916 he was admitted to the Masonic Fraternity in International Lodge in Shanghai; he was a very active and engaged member, ultimately assuming the East in 1921 and 1922. His service and skill caused him to be chosen as District Grand Master for the China District in 1923; he served in that and its successor district until 1936, when he withdrew from the office and was succeeded by Rt. Wor. Virgil Bradfield.
After his retirement from the Navy, Brother Gillis devoted himself to a significant project in cooperation with Guion Moore Gest, a businessman from New York. Gest originally sought to obtain books on traditional Chinese medicine to address trouble with his eyesight that Western doctors could not cure. Gillis purchased and shipped books from China to America, gradually expanding his scope from medical texts to literature, history, and nearly every subject. This collection, originally housed at McGill University in Canada, was relocated to the Institute for Advanced Study at Princeton in the 1940s. The Gest Oriental Library, in excess of 40,000 volumes, was the foundation of the East Asian Library at Princeton, now one of the greatest Asian-focused libraries in the West. His contribution to western scholarship on China included an innovative cataloging system still in use today.
Gillis survived house imprisonment during the Japanese occupation, but most of his possessions and research materials did not. He suffered house arrest for several years with his Chinese wife, but they were separated from their adopted native children. He passed away at age seventy-three, and was recorded and memorialized by his lodge.
---