MAGLHPurkitt
From MasonicGenealogy
HENRY PURKITT 1755-1846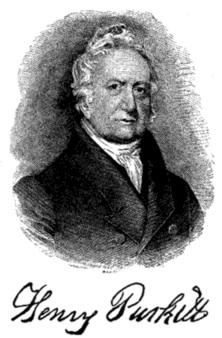 Junior Grand Warden, 1828
BIOGRAPHY
BIOGRAPHY FROM MOORE'S FREEMASON'S MONTHLY, 1859
From Moore's Freemason's Monthly, Vol. XVIII, No. 12, October 1859, History of St. Andrew's Chapter; Page 363:
Col. Henry Purkitt was a native of Boston, born in the year 1755, received his education at the public schools of his native town, and served an apprenticeship to the trade of cooper. His master was one of the Sons of Liberty, and took an active part in the destruction of the tea in Boston harbor, on the 16th of December, 1773. Although young Purkitt, with his fellow apprentices, were commanded to remain at home during the evening, he disobeyed the order, and was present, as a spectator, at the execution of this bold and daring act. When the war broke out he enlisted as a soldier in the revolutionary army, and served until the peace. He was in the battles of Trenton and Brandywine. Returning from the camp he set up his trade in Boston, and carried it on successfully for many years.
In 1803 he was appointed by the Governor of the Commonwealth Inspector-General of Pickled Fish. He discharged the duties of this office thirty five years, with distinguished ability. His taste for a military life did not forsake him when he left the army. He soon after joined a company of cavalry, and passed through all the grades of office, until he rose to the rank of Colonel. He was many years a member of the Massachusetts Charitable Mechanic Association, and a trustee in that institution. Ever active in promoting the interests of the society, he was regarded with respect and veneration by his associates. He died at his residence in Boston, March 3, 1846, at the advanced age of ninety one years.
"Uprightness and exactness were prominent attributes of his character, and universal love and charity for all mankind were sincerely exhibited in his social intercourse. He had troops of friends, but it is not known that he ever had an enemy." He died as he had lived, in peace with all mankind.
MEMORIAL
From Moore's Freemason's Monthly, Vol. V, No. 12, October, 1846; Page 367.
At the quarterly Communication of the M. W. Grand Lodge of Massachusetts, on the 11th Sept, 1845, the R. W. John B. Hammatt submitted the following communication:
To the Most Worshipful Grand Lodgt of the Commonwealth of Massachusetts, at its Quarterly Communication, Sept, 11, 1845: I, John B. Hammatt, a member of the Grand Lodge, make the following communication :
On the 8th day of the present month, our venerable Brother, Henry PURKiTT, a permanent member of the Grand Lodge, aged 90 years, sent for me, and I visited him at his house. He was very feeble in bodily health, and unable to write, but he was cheerful and of sound mind. He confidently charged me, verbally, with a communication to the Grand Lodge, of the import following:
"I have long had the honor of being a member of the Grand Lodge, and I have just received the usual notice to attend their Quarterly meeting, on the 10th inst. For more than fifty years I have been a member of the Order, and I am now, as I have ever been, fully convinced of the purity, benevolence and value of its objects and pursuits. I have mingled wiih its labors through prosperity and adversity: I know its character, and I cheerfully bear my testimony, that the calumniators of Freemasonry have treated it with gross injustice. They have misrepresented its character and its labors. They have presented against it false accusations, and endeavored to sustain them by false testimony.
"It has been my ardent desire to meet the Grand Lodge once more in the Hall of its labors, where I have passed so many interesting and happy hours, and on receiving notice, I determined to attend the approaching Quarterly Communication, and to express to the Grand Lodge, and to the Brethren whom I have so often met there, my cordial affection for them, and my entire confi¬ dence in their rectitude. I would have congratulated them on the triumph achieved by their unostentatious, modest, but inflexible pursuit of their appro priate labors, over the vindictive assaults and false accusations of disorgan izing and unprincipled assailants.
"But, as the hour of the meeting approaches, I find that extreme age, and many bodily infirmities, will forbid me to enjoy the anticipated pleasure, and I now feel convinced that I shall never again on earth be able to meet a Masonic Lodge. Impressed with these feelings, I have requested my early friend and confidential Brother, John B. Hammatt, to bear from my lips to you, this, my last, solemn, fraternal, and affectionate greeting.
"Many of my most cherished hours have been passed in your assemblies; but with me, these joys have been fulfilled ; destiny calls me to scenes where a higher Master and purer rules shall govern. I thank you, collectively and individually, for your uniform, kind, and confidential deportment towards me.
"My strength is failing; but its last effort will be to breathe a fervent prayer that you may long continue to confer on mankind the benefits that ought to flow from our Order, and that when your Lodges shall be closed, to be opened no more on earth for your reception, the Grand Master above may find you worthy, and qualified to be received into his celestial mansions."
To the above communication, the M. W. Grand Master, at the request of the Grand Lodge, returned the following answer:
Grand Lodge of Massachusetts, Quarterly Communication, Sept 11, 1845.
To our Beloved and Venerated Brother, Henry Purkitt:
The Grand Lodge have, with no ordinary sensation, received your kind greeting, and forthwith reply :
That such affectionate and encouraging sentiments as are transmitted to us this evening, from one of our oldest, wisest, most revered and beloved Brothers, are received with peculiar pleasure. The Grand Lodge holds dear the remembrance that you have ever been a faithful Brother, ardently attached to the principles of Freemasonry, and ready to devote your time, your strength, and your wisdom, to promote its benevolent objects and to defend it against assaults. We reciprocate your kind, fraternal greeting, and cherish the hope that you may long be spared to enjoy in health and peace, the fruits of an active, honest, and honored life.
From the example you have left, every Brother should take lessons that will assist him in the performance of his duties. Our hearts' desire is, that in the fullness of years, you may still he blessed with such a portion of strength as to enable you again to visit and aid us by your council, as, through your long and active life, you have done by your labors.
Your name will be long remembered among us. It is an honored name; and it is not uncommen to hear the younger Brethren express the wish that they may become as good, zealous, and faithful Masons as Henry Purkitt. Adieu, beloved friend and Brother: And, whether your strength still be preserved, or wholly fail under the accumulated weight of many years, we will unitedly breathe our inspirations that, while you continue the pilgrimage on earth, you may enjoy all the comforts that can be allotted to declining hu¬ manity, and that, in the life to come, your happiness may be perfect.
By order of the Grand Lodge.
Augustus Peabody, G. M.
From Proceedings, 1846, Page V-73ff, presented by Winslow Lewis:
"Within a few days one of our "brightest lights" has been forever extinguished, and the "brave old oak" of our Masonic domain cut down to mingle again with the earth from which it came. The "sear and yellow leaf" for many years has progressed to its termination, but its fall has been protracted to a period far beyond the common allotment of existence. It has survived the tempest and the storm, to witness the renewed verdure and vigorous growth of an Institution so long festooned and sheltered by its benign influences.
"Our aged Bro, the R, W. P. J. G, W. Henry Purkitt has passed away. After life's lengthened fever, he sleeps well the sleep that knows no earthly waking, well should he sleep whose long day of life was passed in the exercise of the kindly affections, the noblest functions of the heart, the broadest duties of unsparing charity. I cannot but feel a melancholy pleasure, a "joy of grief" in this announcement. Joy at the recollection that he has left the odour of a name to stimulate us to the performance of good, satisfaction, that his virtues and excellencies were but the fulfillment of the teachings of Masonry. But grief must have its share. That we shall behold that kindly face no more, that one more is stricken from our roll, to join and swell the great company of the dead, who was in the first rank of the Order, and that, that heart is stilled forever, which so long pulsated with the best emotions of humanity.
"A bright link in our social chain is broken, let not its strength be impared by the loss, but rather consolidate its firmness by the recollection and the practice of all that was left of g'ood in our deceased Brother. Tho' dead may he yet speak. For then we may not and need not pray; but surely as we wave our last farewell, we may say Blessings on thy kind heart, oblivion to thy errors, (if errors thou hads't) and grateful, lasting remembrance to thy name.
"As having been a permanent member of this G. Lodge, a record should bear on them the testimonials of the consideration in which he was held by its members, and I have prepared resolutions, embodying sentiments of respect and affection due to the memory of our buried Brother. It is understood that the Lodge with which he was so long connected will have appropriate services and an eulogy by a Brother eminently qualified by education, talents, and intimacy with the deceased to do justice to the subject. The reminiscence of such a life must be fraught with interest to every one, especially to those "of the household of our faith."
"The G. Lodge of Mass., impressed with the great loss sustained by the decease of the R, W. Henry Purkitt, P. J. G. W. would evince their deep sense of their bereavement by the
"Resolve. That by the death of this most venerable and venerated Brother, the Masonic Institution has lost one whose devotion, zeal and fidelity to the cause have ever been preeminent, and whose whole life has been a practice of philanthropy, of honesty and all the moral and social virtues—and whose walk was upright before God and man.
"Resolved. That the legacy of his good name which he has left for us, shall ever be an incentive for imitation, a stimulus to persevere in the paths of honor, truth and integrity. The memory of the just is blessed. His shall be enshrined in our hearts."
From Moore's Freemason's Monthly, Vol. V, No. 6, April 1846, p. 188:
Died in this city, on Tuesday morning, March 3, 1846, Col. Henry Pubkitt, Past Junior Grand Warden of the Grand Lodge of Massachusetts, aged 91 years. Col. Purkitt was initiated into Masonry on the 15th December, 1795, and was raised to the degree of Master Mason, on the 6th May, 1796, in St. Andrew's Lodge, in this city. On the 14th January, 1799, he was admitted a member of this Lodge, and continued bis membership until his death—a period of fortyseven years. He was also a member of St. Andrew's Chapter, and was one of the original members of the Boston Encampment of Knights Templars. He had sustain¬ ed most of the offices in these various bodies, and was, for a period of fifty years, an inflexible and consistent Mason. He constantly attended at the meetings of his Lodge, until his advanced age and infirm health obliged him to retire. His interest for the Institution, however, never abated, and during his last illness he made frequent inquiries and expressed a strong desire to learn the history of the transactions of his Lodge, from the time when he ceased to take an active part in its concerns. The following details of his life appeared in one of the city papers of the 5th March:—
Col. Purkitt was the eldest son of George Purkitt, a German, and was born in the town of Boston, cm 18th March 1755.

His master, Samuel Peck, to whom young Purkitt was apprenticed to learn the trade of a cooper, was an active whig, and was one of those, who, on the evening of the 16th of December, 1773, led in that memorable demonstration of determined resistance to the British Government—the destruction of the Tea in Boston Harbor. Purkitt was present on that occasion, at Griffin's (now Liverpool) wharf, was on board the ships, and assisted in pouring the tea into the dock. He entered the military services of his country on 1st May, 1776, in the artillery, under Capt. James Swan—afterwards he joined the second regiment of Dragoons, commanded by Col. Elisha Sheldon. He was at the battles of Germantown and Brandywine, and in many other skirmishes—after seven years and two months faithful services, at the close of the war, he received an honorable discharge, signed by George Washington.

He was a strict disciplinarian—for thirty seven years he held divers offices in the militia of the State, and in 1786, when the militia system was resuscitated, he was employed in drilling the officers and men in Suffolk and the neighboring counties. He was an original member and one of the founders of the Massachusetts Charitable Mechanic Association, and for more than fifty years, an honored member of the Masonic Fraternity.

In 1803, he was appointed by Gov. Strong, Inspector General of Fish for this Commonwealth, and contributed much by personal exertions to give a high character to that staple article of Massachusetts commerce. He also represented his native town in the Sate Legislature. In every public office he was diligent, faithful, and strictly upright—in all the duties of domestic life exemplary. The deceased was buried on Thursday afternoon, March 5th. The Grand Lodge, and a large concourse of Brethren, united with his numerous friends and relations in paying their last tribute of respect to the remains of their departed Brother and friend. Of a generous and noble disposition, he was always ready to aid and sustain with his counsel and his substance, the depressed and unfortunate. He was a man of much original strength of mind and of uncommon energy of purpose. He was conscientious and influenced by a deep sense of his accountabili¬ ty to his Maker. He trusted most reverently and humbly in God, reverenced his revealed word, and his many surviving friends commit his precious remains to the dust, in sure and certain hope of a blessed resurrection.
---