MAGLHMulliken
From MasonicGenealogy
HENRY MULLIKEN 1832-1907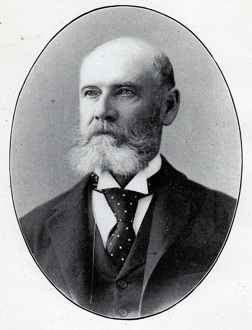 Junior Grand Deacon, 1863-1865
Junior Grand Warden, 1867
MEMORIAL
Proceedings, Page 1907-53.
Henry Mulliken was born in Stowe, Mass., May 20, 1832, and died in Boston, April 10, 1907.
Isaac Walter Mulliken, a physician in Stowe, was his father, who soon after the birth of his son, Henry, removed to Lowell and then to Waltham, Mass., where he died in 1873. His mother was born Alicia Shepard, daughter of Dr. Shepard, an eminent surgeon of Hopkinton, and died in 1870. Henry received all his education in private schools in Lowell and Waltham, especially under that famous teacher, the Rev. Samuel Ripley, and at the early age of fourteen engaged as clerk in a country store for a short period, and then went to work in the cotton miil at Waltham. After two years service in the factory he entered the importing house of Blake, Patterson & Co., in Boston, with whom he continued about six years; and then after short engagements with the large establishments of Gardner. Brewer and David Nevins, he connected himself in 1859 with the house of Upham, Tucker & Co., domestic commission merchants, and in 1860 became a partner in the firm. He was largely interested in military affairs and served on the staffs of various organizations, till just before the breaking out of the War of the Rebellion, when he retired. He was adjutant of the First Regiment of Artillery, afterward the Fifth Regiment of Infantry in the Massachusetts Volunteer Militia, this last military connection was as brigade inspector on the, staff of Brigadier General Innes. He was for many years a director of the Old Boston National Bank, and one of the corporators of the Provident Institution for Savings of the Town of Boston.
H. was married Jane 27, 1864, to Miss Isabel Mead, daughter of Samuel O. Mead of Belmont. She died in 1871, leaving one, child, who died in 1876. He was made a Master Mason in Monitor Lodge, Waltham, Sept. 28, 1857. He was Senior Warden two years to Nov. 26, 1860, when be was elected Worshipful Master and served two years.
His capitular degrees were conferred upon him in Mount Lebanon R.A. Chapter of Milford March 4, 1858, but he never took membership; In 1864 he was one of the petitioners for the dispensation of. Waltham R.A. Chapter, but was not a charter member. He was dubbed a Knight of the Temple and Malta in Boston Commandery Oct. 8, 1858, and admitted to membership Jan. 19, 1859, whence he demitted to take membership in St. Bernard Commandery, where, after holding other offices, he was elected Eminent Commander, serving for the years 1865, 1866 and 1867.
The degrees of the Ancient Accepted Scottish Rite were conferred upon him by IIl. Bro. Charles W. Moore to the 32nd inclusive. He was crowned a Sov. Grand Inspector-General and Honorary Member of the Supreme Council Sept. 20, 1872.
He was first appointed an officer jn the Grand Lodge by M.W. Grand Master William Parkman, and, after filling the office of Junior Grand Deacon in 1863, 1864 and 1865, he served as Junior Grand Warden in 1867. He was an Honorary Member of Beth-Horon Lodge, of Brookline, of Waltham Royal Arch Chapter and of St. Bernard Commandery.
He was deeply interested and active in Masonry until about the year 1870, when, on account of various family changes by death and otherwise and the pressing demands of business, he was compelled to withdraw from further active participation in its agreeable and instructive mysteries. Only a few weeks before his death, however, he exercised in writing his kindly interest in his Brethren of the Grand Lodge and his regret that he could not expect to meet with them again.
His funeral was at the Arlington Street Church, in Boston, on the Saturday following his death, and was attended by the few who remain of those who knew him in the days when his presence was familiar in the gatherings of the Craft.
Fraternally submitted,
Thomas W. Davis.
Committee.
---