MAGLHFSmith
From MasonicGenealogy
HENRY F. SMITH 1901-1984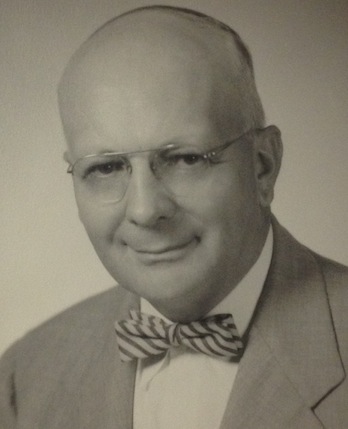 Deputy Grand Master, 1959
MEMORIAL
From Proceedings, Page 1984-24:
Henry Faxon Smith of west Harwich, Massachusetts, was the son of Joseph Franklin and Marion Webster smith, and was born in Lynnfield, Massachusetts on April 2, 1901. He was educated in the Lynnfield and Wakefield public schools and was a graduate of Suffolk University Law School and Boston University Law School. He was a practicing attorney in Hyannis, Massachusetts for more than fifty years before his retirement a few years ago, and was a member of the American Bar Association; Massachusetts Bar Association; Treasurer and Past President of the Barnstable County Bar Association; and a member of the American Judicature Society.
R. W. Brother Smith was active in community affairs and was the Public Safety Commissioner of Harwich from 1940 to 1946. He was a charter member of the Coast Guard Auxiliary, Flotilla No. 1101 in Chatham, and Division Captain of the Coast Guard Auxiliary for Cape Cod. He was a member of the Kiwanis Club and served as President and Lieutenant Governor of that club. He was also an honorary member and former director of the Cape Cod Bank and Trust Company.
In Masonry, he was raised a Master Mason in Pilgrim Lodge, Harwich, on June 2, 1938, and served as Worshipful Master in 1943, 1944 and 1945, and Treasurer from 1945 to 1965. He served as District Deputy Grand Master in the Provincetown 32nd Masonic District in 1951 and 1952, and as Deputy Grand Master of Masons in Massachusetts in 1959.
He received the Royal Arch Degree in Sylvester Baxter Royal Arch Chapter, Harwich, on January 18, 1939 and served as High Priest from 1943 to 1947 and again in 1950. He was District Deputy Grand High Priest in 1948-1949, Deputy Grand High Priest in 1952, and Grand High Priest from 1955 to 1957. He was greeted in New Bedford Council, Royal and Select Masters on June 3, 1947 and knighted in Sutton Commandery No. 16, New Bedford, on June 20, 1946. In Scottish Rite Freemasonry, Brother Smith joined Fall River Lodge of Perfection; Samuel Crocker Lawrence Council, Princes of Jerusalem; St. Andrews Chapter of Rose Croix, and Massachusetts Consistory, Boston, all in 1946. In 1954, when the Consistory was chartered in Fall River, he joined Old Colony Consistory and served that year as an Assistant Master of Ceremonies. On September 23, 1959, Brother Smith was coronated a 33rd Degree Mason in Buffalo, New York.
Brother Smith was also a member of Bay State Conclave, Red Cross of Constantine, Boston; Massachusetts College, Societas Rosicruciana in Foederatis Civitatibus; Boston Court No. 103, Royal Court of Jesters; Aleppo Temple, A.A.O.N.M.S.; American Lodge of Research, New York; Massachusetts Chapter of Research; Order of the Eastern Star; White Shrine of Jerusalem and Cape Cod Consistory Club. He was advisor for the local assembly of Rainbow for Girls, and a life member of the Royal Order of Scotland. He received many honors and awards including the Paul Revere and the Benjamin Hurd, Jr. Medals from the Grand Royal Arch Chapter of Massachusetts, as well as the Henry Price Medal from our Grand Lodge.
R. W. Brother Smith died on January 3, 1984 at the Cape Cod Hospital, Hyannis, after a period of failing health. He is survived by his widow Kathryn Souza Smith and five daughters, Mrs. Karen Russell of Gray, Maine; Mrs. Barbara Dwyer of Wollaston; Mrs. Patricia Corrado of West Harwich; Marion E. Smith; and Valerie L. Smith, both of West Harwich, and one grandchild. He also leaves four brothers and a sister. A former wife, Annabel Steele Todd, predeceased him.
Funeral services were held on Friday, January 6 at the First Congregational Church, Harwich Center, with the Reverend James R. Williams officiating. This service was preceded by a memorial Masonic service conducted by the officers of Pilgrim Lodge, A.F. & A.M., of Harwich. Interment followed at Pine Grove Cemetery, West Harwich, Massachusetts.
Respectfully submitted,
Stanley F. Maxwell
Robert O. Thayer
John D. Strachan
Committee
SPEECHES
FEAST OF ST. JOHN, DECEMBER 1958
From Proceedings, Page 1958-317:
Most Worshipful Grand Master, Distinguished Guests and my Brethren:
I am happy to have an opportunity to participate in, and have a part of, the program of the observance of the 225th anniversary of our Grand Lodge. I can't bring you any official greetings because that lies within the power of the Grand Master. The only greetings I can bring you, my Brethren, are from the great empire of Cape Cod, which lies to the southeast of the Commonwealth. (Applause) Thank you, fellow citizens. (Laughter)
I expect that you, with me, gave serious thought and reflection upon the toast tonight, particularly the one to the departed Brethren. As I stand here tonight before you and in a part of this observance, I cannot help but think how much we really owe to those who have gone on before us, those who have built this institution to what it is today in this Commonwealth, in this Nation, in this world. But, my Brothers, I hope that we shall not be remiss in our duty as men and as Masons to rest on our laurels and the gains that we have made over two and a quarter centuries. This should be an inspiration to every Mason in this Commonwealth to redouble his efforts to see to it that this institution shall pass on to our posterity unimpaired and that the heritage that we enjoy today will be appreciated as much by those who succeed us as we appreciate it, as we pause in our deliberation to mark this passing in history.
It should stimulate us all to look forward over the horizon into the bright sunlight of a dawn of a new day that we may go forward, carry the torch of this great Craft, and see that its tenets and its principles are unimpaired. Thank you. (Applause)
---