MAGLHFFrench
From MasonicGenealogy
HERBERT F. FRENCH 1868-1930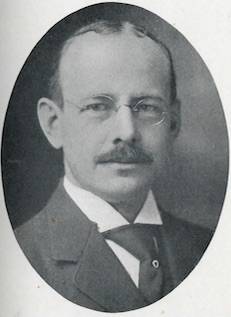 Junior Grand Warden, 1912
MEMORIAL
From Proceedings, Page 1930-274:
R.W. Bro. French was born in Randolph April 8, 1868, and died in Braintree May 10, 1930. Bro. French was educated in the schools of his native town and at Thayer Academy in Braintree. His first business connection was with the shoe trade. After about twelve years he entered the field of public accounting 'where he remained until his death and where he commanded in the highest degree the confidence of the business world.
Bro. French was initiated in Norfolk Union Lodge Jan. 29, 1890, passed. March 5, 1890, and raised April 2, 1890. He served the Lodge as Master in 1898 and 1899, and was District Deputy Grand Master for the then Twenty-fourth Masonic District in 1908 and 1909 by appointment of M.W. John Albert Blake, and M.W. Dana J. Flanders.
He was Junior Grand Warden in 1912. Although Bro. French's official connections were with Craft Masonry he was a member of the various bodies in the York and Scottish Rites and his large services to the Fraternity were recognized by election to the thirty-third degree and Honorary Membership of the Supreme Council, which was conferred upon him in 1920. For many years his firm audited the accounts of the Grand Lodge and the Masonic Education and Charity Trust, and, more recently, those of the Supreme Council for the Northern Jurisdiction.
Bro. French is survived by a brother and by his widow and two sons.
Bro. French was respected in the highest degree by all who knew him and loved by all who were privileged to enjoy his friendship. His loss will long be keenly felt by those of us with whom he labored in the work of the Craft.
From Proceedings, Page 1930-306:
Our late Brother, Rt. Wor. Herbert F. French, 33°, was born on April 8, 1868. He entered our Fraternity at the age of twenty-one and nine years later was elected Worshipful Master of Norfolk Union Lodge of Randolph. In 1908 and 1909 he served as District Deputy Grand Master and in 1912 was elected Junior Grand Warden. His death on May 10 of this year brought to an untimely end a career rich in Masonic service. He was a man of great civic pride and took a prominent and helpful part in the affairs of the community. His passing is regretted by all who knew him.
At the head of the firm which bore his name, his business reputation was beyond reproach and was distinguished by a code of ethics that none might question. Faithful and honorable in his relations with his clients, he never spared himself nor his employees in his care for their interests.
Of the highest efficiency in his profession as an auditor, there was in his every word and action a pronounced indication that there could be no compromise with right and that he would only consent to serve those whose standards were like his own.
The systematic arrangement of the accounting methods of the various funds of the Grand Lodge is a service which he has for years rendered to the Fraternity. He steadfastly refused to accept the usual fee for this work but consented only to a modest remuneration covering the actual cost.
"So when a great man dies,
For years beyond our ken,
The light he leaves behind him lies
Upon the paths of men."
H. P. Ballard,
Roy Prout,
Carl S. Gove,
Committee.
---