MAGLHCase
From MasonicGenealogy
HAROLD CLAUDE CASE 1902-1972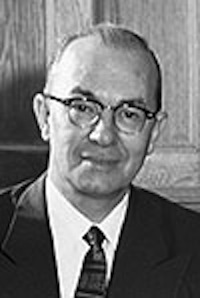 MM Glencoe #983, Glencoe, IL
Affiliated Boston University, 1956
Grand Chaplain 1956-1958
BIOGRAPHY
President of Boston University; biography from University web site:
Harold Case was born in Cottonwood Falls, Kansas, graduated from Baker University in Kansas, and pursued graduate study at Harvard University, Garrett Biblical Institute, Northwestern University, and Boston University School of Theology. He was a successful minister at several large Methodist churches across the nation before assuming the presidency of Boston University in 1951.
President Case continued the post-war expansion of the University, building new dormitories and establishing the School of Fine and Applied Arts (now the School for the Arts), the College of Engineering, and Metropolitan College. He created the African Studies Program in 1953, and the same year invited the distinguished African-American theologian Howard Thurman to be Dean of Marsh Chapel. President Case fostered a new campus atmosphere and he and his wife Phyllis won national recognition for their "University at Home" program, in which undergraduate students gathered at the Case's home to discuss contemporary issues.
---