MAGLGUpton
From MasonicGenealogy
GEORGE H. UPTON 1893-1965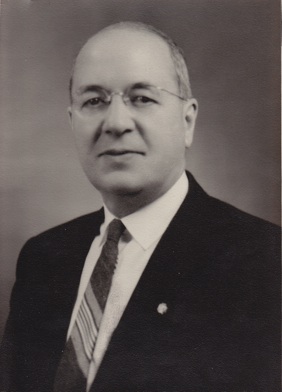 Grand Standard Bearer, 1956
Grand Marshal, 1957-1959
Senior Grand Warden, 1960
MEMORIAL
From Proceedings, Page 1965-281:
Right Worshipful George Herbert Upton, Past Senior Grand Warden, died in Lowell at the Lowell General Hospital Monday noon, March 8, 1965, after a brief illness.
Brother Upton was born in Lowell on January 3, 1893, the grandson of Capt. George L. Huntoon, Civil War Veteran, who had been a member of Pentucket Lodge for almost 70 years; and he was the son of Charles T. Upton, who was a member of Pentucket Lodge for 49 years. His mother, Lucy Huntoon Upton, died August 12, 1956.
George attended the Lowell public schools and, after graduating from Worcester Acaderny, attended Worcester Polytechnic Institute. He established the George Upton Insurance Agency over 45 years ago, having retired in December of 1958.
He was Director and Vice-President of the Goodwill Industries: Past Treasurer of the Middlesex North Agricultural Society; Past Director and Treasurer of the Y. W. C. A.; a member of the Vesper Country Club; and a member of the First Congregational Church, which he served over the years as Clerk and member of the Church Board. In World War I he served in the Army Air Force, receiving his Honorable Discharge in 1918. He was Vice-President of the Central Savings Bank of Lowell and a member of the Board of Investment for over 35 years.
On September 3, 1918 he married Hazel Anna Coy, who survives him together with a sister, Mrs. Ruth Upton Langevin, and several nieces.
Brother Upton was raised a Master Mason on May 10, 1916 in William North Lodge, which he served as Worshipful Master in 1944 and 1945. In Grand Lodge he served as Grand Standard Bearer in 1956, District Deputy Grand Marshal in 1954 and 1955, Grand Marshal in 1957-1959, and Senior Grand Warden in 1960. He was awarded the Henry Price Medal in 1960 for distinguished service.
He was exalted in Mount Horeb Royal Arch Chapter of Lowell January 16, l9l7; greeted in Ahasuerus Council May 8, 1925; and on February 23, 1926 was knighted in Pilgrim Commandery No. 9, of which he was Eminent Commander in 1939.
He received the Scottish Rite degrees in Lowell Lodge of Perfection, Lowell Council, Princes of Jerusalem, Mt. Calvary Chapter of Rose Croix, and Massachusetts Consistory, serving as Most Wise Master of Rose Croix in 1948-49-50. He was created Sovereign Grand Inspector General 33°, Honorary Member of the Supreme Council, on September 28, 1949 at Chicago. He was a member of Aleppo Temple, Massachusetts College Society of Rosecrucians, and Bay State Conclave of the Red Cross of Constantine.
A Memorial Service was held by William North Lodge at 4:00 P.M. on Wednesday, March 10,1965 at the Morse Funeral Home. Funeral services were conducted at the First Congregational Church by Reverend W. Irving Monroe, Jr., March ll, 1965. Interment was in the Lowell Cemetery. The services were attended by a host of friends and dignitaries. Grand Lodge was represented by our Grand Master, Most Worshipful A. Neill Osgood. The American Flag was presented to Mrs. Hazel Upton in appreciation of the Patriotic, Loyal and Devoted Service which George had rendered to his Country during its hour of need.
Fraternally submitted,
Andrew G. Jenkins
Martin H. Johnansen
James S. Johnston
Committee
---