MAGLGClapp
From MasonicGenealogy
GEORGE E. CLAPP 1891-1985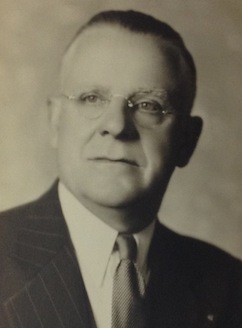 Grand Pursuivant, 1942
Junior Grand Warden, 1951
---
From Proceedings, Page 1985-123:
Brother Clapp was born on March 17, 1891 in Westhampton, Massachusetts, the son of Lyman Wright Clapp and Elizabeth Ewing Clapp and was a descendant of Captain Roger Clapp of England who arrived in the Colonies aboard the ship "Mary and John" on June 17, 1630.
Brother Clapp attended the public schools in Westhampton and later attended Williston Seminary and Northampton Commercial College and graduated in 1913 from Amherst College, Amherst with a Bachelor of Arts degree. In 1917 he married the former Ella B. Townsend and from their marriage they had two children, George C. Clapp, now residing in Delaware, and Elizabeth Needham who lives in Florida. His beloved wife of 58 years, Ella, passed away in 1975 and in 1979 he married Idelle Denehy Clapp.
In 1919, Brother Clapp moved to South Deerfield, where he resided for 66 years. He began his business career with the Arms Manufacturing Company where he toiled for 16 years, leaving them in 1936 when hejoined the Eaglebrook School as an accountant and later as an Assistant Treasurer, retiring in 1963. He served his country during World War I in the United States Army and was a member and Past Commander of Thomas W. Ashley Post 299 of the American Legion.
Brother Clapp served his community of South Deerfield as Town Moderator for 20 years, the South Deerfield Water Supply District as Treasurer for 39 years and as Treasurer of the South Deerfield Cemetery Association for 31 years and as Clerk for 21 years.
Brother Clapp's Masonic career began in Mount Sugar Loaf Lodge, A.F. & A. M., South Deerfield, where he received his Master Mason degree on March 11, 1921. He later served as Worshipful Master in 1927 and was elected Secretary of the Lodge in 1929, an office which he held for 44 years, before retiring in 1971. He was appointed a Grand Pursuivant in 1942, was a member of the Grand Lodge Education Committee from 1945 to 1971 and a District Deputy Grand Master of the Greenfield 14th Masonic District in 1946 and 1947. He was elected Junior Grand Warden of the Grand Lodge in 1951 and was awarded the Henry Price Medal on February 26, 1951 and the 50 Year Veteran's Medal in 1971. ln 1969, he was appointed Grand Representative to the Grand Lodge of Utah near the Grand Lodge of Massachusetts.
Brother Clapp was a member of the York Rite Bodies in Greenfield and was a past head of the three Scottish Rite Bodies in the Valley of Greenfield and a member of the Connecticut Valley Consistory Valley of Springfield. He was created a Sovereign Grand Inspector General, 33rd Degree, Honorary Member of the Supreme Council on September 29, 1954.
Brother Clapp also enjoyed membership in the Amherst Golf Club and was a 27 year member of the Greenfield Country Club. He was an active member of the South Deerfield Congregational Church where he served as a Trustee for three years, a deacon for 35 years, Moderator of the Church for 20 years and sang in the choir for 50 years.
Brother Clapp appeared to be eternally young in all of his endeavors. His friendly smile and warm handshake greeted all whom he met. He will be sadly missed by those who knew him, but he has left in the sands of time deep footprints not easily erased which will show the way for those who follow. He laid down the working tools of the Craft on July 30, 1985. They were well-used, but with tender loving care.
Fraternally submitted,
David L. Bell
Norman W. Whitcomb, Jr.
Edgar W. Darling
Committee
---