MAGLEPearlstein
From MasonicGenealogy
ERNEST A. PEARLSTEIN 1944-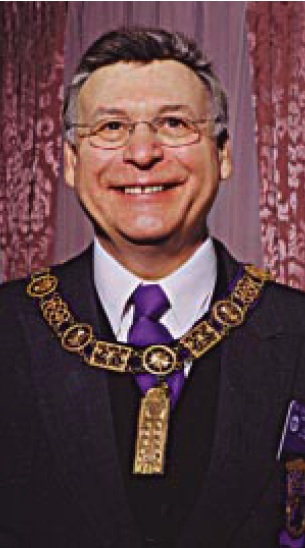 Junior Grand Warden, 2005
BIOGRAPHY
From TROWEL, Winter/Spring 2005, Page 6:
The Grand South may be a place of merriment and mirth for the next year. Rt. Wor. Ernest A. Pearlstein of Malden, a member of the Shrine Clown Unit since 1979 and best known to many as Rollo T Clown, is our new Junior Grand Warden.
Born in Cambridge in 1944, Bro. Pearlstein is married to Marjorie Pearlstein and is the father of six children and the grandfather of twins.
The Junior Grand Warden was raised in Revere Lodge in 1979, and served there as Master in 1985–1986. He also served as Master of Euclid Lodge in 1986. and the Master of Mount Scopus Lodge in 1998–2000. He has also served as a District Deputy Grand Master in 1988–1989 (District 2 (Boston)), District Deputy Grand Marshal in 1992–1993, Grand Representative from the Grand Lodge of Saskatchewan, Chairman of the Grand Master's Country Fair for the Parade and Children's activities for four years, Chairman of the CHIP Boston Project in 1998–2000 and a Grand Lecturer in 2004.
Bro. Pearlstein is a life member of the Scottish Rite bodies in the Valley of Boston, and received the Scottish Rite Humanitarian Award in 2001. In York Rite he is a member of Malden Royal Arch Chapter and Melrose Council.
Best known for his work with Aleppo Temple, "Rollo" served as President of the International Shrine Clown Association (ISCA) in 1995 and Chairman of the ISCA Public Relations Committee since 2001. He served as the Assistant Boss Clown for the Aleppo Unit for two years, the Boss Clown for two years, the Business Manager in 1996, a director in 1989–1991 and the Treasurer in 1998.
In addition to his Masonic work, Rt. Wor. Bro. Pearlstein is active in community affairs. He served two years as the Vice President for the Stoneham PTA and two years with the Forestdale School Council in Malden. He has been active with the Malden Little League, a speaker for the Cambridge Rotary, and a supporter for Malden Community Access television. He has been recognized by John Hancock for his work with 250 homeless families and the Make-a-Wish Foundation in Milford for his work with the chronically ill. He received a certificate for dedicated service from Boston Mayor Thomas M. Menino in 2000. From 1961–1965, Bro. Pearlstein served with the U.S. Marine Corps.
---