MAGLEParker
From MasonicGenealogy
EARLE CLARENCE PARKER 1898-1972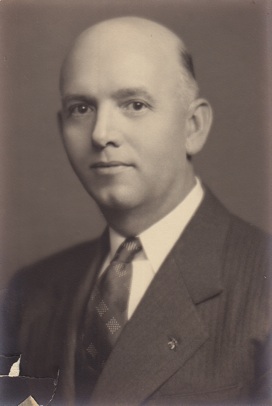 Junior Grand Warden, 1972
MEMORIAL
From Proceedings, Page 1972-384:
"It is with regret that we note the death of Right Worshipful Earle Clarence Parker, Past Junior Grand Warden of the Grand Lodge of Massachusetts. He was born in Oakham, Massachusetts on October 7, 1898, and died in Oakham, Massachusetts on October 10, 1972.
"He is survived by his widow, Eleanor (Gardner) Parker, a daughter, Mrs. Jean P. King, and a grandson, James P. King, all of Worcester. A Memorial Service was held in the First Congregational Church, Worcester on October 13. Right Worshipful Brother Parker was educated in Oakham Grammar School, Barre High School, and Worcester Business Institute. He was a merchant in Oakham. His family owned the Oakham and Coldbrook Telephone Company, serving 135 customers when it was taken over by the New England Telephone Company in 1955. He was associated with the Barre Savings Bank as Teller, and Clerk of the Corporation. He was a member of the First Unitarian Church of Barre, and Chairman of its Board of Trustees. He was a member of the Barre Village Improvement Association, and its treasurer for some years. He was Past Finance Officer of Barre Post, Number two of the American Legion. He was elected a Selectman of the town of Oakham when he was twenty-five, and at that time was the youngest Selectman in the Commonwealth.
"Right Worshipiul Brother Parker was raised in Mount Zion Lodge, Barre, in 1920. He served as Worshipful Master of the Lodge in 1924, and later was Treasurer of the Lodge. He served the Grand Lodge as Junior Grand Steward tn 1927; as District Deputy Grand Master of the Barre Thirteenth Masonic District in 1936 and 1937; and as Junior Grand Warden in 1941, in which year he received the Henry Price Medal.
"He was active in the York Rite Bodies. He was a member of Union Royal Arch Chapter of Athol, Hiram Council of Worcester, and later Harris Council of Royal and Select Masters of Athol, and Athol Commandery of Knights Templars of Athol.
"Right Worshipful Brother Parker served well his day and generation. He was zealous and successful in business, a loyal churchman, and a useful citizen. FIe gave of himself generously, and was a servant of every good cause. The best that Freemasonry teaches found expression in his activities, for he made the principles of the Craft the imperatives of life.
Fraternally yours,
Thomas S. Roy
Robert A. Powers
Neil E. Mattson
Committee
---