MAGLEMorton
From MasonicGenealogy
MORTON, ELIAS PARTRIDGE 1842-1915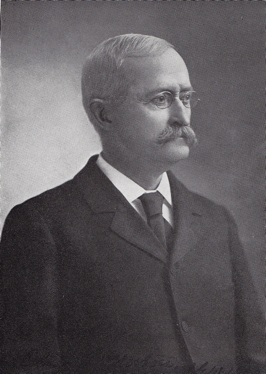 Senior Grand Warden, 1900
MEMORIAL
From Proceedings, Page 1915-179:
R.W. ELIAS PARTRIDGE MORTON of Augusta, Me., was born in that city September 7, 1842, and died there May 26, 1915. At a very early age he went to Webster, Mass., where he lived many years, becoming identified with the public affairs of the town and especially with the Masonic interests. He served in Webster for thirty years as agent for the Stevens Linen Works, finally retiring from that service with an enviable record for faithfulness and efficiency. He enlisted during the Rebellion, was Sergeant-Major of the Eleventh Regiment of Maine Volunteer Infantry, and was wounded at the battle of Fair Oaks.
In 1906 he returned to his native city to live where he renewed old friendships and established new ones, for he was the type of a Christian gentleman whom to know was to respect and admire. His friendships were lasting, founded upon loyalty and service. His devotion to the Masonic institution was a natural expression of these traits of character.
Brother Morton received the Masonic degrees in Webster Lodge, of Webster, in 1876; was Worshipful Master in 1879, 1880, and 1881; District Deputy Grand Master of the Nineteenth Masonic District in 1887, 1888, and 1889, and served this Grand Lodge as Senior Grand Warden in the year 1900. He received the degrees in Doric R. A. Chapter, in Southbridge, in 1876, and in Hiram Council, of Worcester, the same year. He received, the orders of Knighthood. in Worcester County Commandery in 1895. In 1910 he demitted to Trinity Commandery, K.T., No. 7, of Augusta, Me., of which he was Generalissimo at the time of his death. He was a member of the Scottish Rite Bodies in Worcester and Boston.
Brother Morton is survived by a widow, sister, and three brothers, Col. Charles B. Morton of San Juan, Porto Rico, Frank Morton of Los Angeles, and Major Alfred Morton of San Francisco, Cal. The Templar and the Grand Army Rituals were used at his burial in Webster.
Brother Morton passed away in his sleep; a modest, sweet spirited and zealous Brother ended. his life as he had lived, quietly, without ostentation, but truly loyal to Masonry, to his home, to his friends, and. to his God.
Oliver A. Roberts.
Albro A. Osgood.
John M. Crawford.
---