MAGLEHolmes
From MasonicGenealogy
EDWARD CLINTON HOLMES 1879-1967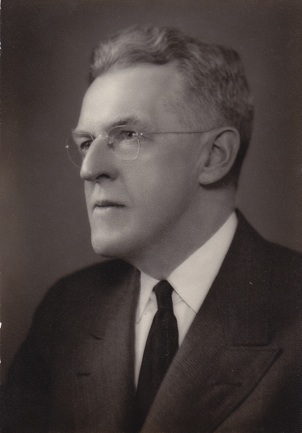 Junior Grand Warden, 1940
MEMORIAL
From Proceedings, Page 1967-258:
Right Worshipful Edward Clinton Holmes was born in Plymouth, Massachusetts, on March 9, 1879 and died at Plymouth on May 15, 1967. He was the son of Richard Holmes and Laura E. Barnes Holmes and attended the Plymouth schools.
In September 1897 he entered the employ of Cobb & Drew, manufacturers of tacks and rivets, in Kingston, Massachusetts, as an office clerk. From 1906 to 1908 he was an office clerk in the Puritan Mills, a branch of the American Woolen Company. From 1908 until his retirement in 1949 he was in the employment of the County of Plymouth, first as a clerk in the office of the Registry of Deeds, then, from April 11, 1921 as Assistant Registrar, and from January 1, 1939 as Registrar of Deeds, a position which he filled with distinction.
On October 13, November 10 and December 22, 1902 he received his degrees in Plymouth Lodge and was its Worshipful Master in 1919 and 1920. He was District Deputy Grand Master for the Plymouth 27th District in 1924 and 1925, and was Junior Grand Warden of the Grand Lodge in 1940. He received the Henry Price Medal in 1940 and the Veteran's Medal in 1952.
On January 21, 1904 he received the Royal Arch degree in Samoset Chapter, served as High Priest in 1911, 1912 and 1913, and in 1922 and 1923 was Deputy Grand Captain of the Host for the Seventh Capitular District. He received the Super Excellent Degree in Abington Council on June 21, 1913 and the Order of the Temple in Old Colony Commandery, both of Abington, Massachusetts, on April 30, 1908.
He was an active and devoted leader in his church, in the Plymouth National Bank, and in all community affairs; respected and beloved by all who knew him.
Respectfully submitted,
Joseph Earl Perry
Arthur L. Spear
Emmett B. Baker
Committee
---