MAGLDWebster
From MasonicGenealogy
DEAN KINGMAN WEBSTER 1870-1951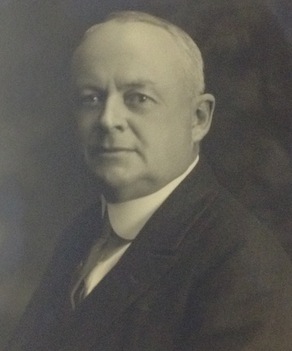 Senior Grand Warden, 1925
MEMORIAL
From Proceedings, Page 1951-239:
Brother Webster was born in Lawrence, Massachusetts, on May 10, 1870, the son of Henry K. and Elsie A. (Johnson) Webster, and died in Lawrence on Sunday, November 4, 1951. He was lineally descended from John Webster (the grandfather of Hannah Dustin of Indian fame), who came from Ipswich, England, and settled in Ipswich, Massachusetts, in 1634. Antecedents served in the Revolutionary War, that of 1812 and the War of the Rebellion.
He received his education in the public schools of Lawrence, and after his graduation from high school, took commercial and law school courses, after which he entered the grain business, originally established by his father in 1868 under the name H. K. Webster Company, and served as president of that company from 1920 until his death.
He founded four Mutual Fire and Casualty Insurance Companies and served them as president for a period of twenty-four years, retiring in 1931. He also established in 1929 a finance corporation which he successfully operated as president for many years.
He served for many years as a director and trustee, and for two years as president, of the Lawrence Y.M.C.A., was a long-time member and trustee of the Central M. E. Church of Lawrence, actively participating in all departments of its work, and served as a trustee of the Lawrence Savings Bank.
His Masonic record was long, comprising all branches of Masonry. He was raised in Tuscan Lodge of Lawrence in 1901 and held various offices in that Lodge, serving as its Worshipful Master in 1910 and 1911. He was a District Deputy Grand Master of the Grand Lodge in 1914 and 1915, and Senior Grand Warden in 1925. He was elected a Director of the Grand Lodge on December 10, 1930, and was a very valuable member of that Board until his death. He was the recipient of the Henry Price Medal.
He was a Past High Priest of Mt. Sinai Chapter and held various offices in the Grand Chapter, including that of Grand King. He also held various offices in the Grand Council of Royal and Select Masters, and was its Most Illustrious Grand Master from 1921 to 1923. He received the Order of the Temple in Bethany Commandery, No. 17, in 1902, and was its Eminent Commander in 1913 and 1914 and Trustee of the Grand Commandery Educational Fund from 1928 to 1948.
He received his Scottish Rite degrees from the fourth to the eighteenth inclusive in the Lowell Bodies in 1906 and 1907, was Sovereign Prince of Lowell Council of Princes of Jerusalem from 1913 to 1915, was a member of Massachusetts Consistory from April 26, 1907, and, was its second Lieutenant Commander from 1916 to 1918. He was a charter member of Lawrence Lodge of Perfection, and was its second Thrice Potent Master in 1927. He was also Past First Lieutenant Commander of Massachusetts Council of Deliberation. He was crowned a Sovereign Grand Inspector General, 33°, an Honorary Member of the Supreme Council, N.M.J., on September 17, 1918.
He was a tower of strength to Masonry, particularly in Lawrence and for many years was president of the Lawrence Masonic Association. In 1948 he organized a campaign to raise the funds to pay off the mortgage on the Lawrence Masonic Temple, and on November 23, 1948, presided over the banquet ceremony of burning the mortgage.
He was married to Clarabell Hatch in 1894, who died in January 1941. He is survived by two sons, Illustrious Walter N. Webster 33°, and Wor. Brother Dean K. Webster, Jr., 32°, the present Thrice Potent Master of Lawrence Lodge of Perfection, and four grandchildren.
"No one hears the door that opens
When we pass beyond the call;
Soft as loosened leaves of roses
One by one our loved ones fall."
Fraternally submitted,
Claude L. Allen
Frederick G. Caspar
H. Elton True
---