MAGLCSpellman
From MasonicGenealogy
CHARLES CLARK SPELLMAN 1843-1920
[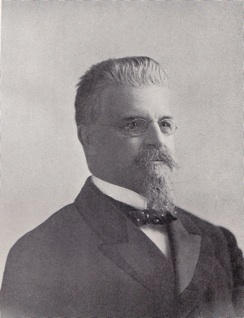 Junior Grand Warden, 1882
MEMORIAL
From Proceedings, Page 1920-459:
R.W. CHARLES C. SPELLMAN, Past Junior Grand Warden, died at his home in Springfield on Sept. 13, 1920. Bro. Spellman has been a leader in Masonic affairs in the Connecticut Valley for many, many years and his advice and valuable help have been most generously given. His interest never waned and his hand was always the first one to grasp the visitors on arrival in his city. It will seem strange in Springfield not to hear the hearty voice and wholesome laugh of Bro. Spellman and his magnetism and enthusiasm will be sorely missed by his Brethren.
From Proceedings, Page 1920-577:
Charles Clark Spellman was born in South Wilbraham, now Hampden, Hampden County, Mass., December 3, 1843, and died in Springfield, Mass., September 13, 1920, son of Solomon C. Spellman, for many years trial justice of Hampden, and Mary (West) Spellman. He spent his early life in that town, receiving his early education at Monson Acpdemy and his preparatory education at Williston Seminary, from which he was graduated with the class of 1863.
He entered Yale College in the class of 1867, but before graduation left college to take up the study of law in the office of the late E. D. Beach in Springfield, Mass. After preliminary study in Mr. Beach's office, he completed his legal training in the Harvard Law School.
Following his graduation he returned to the office of Mr. Beach, where he remained to continue his studies until he was admitted to the Hampden County Bar during the March term of the Superior Court in 1868. He began active practice as the partner of former Mayor Charles A. Winchester, and immediately entered into active professional work with a vigor which soon earned for him the reputation of being unusually efficient. He remained in partnership with former Mayor Winchester until the latter's death, which occurred. a few years later. Soon after this, Rt. Wor. Brother Spellman entered partnership with former Mayor E. B. Maynard, the partnership continuing until the latter was appointed a Justice of the Superior Court.
After this Brother Spellman practiced alone for some years, and then, in 1899, when his son, Charles F. Spellman, was admitted to the bar, he formed a partnership with him under the firm name of Spellman and Spellman, of which he was senior member at the time of his death. From the time this partnership was formed until Brother Spellman's death, it remained one of the best known law firms in Western Massachusetts. With his son, Brother Spellman carried on a large practice, but despite this he was considered by the public in general as one of the most approachable attorneys of the Hampden County Bar.
A few years after his admission to the bar, Brother Spellman was appointed Clerk of the Springfield Police Court when that office was created. He remained in office for thirteen years, when he resigned.
Brother Spellman was elected to public office on several occasions. In 1878 he was elected on the Democratic ticket to the State Legislature from one of the city districts which was considered overwhelmingly Republican. While in the Legislature he served with distinction on the Judiciary Committee. The following year he was elected to the State Senate from the first Hampden District. He also served in the Senate on the Judiciary Committee, as well as on the Harbor and Land Committee. IIe declined to stand for reelection.
In 1906 he was elected County Commissioner for Hampden County. Two years later he became Chairman of the Board, a post he held without interruption through four terms until the time of his death. His entire work as a public official was marked by faithful and thoroughly painstaking service. He gave generously of his time and of his counsel as an attorney to the affairs that came before him in his official capacity.
For more than fifty years Brother Spellman had been active in the various branches of Masonry. He came to be known as one of the foremost figures in Masonic circles; not only in Springfield. but throughout the entire jurisdiction of the Grand Lodge of Massachusetts. He was raised in Roswell Lee Lodge, A. F. & A. M., February 12, L870, was Master of that Lodge in 1877, 1878, and 1879; Treasurer 1883, 1884, 1885, and 1886; and in 1882 was Junior Grand Warden of this Grand Lodge.
He was exalted in Morning Star Chapter R.A.M. June 3, 1873, and held the office of Principal Sojourner in the years 1874 to 1876; also in 1883. He received the Cryptic degrees in Springfield Council, Royal and Select Masters, and was Thrice Illustrious Master in 1891. He was Knighted in Springfield Commandery, Knights Templars, June 18, 1873, and was Commander in 1881 and 1882, and was a member of the Massachusetts and Rhode Island Association of Knights Templars Commanders.
In the Scottish Rite he was a member of the four bodies meeting in Springfield. He had been active in the bodies of this Rite and presided over the first three, and was a charter member of Springfield Chapter of Rose Croix and Connecticut Valley Consistory. He was created Sublime Prince of the Royal Secret, 32d. degree, in Massachusetts Consistory, Boston, December 17, 1875, and made an Honorary Member, 33d degree of the Supreme Council, September 15, 1885.
Rt. Wor. Brother Spellman was married December 4, 1870, to Miss Jennie H. Flagg of Springfield, who, together with his son and daughter, survives him.
The prominent characteristics of Brother Spellman's life were an ever abounding joy in life itself, in the companionship of his fellow men, his desire to live a blameless life, to bear a good name before all the world, and. his untiring devotion to the Masonic Institution in all its branches. Brother Spellman never accumulated great wealth. He, probably, never saw a day in his life when he did not care more for an idea than for a dollar, and whatever money he accumulated he spent freely for his family and for charity.
To his host of friends in Springfield and throughout Massachusetts his memory will be in accord. with the dream of his life, "A man with a just, upright, and blameless life. "
Edwin A. Blodgett, Albert F. Crowther, Robert J. Black, Committee.
From Proceedings, Page 1922-96, at the constitution of Charles C. Spellman Lodge, 04/21/1922:
Charles Clark Spellman, born December 3, 1843, at South Wilbraham (now Hampden), after two years at Yale studied law at Harvard and was admitted to the Bar in 1868. In 1887 and 1888 he was in the Legislature, and in 1906 was elected County Commissioner, serving twelve years as chairman until his death on September 13, 1920.
He was raised in Roswell Lee Lodge February 12, 1870, was Master in 1877, 1878 and 1879 and Treasurer 1893 to 1896, and in 1882 was elected Junior Grand Warden of the rand Lodge. He was a member of Morning Star Royal Arch Chapter, served (in some instances several years in succession) at the head of all the other local bodies of both the York and Scottish Rites, was a life member of Massachusetts Consistory, a charter member of Connecticut Valley Consistory, and on September 15, 1885, received the honorary 33d Degree in the Supreme Council of the Scottish Rite.
His sterling integrity, courtly courtesy, and firm adherence to principle made him esteemed as a friend, beloved as a Brother, and respected as a hih type of useful citizen.
---