MAGLCRobbins
From MasonicGenealogy
CHARLES H. ROBBINS 1800-1871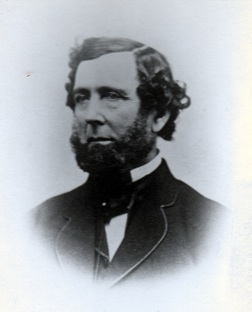 From the collection of the Grand Lodge of Masons in Massachusetts
Junior Grand Warden, 1859
MEMORIAL
From Proceedings, Page 1871-72
"The scythe of time is constantly mowing its swath, and one after another we are launched into eternity, and the same time which cuts the brittle thread obliterates all traces of its ravages. The place which knew us knows us no more, and the busy world goes round and round, and the scythe of time continues to mow on and on, cutting down the constantly renewed crops of humanity.
"Knowing all this, and that whatever record we may make, it will by time be blotted out and all memory and all knowledge of our departed Brethren be lost forever, we still, as the bright examples among us pass away, continue to praise their virtues and mourn their departure. We do this, not with the hope of immortalizing their memories ; we do it as an act of justice to ourselves and justice to the institution of which we have so much reason to be proud. We also do it as a protest against the unfeeling forgetfulness of the busy outside world. No! The Brother who has eaten with us at the social board and knelt at the same altar, who has tenderly led the faltering steps of the Apprentice and stimulated the zeal of the Master Mason, shall not be forgotten as soon as he is out of sight. We will place his virtues on record, though the record may not prove perpetual. How sweet, how lasting, how unalloyed, is the true Masonic friendship ! The strifes of politics and religious sects do not mar it; pounds and pence do not debase it. It is as steady and true as a mother's love for her child; as trusting as the child's love for its mother.
"The capacity to inspire just such a friendship was a chief characteristic of Brother Robbins. His Masonic friendships were 'linked together by an indissoluble chain of sincere affection.' He was, for nearly forty years, the keeper of the House of Correction for Suffolk County, and was so strict a disciplinarian that the unobserving might hastily say, 'Such a life makes a hard heart.' But it was not so. The administration of his official duties illustrated the four cardinal virtues : Temperance, Fortitude, Prudence and Justice, softened by the tenets of his profession, Brotherly Love, Relief and Truth. How much of that success which made his institution the model one of its kind was due to his Masonic discipline and Masonic teachings will never be known.
"Few of the new members of this Grand Lodge knew our departed Brother, though he was for many years one of the most ardent and active of our number. He was a Doric pillar. Single-minded, truthful, he talked from the heart. He had great strength of will and fixedness of purpose. The strong man had to yield at last. The great heart has ceased to beat. To the last he enjoyed the 'happy reflection consequent on a well-spent life, and died in the hope of a glorious immortality.'
"He was Past Master and honorary member of St. John's Lodge, honorary member of What Cheer Lodge, of Providence, R.I, and an active and honorary member of Winslow Lewis Lodge. In December, 1858, he was elected Junior Grand Warden of this Grand Lodge. He was also Past Grand Generalissimo of the Grand Encampment of Massachusetts and Rhode Island.
"Your committee recommend the adoption of the following resolution: —
"Resolved, That while accepting the foregoing as a just tribute to the memory of our beloved Brother Charles Robbins, we do not forget to sympathize with the members of his family in their affliction; and that a copy of this report and resolution be sent to his bereaved wife, as evidence of the respect of his Brethren towards him.
BENJ. DEAN,
R. M. FIELD,
CHARLES EDWARD POWERS,
Committee.
From Moore's Freemason's Monthly, Vol. XXX, No. 6, April 1871, Page 186:
We are pained, to announce the death of a much loved and respected brother, Charles Robbins, who died on the 27th of March, in the usefulness of years, and in the fulness of a good name.
As an official functionary, and head of the Correctional establishment at South Boston for nearly forty years, he was distinguished for his fidelity, persistency, and consistency, in carrying out the designs of such an institution. Though a strict disciplinarian, he won the respect of those committed to his charge.
As an honored member of our Fraternity, he has left a loving and an extended memory ; and the Acacia has been strewn on the remains of one long endeared to his brethren, by continual devotion, by kindly acts, and by all those qualities which designate the truly "accepted Mason."
A more extended notice of our late Bro. Robbins will be given in our next, and the resolutions which will have been adopted by the bodies of which he was an honored member.
From Moore's Freemason's Monthly, Vol. XXX, No. 7, May 1871, Page 214:
DEATH OF A BELOVED AND HONORED BROTHER.
Died in South Boston, March 27, 1871, of disease of the heart, R. W. Charles Robbins, aged seventy-one years and four days.
Bro. Robbins was born in Fairfield, Ct., March 23, 1S00, and in early was master of a vessel in the coasting trade.
Though not a native of Massachusetts, nearly the whole of his active was passed here, and forty-six years of it in the continued service of the City of Boston, as Master of the Suffolk House of Correction. Here he soon took and maintained a position in the front rank of successful managers of criminal institutions in this country. His eulogy as a citizen and public servant is found in the fact that during that long period, amid the countless municipal and political changes of nearly half a century, he was annually chosen to the office he so faithfully filled, by the almost unanimous votes of successive city councils.
Bro. Robbins was raised in St. John's Lodge, February 5, 1844; exalted in St. Paul's R. A. Chapter, January 14, 1845, and knighted in Boston Encampment, April 21, 1845. After filling most of the subordinate offices, in 1851 he sat in the East of St. John's Lodge, and ruled and governed it with marked regularity. He was charter and honorary member of Winslow Lewis Lodge and Senior Grand Warden of the Grand Lodge of Massachusetts. He was charter and honorary member of DeMolay Encampment and filled the offices of Warder, Junior and Senior Warden, Captain General and Generalissimo with an enthusiasm never surpassed and not soon to be forgotten. He was charter and honorary member of St. Omer Commandery, Grand Generalissimo of the Grand Encampment of Mass. and R. I. and representative member of the Grand Encampment of the United States.
Bro. Robbins was also zealous and honored member of the Ancient and Accepted Scottish Rite, having passed through the various grades of that Rite, to and including the 32°, soon after its organization in this city. He was firm and consistent in maintaining its integrity, and earnest in promoting its prosperity.
But he devoted the ripened energies of his Masonic manhood to the service of DeMolay Encampment and Winslow Lewis Lodge, and in both his nfluence will long be felt and acknowledged in the prosperous years to come. The last Masonic gathering he attended was the annual communication of the Lodge in November last. Even then the disease, to which he soon after succumbed, was fiercely grappling with his heart and few could have held it at bay and triumphed over it as he did throughout that evening. A few months later and, exhausted by the unequal contest, the wearied heart stood still, the cistern was broken at the fountain, the dust returned to the earth as it was, but the spirit unto God who gave it. He saw the inevitable end, and in peace and serenity he set his house in order. It was his last earnest request that he might be buried by fraternal hands and with Masonic rites. On Friday, March 31, after prayers at the house by Rev. Bros. Coolidge and Clinch, public funeral services were held in Trinity Church, Rt. Rev. Bishop Eastburn and Rev. Bro. Joseph H. Clinch officiating, attended by Winslow Lewis Lodge, a delegation from St. John's Lodge, the Council of the Grand Encampment of Mass. and R. I., DeMolay and St. Omer Commanderies, members of the Masonic Fraternity, members of the Board of Directors for Public Institutions, of present and past city governments and by a throng of citizens.
An elegant evergreen crown from the Board of Directors, a beautiful floral wreath and cross from W. L. Lodge, and a superb patriarchal cross of rose, moss and orange blossoms, from DeMolay Encampment, showered their bright and sweet influences upon the place and the occasion. After the impressive formal service of the Episcopal Church, the beautiful ritual of the Knights Templars was most effectively rendered by M. E. Grand Master Benj. Dean, assisted by Grand Chaplain Sir Kt. Noyes and Grand Recorder Sir Kt. Chapman and the Trinity choir.
On leaving the church, the casket was attended by Bros. Winslow Lewis, Chas. W. Moore, John K. Hall, and Samuel Hatch, as pall bearers, twelve knights Templars, from DeMolay and St. Omer Commanderies, in full uniform as a body guard, preceded by W. L. Lodge in regalia, escorted by De Molay Commandery, E. Com. Williams and St. Omer Commandery, E. Com. White, and followed by a long line of friends and acquaintances. As the procession slowly wended its way through the thronged streets, led by sweet strains of Gilmore's Band, it filled the gazing thousands with admiration of its simple and solemn beauty.
At the junction of Washington and Dudley Streets in the Highlands, the escort took silent leave of the honored remains which, attended by the Lodge and the Templar Guard of Honor, were borne to the grave at Forest Hill. Here the touching and time-honored Blue Lodge service was impressively rendered by Bro. Winsor Acting Master (Wor. Bro. Field being in Europe), assisted by Rev. Bro. Clinch as Chaplain and the Masonic choir. The last honors were paid, the sprig of Acacia was placed at his head, and all that was mortal of Brother Robbins was committed to that dreamless sleep that knows no waking till time shall be no longer.
It has rarely been our good fortune to witness a Masonic funeral, so complete in detail and so perfect as a whole, so promptly and easily conducted with no more of parade than was inseparable from its faithful execution. It was alike creditable to our Order and honorable to our departed brother. Green be his memory!
---