MAGLCLincoln
From MasonicGenealogy
CHARLES STUART FESSENDEN LINCOLN 1869-1965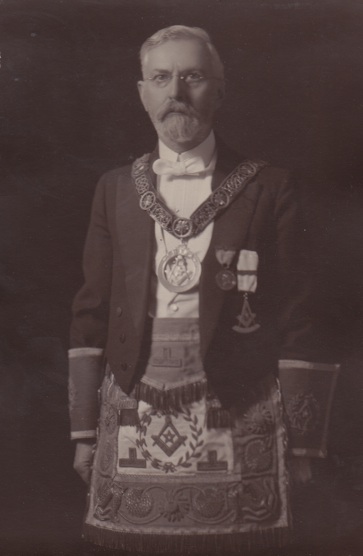 District Grand Master, China, 1922
MEMORIAL
From Proceedings, Page 1969-64:
Right Worshipful Charles Stuart Fessenden Lincoln was born in Brunswick, Maine on August 13, 1869, and died at Brunswick on July 5, 1965 in his ninety-sixth year, after a long and outstanding career as a physician and medical missionary.
A direct descendent of Samuel Lincoln, who settled in Hingham, Massachusetts in 1637, he was the son of John D. Lincoln, M.D. and Ellen Fessenden Lincoln of Brunswick, Maine; and grandson of Isaac Lincoln, M.D,. of Brunswick, Maine and General Samuel Fessenden of Portland, Maine.
His father and both grandfathers served as Worshipful Master of their respective Lodges, and General Fessenden was Grand Master of Masons in Maine in 1828 and 1829.
Dr. Lincoln was educated in the public schools of Brunswick, Maine, and in 1891 was graduated from Bowdoin College with the Bachelor of Arts degree. He received his Doctor of Medicine degree in 1894 from the Hospital College of Medicine, Louisville, Kentucky. Following his internship in 1894 and 1895 at Salem Hospital, Salem, Massachusetts, he practiced medicine from 1894 until his retirement in 1927. From 1899 to 1924 he was physician and teacher at St. John's University, Shanghai, China, and from l92S to 1927 he served as College Physician at Bowdoin College.
On January 6, 1899, Brother Lincoln was initiated in Lewis Lodge No. 191, Louisville, Kentucky, and on February 14 and 16, 1899, respectively, he was passed and raised in United Lodge No. 8, Brunswick, Maine.
He affiliated with our Ancient Landmark Lodge, Shanghai, China, on January 9, 1900, and on September 14, 1904 he became a Charter Member of our Sinim Lodge, Shanghai. He served as Worshipful Master of Sinim Lodge in 1904 and 1905. He was Deputy District Grand Master for the China District in 1921, and in 1922 he served as District Grand Master for China. He received the Henry Price Medal in 1922. Proxy for Sinim Lodge from 1926 to 1929, he was an honorary member of Sinim Lodge, Hykes Mernorial Lodge and Shanghai Lodge, all of Shanghai, China. He was our last surviving Past District Grand Master for the China District.
In 1906 he received the Royal Arch Degree in Rockingham Chapter, Harrisonburg, Virginia.
"Doc" Lincoln, as he was affectionately known, was for many years the unofficial "Mr. Bowdoin College", and "grand old man of Psi Upsilon Fraternity". The College awarded him an honorary degree in 1932. Until 1941 he served as class agent for his class. In 1940 he received the alumni service award, highest honor bestowed by the Bowdoin Alumni Association.
He was the third oldest living alumnus of Bowdoin at the time of his death, and was the senior alumnus present at Bowdoin's 160th commencement in June 1965. He was a former president of the Pejepscot Historical Society and the last survivor of its founding members.
He left two daughters, Mrs. George T. Johnson of Fayetteville, Arkansas, and Mrs. Clair Wilcox of Swarthmore, Pennsylvania; and a son, Brother John D. Lincoln II of Hingham, Massachusetts, and several grandchildren and great-grandchildren.
A memorial service for this distinguished physician, educator, humanitarian and Mason was held on Wednesday, July 7, 1965 in St. Paul's Episcopal Church, Brunswick, Maine.
Respectfully submitted,
Robert P. Beach
Grand Secretary
---