MAGLCJohnston
From MasonicGenealogy
JOHNSTON, CLARENCE LESTER 1898-1974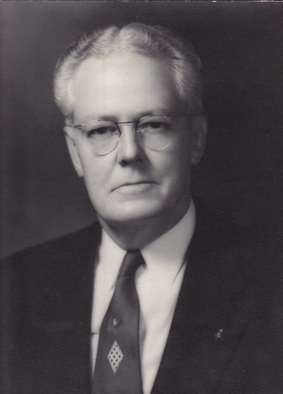 From Proceedings, Page 1974-115:
Clarence Lester Johnston was born at Philipsburg, Pennsylvania on March 10, 1898. He was of Scotch-Irish and Dutch descent and traces his family history to 1793 when his father's family settled at what is now Lynchburg, Virginia. Later, this branch moved into Pennsylvania. As a result of this move family records provide evidence of participants in both the Federal and Confederate Armies during the Civil War. His father's family was related to General Albert Sydney Johnston, renowned Confederate General.
Brother Johnston was educated in Rush Township Elementary School, Philipsburg High School and a year at Pennsylvania State College from September 1916 to April 1917 when he dropped out to enlist in the Army. He rvas transferred to the Canal Zone in May 1917 and, assigned to the 5th U.S. Infantry at Camp Empire, Canal Zone. In July 1918, he was promoted to 2nd Lt. U.S. Army Infantry and assigned to the 33rd Infantry Regiment stationed at Gatun.
In November 1919, he resigned his commission to accept a position as Assistant Hotel Manager with the Panama Canal. While employed with the Canal, he met and married Rose Catherine Stoffell, of Scotch-Irish and French descent, on August 20, 1921. From this union three sons were born; Lester Pierre, Robert Elmer and Albert Sydney. The three sons served in the Armed Services and are Master Masons. Lester was raised by his father in Sojourners Lodge and Robert is a member of Solar 741, Anderson, Indiana.
Brother Johnston resigned from the Panama Canal in July 1923 to accept employment with a subsidiary of Standard Oil Co. of New Jersey; and was constantly employed by them until his retirement in 1956, at which time he was General Manager, Esso Interests, Canal Zone. His outside interests were many and varied. He was President and Managing Director of Standard Oil Co. (C.Z.), June 1948 to January 1952. Brother Johnston was a member of the Union Club and Panama Golf Club in Panama City; and of the Army and Navy Club, Balboa, Canal Zone. He was also a member of the Communicant Cathedral of St. Luke's (Episcopal), Ancon, C.Z.; and the Cathedral Chapter Governing Body; the Member Board of Management, the Bella Vista Childrens Orphanage (Episcopal). He was a Member of the Advisory Council of the Boy Scouts of America, Canal Zone Chapter.
Brother Johnston's Masonic carier has been equally varied and full. He applied for his degrees to Sojourners Lodge, A.F. & A.M., Cristobal, Canal Zone; ald was initiated on November 12, 1921, passed December l4, 1921, and raised January 18, 1922. He then continued on to receive his Royal Arch Degree in Canal Zone Chapter No. 2 on February 27, 1923; received the Order of the Temple in Canal Zone Commandery No. 1, Ancon on January 17, 1925; then received his Super Excellent Degree May 7, 1926 in Canal Zone Council No. 1. He became a member of Abou Saad Temple, Ancient Arabic Order Nobles of the Mystic Shrine in April 1925; and received his 32nd degree in Panama Canal Consistory, Valley of the Canal Zone in April 1950.
Brother Johnston's policy in life was to help in everything he undertook; thus he was not satisfied by just joining, he became a worker in every body he joined. He was elected Worshipful Master of his Lodge ln 1937; and the following year moved into the line up of the District Grand Lodge as District Junior Grand Steward. Brother Johnston then took a brief vacation from his Blue Lodge duties. He demitted from Canal Zone Chapter No. 2 to Canal Zone Chapter No. 1, Ancon in 1942 and became its High Priest in 1917; and, in March 1949 was appointed Right Excellent Deputy General Grand High Priest for the Canal Zone by the General Grand Chapter. Canal Zone Commandery No. 1 elected him Eminent Commander in 1943; and was appointed Representative of the Grand Master, Grand Encampment Knights Templar, USA 1945-1946. He was Illustrious Master of Canal Zone Council No. 1 in 1945. Brother Johnston became Illustrious Potentate of Abou Saad Temple in 1949i and a member of Panama Canal Court No. 18, Royal Order of Jesters in 1948.
As a result of his work in the York Rite, he was invited to become a member of San Lorenzo Conclave No. 70, Red Cross of Constantine, Ancon in 1944; and became its puissant Sovereign in 1948. As a further recognition of his work he was created Knight of the York Cross of Honor, Lilly of the Valley priory No. 1, Fayetteville, N. C. in October 1950. Brother Johnston, feeling his vacation from Blue Lodge activities had gone on long enough, resumed work in the District Grand Lodge as Assistant District Grand Marshal from 1949 through 1952; and, as District Grand Marshal during 1953 and 1954. The Grand Master, Most Worshipful Whitfield W. Johnson, then appointed him as District Grand Master for the years 1955 and 1956. Right Worshipful Brother Johnston's dedication to the fraternity was so great that although he had retired and left the Isthmus during his final year as District Grand Master; he returned several times at his own expense to conduct the Quarterly Communications of the District Grand Lodge. Most Worshipful Johnson presented him the Henry Price Medal in 1956; and he received his Fifty-year Veteran's Medal in 1972.
In summary Right Worshipful Clarence Lester Johnston was:
Born: March 10, 1898
Initiated: November 12, 1921
Passed: December 14, 1921
Raised: January 18, 1922
Departed: February 22, 1974
What more can be said of a Brother than that he lived a full and varied life, worked for the best interests of his fellowmen in general, and his fraternity in particular and passed on regretted?
Fraternally submitted,
Whitfield W. Johnson,
Howard W. Osborn,
Committee
---