MAGLCGordon
From MasonicGenealogy
CARL A. GORDON 1934-2016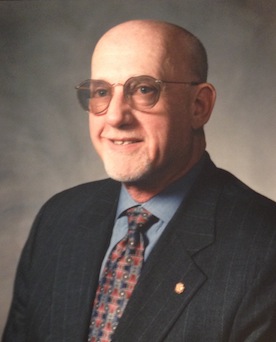 03/09/2016: 2016-xx
MM 1964, WM 1977, Norfolk
Member 1984, WM 1988, The Masters
DDGM, Brighton 5, 1988-1989
Junior Grand Deacon 1983
Grand Pursuivant 1984
Deputy Grand Master 1993
BIOGRAPHY
OBITUARY
From Boston Globe, 02/13/2016:
Son of the late Meyer J. and Edith F. (Nesselroth) Gordon. Carl spent his life in Needham, MA; he was a graduate of Hiram College in Ohio. Carl was a dear friend of Bill and Amy Holland, and their children, Mary, Catie and Andrew. He was a loving cousin to Arthur, Andre, Claudia, Margaret, Eliot and James Gordon. Carl will be missed by his good friend and caregiver, Richard Dunphy. Carl was an active member of Massachusetts Masonry; Past Master of Norfolk Lodge A.F. & A.M. ; Past Deputy Grand Master of the Grand Lodge of Masons of Massachusetts; and Past Commander in Chief of Massachusetts Consistory. The Gordon family was among the earliest members of Temple Beth Shalom, Needham and Carl received much love and assistance from the congregation during his long illness.
From Massachusetts Consistory, February 2016:
Remembering Carl A. Gordon
"A profoundly good listener..."
"The man who helped make me who I am today..."
"Someone who took an interest in others and was supportive of everything they did..."
These are just a few of the things that have been said about the late Ill∴ Bro. Carl A. Gordon 33°, M.S.A., who passed away on February 13, 2016. Bro. Gordon was raised into Freemasonry on March 9, 1964. His mother lodge was Norfolk Lodge, and he affiliated with The Masters' Lodge in 1984.
Brother Gordon was incredibly active in the fraternity during his fifty-two year tenure in Massachusetts. Bro. Gordon joined the Valley of Boston, and received his 32° on February 1, 1965. He later went on to receive his 33° on August 31, 1993. Bro. Gordon served the Grand Lodge in many capacities, including serving as District Deputy Grand Master from 1987-1989, and Deputy Grand Master from 1992-1993. He also served as Grand Representative to Victoria, Australia from 1983-2008. Additionally, Bro. Gordon served the Valley of Boston as Commander in Chief of Massachusetts Consistory from 1991-1994. Bro. Gordon was a wholehearted supporter of Needham DeMolay when the chapter was active.
Brother Gordon was also the recipient of several prestigious awards during his time as a mason. These include the Joseph Warren Distinguished Service Medal (1991) The Henry Price Medal (1993) the Meritorious Service Award (1983) and the Veterans Medal (2014).
The lose of Brother Gordon is one that has been felt throughout Freemasonry. He was a rock standing out in an ocean of doubt, and we are all richer for having known him.
SPEECHES
FEAST OF ST. JOHN, DECEMBER 1992
Most Worshipful Grand Master, Past Grand Masters, distinguished guests and Brethren of the Grand Lodge of Massachusetts.
Once upon a time a child enrolled in a school. For several days he was absent. When the truant officer came around his mother said, "Oh, we feel that Jimmy can get as good an education at home as at school. We just let him play in the backyard and learn from nature."
Once upon a time a man volunteered for the army, took the oath of allegiance and was inducted, but he failed to report for duty. When the military police came he said, "I've been shooting guns since I was a kid. I don't have anything more to learn. So just call me when it's time to fight."
Once upon a time a man got married. After the honeymoon he disappeared. His wife heard nothing from him except that she received a check from him once a month. One evening he walked in, kissed her and sat down to be fed, and she was incensed. Bewildered, the man asked, "What's the matter? I married you, didn't I? I told you that I loved you. I sent a check every month. What more do you want?"
Once upon a time, a man joined a Masonic Lodge. You finish the story.
The first three tales follow a pattern. How should the fourth tale end? How would you like it to end? The man could join the Lodge, faithfully pay his dues and never be seen again. But what does that do for him and what does it do for the Fraternity? It happens. You and I know that it happens all too often.
Just imagine the power of Masonry if each Mason took it upon himself to contribute something to the Fraternity in some small way. Perhaps it could be to visit a brother who needs cheer or perhaps it could be to offer relief to a family in need. Or perhaps it could be to teach others the Masonic philosophy, or perhaps it could be to work with other Masons to improve the quality of life. Whatever it might be, it all starts with an individual taking the initiative. It should be the duty of the Lodge to support the individual with enthusiasm. It should be the duty of the Grand Lodge to encourage its Lodges to support individual Masonry.
Freemasonry has much to offer to man. It encourages all of us to give of our time and talent to those who may need them. It encourages all Brethren to aspire to greater knowledge and a greater search for the highest ideals available to mankind. It allows the privilege of being of service to our fellow creatures. It allows us to join together in fellowship at a common purpose, irrespective of how far along the Masonic road we may be, and irrespective of color, race or creed. And it is unique how it binds us together into one individual family of love.
The great institution of Masonry was built one Mason at a time. If it ever ceases to exist, it will not die all at once, but rather it will die one Mason at a time, one Mason unreplaced by a new apprentice.
Our new Grand Master has offered the theme "One man can make a difference." Each of us in this room tonight can begin by asking ourselves how we can make a difference. The benefits of Masonry are not just those things we receive. They are also the things we give. What will your contribution be? Behind us is infinite power, before us is endless possibility, and around us is limitless opportunity. What is holding us back?
The time to move forward is now. Let us hasten to move before it is too late. The nineteenth century author Edward Everett Hale wrote these words. "I am only one, but still I am one. I cannot do everything, but I can do something. And because I cannot do everything, I will not refuse to do something that I can do." Most Worshipful Grand Master, with all the good and positive things happening in our Craft, the greater awareness of ourselves as Masons, on behalf of myself and all of your officers, we delight in pledging our support to you as our leader and would let this be our new year's resolution. We can make a difference. Thank you.
---