MAGLCFritz
From MasonicGenealogy
CHARLES A. FRITZ, JR. 1914-2007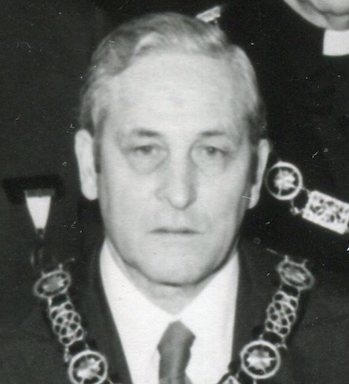 MEMORIAL
COUNCIL OF DELIBERATION, 2007
From Proceedings of the Massachusetts Council of Deliberation AASR NMJ 2007, Page 29:
Ill. Charles Albert Fritz, Jr., 33°
Born in Beverly, Massachusetts, on December 26, 1914
Died on April 17, 2007
Ill. Charles Albert Fritz Jr., 33° was the son of Charles and Fannie Elizabeth (Welch) Fritz. He was educated in the Manchester Public Schools and was employed as a Roadside Maintenance Engineer for the Massachusetts State Department of Public Works. He served in the United States Army as a Sergeant in the European Theater of Operation from 1942 to 1945.
On October 4, 1958, he was united in marriage to Carol Potter Berry. From this union was born two sons, Randal and Charles Fritz.
He was a member of the Orthodox Congregational Church of Manchester. Actively involved in his community, he served on the Manchester Water and Sewer Commission; the Manchester Planning Board; and the Manchester Board of Registrars. He also was a mem­ber of the Canopy Club and the American Legion.
Ill. Brother Fritz was raised a Master Mason in Manchester Lodge AF.&AM. on July 15, 1946 and served as Master in 1952-53. He served the Grand Lodge of Massachusetts as Deputy Grand Master in 1978. He was exalted in Washington Chapter RAM. on June 4, L958 and knighted in Bethlehem Commandery KT. on February 9, 1959. He completed the 4th through the 18th Degrees of the Scottish Rite in the Valley of Salem and served as Sovereign Prince of Jubilee Council, Princes of Jerusalem in 1971. He completed the Consistorial Degrees in the Valley of Boston on December 21, 1953 and was cre­ated a Sovereign Grand Inspector General, 33° Honorary Member of the Supreme Council on September 26, 1973, at Detroit, Michigan.
PROCEEDINGS, 2016
From Proceedings, Page 2016-224:
Charles A. Fritz, Jr.., a Past Deputy Grand Master of the Grand Lodge of Massachusetts, died in Beverly, Massachusetts in April 2007. The following memorial is provided as a supplement to the 2016 Proceedings of the Grand Lodge.
R. W. Charles Albert Fritz, Jr. was born on December 26, 1914, in Beverly, Mass. He was trained as a civil engineer. In 1942 he entered military service, and was discharged honorably at the close of the war, when he found employment in his home town of Manchester. He was very active in civic associations in his town, including service as a member of the Board of Registrars, the Planning Board, and the Water and Sewer Commission.
Brother Fritz was raised a Master Mason in July 1946 in Manchester Lodge, and was Master in 1954; his term was memorable, not least because in June of 1954 he had the unusual pleasure of raising his own father, Charles Albert Fritz, Sr. to the Sublime Degree.
In 1965, Manchester Lodge moved to a new Masonic Hall with M. W. A. Neill Osgood, Grand Master, present for the corner stone laying and dedication; the history given on the occasion of the dedication acclaims Brother Fritz for his tremendous effort in the accomplishment of that task.
Brother Fritz received recognition from the Grand Lodge first in 1966, when M. W. Thomas A. Booth appointed him as a Grand Steward, and in 1972 and 1973, when M. W. Donald W. Vose appointed him to serve as District Deputy Grand Master of the Gloucester 9th Masonic District. In 1978, M. W. Arthur H. Melanson chose him as his first Deputy Grand Master. When he addressed the Brethren at the Feast of St. John in December 1977, he acknowledged his pride and his humility at being elevated to so high an office.
As with so many who have labored long in the vineyards of Masonry, Brother Fritz surely lived respected and died regretted.
OBITUARY
Charles Albert Fritz Jr., 92, retired state civil engineer for the State of Massachusetts, passed away in his sleep in Beverly, Mass., on Tuesday evening, April 17, 2007. Mr. Fritz was the son of Charles A. Fritz Sr. and Fannie E. Welch.
SPEECHES
FEAST OF ST. JOHN, DECEMBER 1977
From Proceedings, Page 1977-265:
Most Worshipful Grand Master. Distinguished Guests and my Brethren all:
On the occasion of the Feast of Saint John on December 27, 1971, the newly installed Deputy Grand Master promised the Most Worshipful Grand Master that he would seek to discharge the duties of his office to the best of his ability. He pledged to the Grand Master and to the Grand Lodge on behalf of all the appointed officers their allegiance and support as together they endeavored to strengthen the cause and bonds of Masonry in the Commonwealth.
Just as on that august occasion when Right Worshipful Arthur H. Melanson, the newly installed Deputy Grand Master, made these pledges to Most Worshipful Donald Warren Vose, so this evening on behalf of the appointed officers and on my own behalf I make the same pledges to Most Worshipful Arthur H. Melanson, Grand Master of Masons in Massachusetts.
For a long time to come we will look back upon this day in very special ways that I am sure will be meaningful to each of us. I will recall that this was a day on which the Grand Master and the Grand Lodge bestowed high honor on me, upon my Symbolic Lodge, Manchester Lodge; on my Masonic District, the Gloucester 9th. I will recall this day on which brotherly love and affection abounded just as it always does whenever and wherever Masons meet.
I will recall this occasion as one in which, for the hundredth time or more, I reviewed in my mind and felt in my heart what it means to be a Master Mason and how grateful, how proud, and how humble 1 am for that privilege.
We have all heard it said of Masonry that it is not what you expect to get out of it, but what you put into it that counts. But, Brethren, who can deny that in the giving we do receive many times over that which we give. We become better citizens, better parents, better men. We receive those enduring qualities that give us inner strength and purpose, which surely the Grand Architect of the Universe intended for us.
My Brethren, one of the beloved Past Masters of Manchester Lodge handed down to our Lodge a charge or address to candidates which apparently originated in Lodge Dundee St. Mary No. 1149. He used to deliver this charge so beautifully to our newly raised Master Masons. It is the concluding counsel to the new Master Masons and 1 will paraphrase only slightly to suit the occasion. It would go like this:
"May we by our lives and actions in all things prove to the uninstructed world at large how ennobling, excellent and enlightened an institution is that of the Free and Accepted Masons."
---