MAGLCCross
From MasonicGenealogy
CHARLES ARTHUR CROSS 1913-2004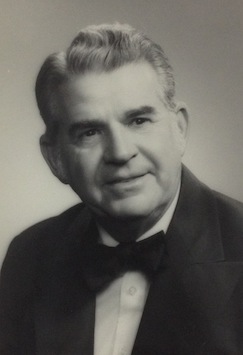 Senior Grand Warden, 1980
BIOGRAPHY
MEMORIAL
From Proceedings, Page 2004-181:
Right Worshipful Charles Arthur Cross was born April 14, 1913 at Worcester, Massachusetts. He was married to the former Ruth "Twinnie" Peterson who bore him three children: two sons, Peter and Charles, and one daughter Susan (Cross) Lederer. Brother Cross was also blessed with many grandchildren. His wife had predeceased him.
His Masonic career was long and busy. A Mason for more than 58 years, he received his Entered Apprentice Degree May 27, 1946, Passed to the Degree of Fellow Craft June 24, 1946 and was Raised to the Sublime Degree of Master Mason October 7, 1946.
Brother Cross became the Worshipful Master of Montacute Lodge in 1964 and the District Deputy Grand Master of the Worcester 22nd Masonic District. At the December Quarterly of the Most Worshipful Grand Lodge of Massachusetts of 1979 he was elected to the second highest office, that of the Senior Grand Warden. Brother Cross was installed into that distinguished position on December 27, 1979 serving for the year 1980. His outstanding service resulted in his being appointed as the Grand Representative of the Grand Lodge of Nova Scotia near the Grand Lodge of Massachusetts. Most Worshipful Arthur Harris Melanson presented Brother Cross with this Grand Lodge's most precious medal being the Henry Price Medal.
Brother Cross was very active in many other Masonic Orders. A member of Eureka Chapter he presided as Excellent High Priest, followed by service as the District Deputy Grand High Priest of the Worcester District. His devotion to Capitular Masonry resulted in his election to the leadership position of the Most Excellent Grand High Priest of the Grand Chapter of Massachusetts. He was a recipient of the Charles T. Hurd Medal.
Many of his Brethren will remember him for his pleasing way and the many Masonic clocks he produced for his friends and the benefit of the Grand Master's Fair.
Right Worshipful Brother Charles Arthur Cross passed into the Celestial Lodge above on June 7, 2004. May the blessing of our Heavenly Father always be with him and may we as Masons remember the good he has done and strive to make our lives as productive and respectful as his.
Respectfully submitted,
Albert T. Ames, Chairman
James Gates
James Watson, Jr.
Keith Rushlow
---