MAGLCCarty
From MasonicGenealogy
CLINTON GROVER CARTY 1869-1923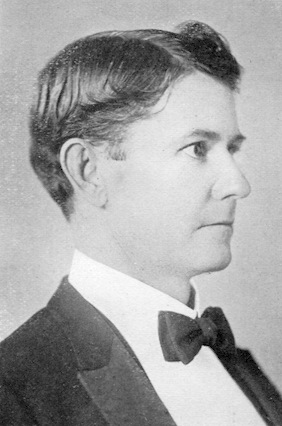 District Grand Master (Canal Zone), 1920
BIOGRAPHY
Note: this summary and the above picture are taken from Masons and Masonry on the Panama Canal 1904-1914, by Walter Irvin Beam and John Layard Caldwell, compiled by the Masonic Club of Empire, Canal Zone.
Carty was born in Bucks County, Pennsylvania. He entered service on the Isthmus of Panama on January 31, 1905, on building construction work, and resigned from the Panama Railroad Company on September 11, 1913. He was a member of all Scottish Rite bodies under the authority of New Orleans, Louisiana, and of Chapter, Council and Eastern Star in the Canal Zone.
"Brother Carty . . . proved himself to be one of the most faithful workers that the lodge has ever had. Raised in old Sojourners' Lodge No. 874, Colon, Republic of Panama, his zeal, industry and enthusiasm brought him to the distinguished honor of being elected to the seat in the East before he had been a Master Mason a year . . . While young in Masonry, this choice proved to be a wise one. Brother Carty spent much time looking after the affairs of the lodge, and during his administration the lodge was placed on a firm foundation."
NECROLOGY
MM 1907, Sojourners #874 (Scottish Constitution)
WM 1911-1913, Sojourners
Deputy District Grand Master 1919-1923
---