MAGLBTsingos
From MasonicGenealogy
BASILIOS TSINGOS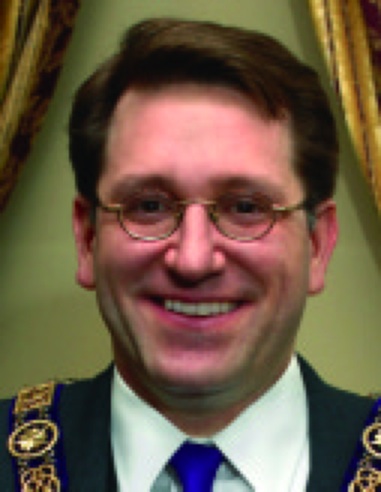 Deputy Grand Master, 2009
BIOGRAPHY
FROM TROWEL, SPRING 2009
From TROWEL, Spring 2009, Page 6:
Rt. Wor. Basilios E. Tsingos was installed as Deputy Grand Master of the Grand Lodge of Masons in Massachusetts. Bro. Tsingos will serve during Grand Master Pageau's second term. Bro. Tsingos will assist the Grand Master and preside over the Grand Lodge during the Grand Master's absence. Considering the schedule maintained in recent years on behalf of our Fraternity by this very active Mason, he may be tempted to think of his new role as relaxing. This would be a mistake of course! There is much to do in 2009.
Bro. Tsingos began his Masonic career In 1997 by joining St. John's Lodge in Boston, the oldest Masonic lodge in the Western Hemisphere. He served as its Worshipful Master in 2003-2005. His first position with the Grand Lodge came when he was appointed a Grand Steward in 2005. He served in the same position the following year. For the past two years he was the District Deputy Grand Master of the First Masonic District.
In 2005, Rt. Wor. Bro.Tsingos was appointed to the Board of Directors for the Overlook Masonic Health System. He was Chairman of the Recruitment Sub-Committee to the Grand Lodge Membership Committee in 2005, and served as Secretary of the Grand Lodge's 275th Anniversary Committee between 2006 and 2008. Since 2006 he has served on the Grand Lodge Museum & Library Committee, including a period as it Co- Chairman.
The newest Deputy Grand Master is active in several Masonic organizations. Bro. Tsingos is a member of the Scottish Rite in the Valley of Boston. He is currently the Assistant Master of Ceremonies for the Massachusetts Consistory. He is a member of the Massachusetts College of the Societas Rosicruciana in Civitatibus Foederatis (S. R. I. C. F.). He also belongs to the York Rite's Saint Andrew's Royal Arch Chapter, Boston Council, and Boston Commandery. He is a member of Aleppo Shriners, Wilmington, and the Hellenic Square & Compasses Club.
Raised in Manchester, NH, Bro. Tsingos graduated from Harvard University and later attended Oxford University in Oxford, England, where he earned his Master's and Doctorate degrees in international relations. He received his J.D. from Harvard Law School. He is Vice-President and General Counsel of Plymouth Rock Assurance Corporation headquartered in Boston.
Rt. Wor. Tsingos and his wife, Martine, have two sons, Evan and Otis and make their home in the Back Bay area of Boston. He is a member of The Annunciation Greek Orthodox Cathedral of Boston, and Saints Constantine & Helen Greek Orthodox Church in Cambridge.
SPEECHES
FEAST OF ST. JOHN, DECEMBER 2008
From Proceedings, Page 2008-227:
Most Worshipful Grand Master, Most Worshipful Past Grand Masters, distinguished guests, my Brethren all.
Thank you for that very kind introduction, and thank you, Grand Master, for the high honor you have bestowed upon me by appointing me to the office of Deputy Grand Master, a position that I fondly remember the late Most Worshipful Donald Warren Vose jokingly describe, with that playfully mischievous and endearing smile of his, as being the highest office in our Grand Lodge that anyone in their right mind would accept. It will be my privilege and pleasure to assist you, Grand Master, and to serve our Grand Lodge in this capacity during the coming year. I hope to be equal to the task and, with God's help, to prove worthy of the trust and confidence you have reposed in me. For the address I am now called upon to deliver, my Brothers, I have selected as a title, "Freemasonry: A Mason's Impression". The simple hint from which this address proceeds is the admonition, the call to arms, that we must always remember, Brethren, that we are someone's impression of Freemasonry.
We are the face of Freemasonry. We have often heard it asked, 'What is Freemasonry?' And in one important sense the answer is, and always has been: "'We are."
What is Freemasonry? Us. Not simply as we are, but more importantly as we can and ought to be. The way God wants us to be. The way we would be if we would only discover and execute the designs laid down for us on God's Great and Holy Trestle-Board.
In this sense, What is Freemasonry? The inestimable gift of God to men of every country, sect, and opinion—men who would have otherwise remained at a perpetual distance. It is a call to a social and active life, the noblest part of the work of God, and a constant reminder that as we came into this world rational and intelligent beings, so should we ever be industrious ones—for therein lies the path to happiness, not just for us but for those around us.
Indeed, at this special time of year when we think about and are thankful for all the blessings and comforts we enjoy, let us be especially thankful for Freemasonry and the gift that it provides of friendships made and strengthened over the years. Our Immediate Past Grand Master, Most Worshipful Jeffrey Black Hodgdon, is so very right when he says Freemasonry is one of the greatest gifts you can help give a man. But let us never lose sight that Freemasonry is one of the greatest gifts God has given us. And what a special gift! For not only are we Freemasonry, Freemasonry tells us who we really are — and can be. We are, all of us, rough ashlars, rude and imperfect by nature. We are all called upon to subdue our passions, and thereby stop being self-oriented and self-regarding creatures and become observers of the world that surrounds us, and see in it symmetry andorder—and the very fingerprints of God. And to ponder what are the designs for us that God has in store.
Indeed, haven't we all sooner or later confronted these searching and humbling questions: Who am I? Whither do I travel? What is my destiny? What does God want from me? What am I supposed to do with the life I have been given? If approached correctly, our Masonic ritual should really rearrange our mental furniture — not just for those on whom the degrees are conferred, but even more on those doing the conferring. For as Masons we have all come to realize that we are not just rough ashlars hoping to become perfect, but are rather living stones, at whose center, beneath all the vices and superfluities of life, is a divine spark—a better and immortal part that survives the grave because it is the only part of us that is truly alive. It is the living part of us that is the inspiration of that Divinity whom we adore and bears the nearest resemblance to that Supreme Intelligence—God—which pervades all nature and can never die.
So who are we as Masons? We are men who have been initiated into these great and mysterious truths of our Masonic Order. Truths so great and magnificent that they change, or ought to change, our outlook on the world, how we view our fellow men, and how we live our life — truths so great and magnificent that some of the very greatest men and minds of the past several centuries have seen fit to ponder them and thus deemed our Order worthy of their active involvement. The names are too well known to need to be repeated here. But like them, we have passed through a succession of degrees and hopefully have been awakened and enlightened about the true nature and reality of the world around us—and what is important in life. If we are Freemasonry, then let us recognize that we are men who have fallen down the rabbit hole, and have been unplugged from The Matrix. We realize — or ought to realize — that the real world, so-called, the world that can be measured, counted, and weighed, the world in which length, breadth and thickness are considered, is not the real world after all. What is real, eternal and unchanging — and should thus command our attention — is that part of us that is the most intangible, and that we can never quite put our finger on, or touch, or put on a scale and weigh, or put on a balance sheet or income statement and count. For what is real and important is not the size of our bank accounts or the blushing honors that may lay thick upon us but rather the cherished memories of love and friendship stored in the treasure chest of the heart. For long after we are gone, we will be remembered for what we say and do, not for what we drove or owned. Brotherly love and friendship; like love of family, love of country, and love of God, are things that cannot be weighed, or measured, or quantified, but are the most real and important of all.
And thus we come to the summit of Freemasonry and its teachings. For, how better to summarize the teachings of our Order than to say that our aim in life is, or ought to be, to live respected and die regretted. Live respected and die regretted. Achieve this, my Brothers, and we will have fulfilled in large measure our duty to God and our fellow man, irrespective of what country, sect or opinion we may happen to be.
But as we look at the tenets of Freemasonry, the storied history of our Ancient Institution, and at a troubled world, like ours is today, in which the ruthless hand of ignorance and barbarous force seeks to hold sway, we cannot but feel on our shoulders a great obligation and responsibility to ensure that the teachings of our Craft survive unimpaired and that there shall never be found wanting one to fill the Chair in the East of our Lodges. And so let me be blunt about it: there is not a one of us that would have come to the Craft, or chosen to have become active in it, had it not been for the favorable impression of the Fraternity that had been left on our hearts and minds by a Mason who travelled the Masonic road before us, be that a father, uncle, or other relative, or else one of the great Masonic personages of history, be it a Washington or a Franklin, a Haydn or a Mozart.
But what's past is prologue, as Shakespeare tells us. This great and glorious past imposes obligations and responsibilities on us today. Those that have gone before have left their mark; they used their time in Masonry wisely. Now it is we that find ourselves on the stage of Masonic history. Let our collective stewardship over our Fraternity's affairs NOT be one in which we simply marked the time! No, we cannot simply stare at the hour-glass and wait for our terms in office to expire. Ours is no Fraternity for time-servers. Much as Abraham Lincoln once put it, it is not the years in the life, but the life in the years that count. Yes, let us use the time given us to help fashion a future for our Order that is worthy of its celebrated past.
There is much we have accomplished in recent years of which we can be proud. Freemasonry, my Brothers, is back! But now it is time for Freemasonry to get back to basics — the blocking and tackling, the hard work on the line of scrimmage that really enables a team to run and throw the ball, and move the chains.
Above all, for all the recent success of our various membership initiatives, we must continue to revive the tradition of making candidate initiation and education a top priority. If Freemasonry is us, then we clearly need an "us." But the importance of membership is not in increasing numbers. It is in spreading the teachings of Freemasonry. Our goal is not so much to get more men into Masonry as it is to get more Masonry into men. There is a profound difference between these two goals. For as important as members are, we can never lose sight of the fact that we are not, or not just, a membership organization; we are an initiatory order and should not lose sight of that special aspect of the Craft. Properly understood, we should not so much be seeking new members as seeking out men that we think are material out of which we can make Masons.
Yes, acquiring new members is something we should all be thankful for but 500, or 600 or 700 new bricks at the building site does not a building make. The most difficult challenges lie ahead, as we take the men that are joining our ranks in ever-increasing numbers, and do the hard part of making them Masons, and finding a place for them in, and fitting them into, our great Masonic edifice.
I know that we are equal to this task. As a Fraternity, we have risen and faced each challenge that has confronted us over the centuries. A new, young, fresh group of Masons has entered our Lodges over the past several years that liked what they saw and were exposed to Freemasonry the way it was intended to work and have become active.
But if there is any legacy that we should want to leave our Fraternity it is this: not simply to have raised many Masons, but to have done our level best to identify, cultivate, and foster good Officers and future Masters. We often say that we, as Masons, take good men and make them better. Growing our membership is vital, but our overriding mission must be to take good Masons who are in line, or who should be in line, and make good future Masters out of them. Identifying, cultivating and fostering our future leadership, putting up the scaffolding around good Masons and fashioning good Masters out of them, is the ultimate challenge of any Lodge if it is to survive and thrive. And ultimately, the same is true of our Grand Lodge, for our Past Masters serve as the building material out of which we, as a Grand Lodge, must fashion our future pillars.
Yes, Freemasonry is back—and we have much to be thankful for. But the story is not yet over. Whether we have built a foundation for continued future successes, or whether the past several years in our Grand Lodge will be but one, brief shining moment, will be for the future to reveal. If this Grand Lodge and our Fraternity are to survive and thrive for another 30, 50, or 100 years, we must build on our upward momentum and be sure we are giving what those entering our Lodges expect: Freemasonry.
This challenge will manifest itself in many ways. While emphasizing the importance to our Masonic mission of food, drink and friendly conversations (we were, after all, chartered in 1733 in a tavern), it means embracing the reality that our uniquely historical Fraternity has always been something other than, and more than a supper club, or collection of supper clubs. It means focusing a bit more than in the recent past on some of the teachings of our Order. It means rationalizing the finances of our Fraternity so that our membership is pulling more of its own weight, rather than taking advantage of the generosity of the earlier generations of Masons represented by the portraits on the walls in this building. It means accepting the idea that we, as Masons, square our corners, we don't cut them, and that when we Masons do something, we do it with an eye to doing it well – to doing it in a way that would make those men on the wall proud. As one of those men on the wall, Most Worshipful Brother Vose, would put it, there is nothing worth doing that shouldn't be done magnificently! Indeed my Brothers let us ever strive to be magnificent Masons!
A magnificent Mason doesn't just talk the talk, but is willing to walk the walk. The magnificent Mason is both steak and sizzle, but if he had to make a choice he'd be the steak. The magnificent Mason is a work horse, not a show horse. The magnificent Mason is one who never asks of others what he himself would be unwilling to do. The rule and guide of a magnificent Mason is "who best can work and best agree" and NOT "who best can NOT work and best disagree." The magnificent Mason remembers that all of us have been put on this good Earth by our Lord to minister unto others, not to be ministered to.
Will we succeed? My Brothers, we must all ultimately leave it to the Supreme Architect of the Universe to judge the fruits of our Masonic labors. But, as we look forward to 2009, let us pledge ourselves to assisting our Grand Master in discharging the great responsibilities of his office — and to the noble goal that our Grand Lodge's standard will be even higher, and its state even stronger, than it is today in a year's time when we will again meet and feast as we are this evening.
On a final, personal note, my Brothers, let me say that my Masonic career thus far has often reminded me of Dorothy in The Wizard of Oz. When one becomes a Mason, and again when one becomes Master of his Lodge, and then yet again when one becomes a Grand Lodge Officer, one enters a wonderful, bright, new world, full of exciting possibilities — and traps for the unwary. It all makes for a heck of an experience. Having made some incredible friends, having encountered a wicked witch or two, and having learned important life lessons along the way, I have always known that my tour of duty is but temporary and the time will all-too-soon arrive when I will need to click my heels and return to Kansas – that place where, just as in The Wizard of Oz, I shall see the same friends I knew before my adventure, but in a new light – most of them more valuable and dear in my eyes than ever before.
For my part, I believe I — and all of us — are the better for the Masonic adventures and roads we have travelled. I look forward to continuing our Masonic journeys together on the Yellow Brick Road of Life, which leads to that place Somewhere Over The Rainbow, where all good Masons hope at last to arrive. But while we continue our travels here below, let us do what we are called upon to do as Masons—and let us do it, as Most Worshipful Brother Vose would have wanted: magnificently! Yes, let us be magnificent Masons, and let our Freemasonry be magnificent. For, remember Brethren, you are someone's impression of Freemasonry.
God bless you and your families, and this wonderful Fraternity we love so dearly.
So mote it be.
---