MAGLAWay
From MasonicGenealogy
ARTHUR T. WAY 1855-1908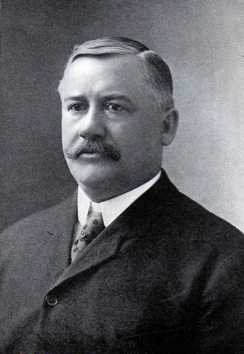 Deputy Grand Master, 1907
MEMORIAL
PROCEEDINGS, MARCH 1908
From Proceedings, Page 1908-13:
"R.W. Arthur T. Way was born in Salem, Mass., March 21, 1855, and died in that city March 10, 1908. From 1857 to 1871 he was with his parents in the West, his father being a supervising engineer in railroad construction. Brother Way, on his return from the West, at the age of sixteen years, learned the leather trade in Salem and became one of its foremost business men.
"Brother Way was initiated in Essex Lodge, Salem, Feb. 2, 1886, and became a member thereof April 20 of that year. He was elected Junior Warden of Essex Lodge Oct. 5, 1886, Senior Warden Oct. 4, 1887, and Worshipful Master Oct. 2, 1888, serving in the last-named office two years.
"He was Deputy Grand Master in this Grand Lodge during the year 1907. He held office in other Masonic Bodies, both subordinate and supreme, and in September, 1907, he was elected to receive the degree of Sovereign Grand Inspector General, thirty-third and last degree of the Scottish Rite, which would have been conferred upon him in September, 1908. Brother Way was a successful business man, a genial and cordial Brother, a zealous and conscientious Mason, always affable and courteous, never shirking duty, but giving his best thought and energy to the discharge of all duties which devolved upon him.
NEW ENGLAND CRAFTSMAN, APRIL 1908
ARTHUR T. WAY, one of the best known and best loved Masons in Massachusetts, died at his home, Salem. Tuesday, March 10. Brother Way was a native of Salem where he was born March 21, 1855. When he was about two years old his parents moved to a Western state but returned to Salem when Brother Way was 16 years old. His education was obtained in the public schools and he graduated from the Indianapolis High School. He learned the leather business in Salem and early in the 90s started in business fur himself meeting with a successful career. He took an active interest in the welfare of bis cit\ and served on the board of alderman in 1891 and 1898. He was deeply interested in Freemasonry from the lime he was first connected with its bodies, lie was a good Mason not only in performing the work of the various offices be filled, but in practising its principles in his daily life. His Masonic record includes work in every department of the order. He was a past master of Essex Lodge. A. F. & A. M., Past High Priest of Washington Royal Arch Chapter, Past Thrice Illustrious Master of Select Masters, Past Eminent Commander of Winslow Lewis Commandery, K. T., and Past Thrice Potent Master of Sutton Lodge of Perfection. For several years he was Grand Lecturer of the Grand Royal Arch Chapter of Massachusetts, and Deputy Grand High Priest of the same body and acting Grand high priest during the illness of that official, filling the office with great credit.
Last year he had the high distinction of being Deputy Grand Master of Masons of Massachusetts and officiating at the laying of the cornerstone of the Pilgrim monument at Provincetown. He was also second lieutenant commander of Massachusetts Consistory, 32d grade, A. & A. Scottish Rite. At the annual conclave of the supreme council of Scottish Rite Masons of the Northern Jurisdiction of the United States last September he was elected a 33d decree Mason, the highest honor to which any Mason can aspire,
He was also an honorary member of the Salem Cadets. As a business man he was eminently successful; as a citizen he was upright in every respect, fend he was a kind and most considerate employer, highly esteemed by all of his employees.
As an illustration of the esteem in which Broother Way was held by those who knew him best we quote the following paragraphs from the eulogy pronounced at his funeral by Rev. Charles H. Puffer, D. D., who said of him:
"He was sweet tempered. Whatever the vicissitudes that he met, whether in public office or in private life, he always had a pleasant smile. Year in and year out, he always looked upon the brightest side. He may have assumed responsibilities too many for its own good, but he did his duty towards labor, towards his Masonic brethren, and in his home. He was a brother to many a man be might easily have called a stranger, but he had no desire to throw responsibility on any one else. All who knew him intimately, knew that his word was absolute. Men across the sea did business with him who never saw his face, but they trusted him implicitly — a splendid tribute to his honesty. Success came to him in his business, and all were glad, because he deserved it. But that success did not make him forgetful of his duty to his brother men.

"He gave generously to help others, but in the strictest privacy, and only seeking to do some kindness to those who needed it. He was an exemplification of true Christian charity. Neither did his success belittle his democracy. He was loved by those whom he employed. They loved him because he was always just. All of his honesty, his counsel, his sweet charity, his public service, proceded from the religion of his life. His religion was based upon the new commandment, 'I have loved you, that ye also love one another.' and of the golden rule that, 'Whatsoever ye would that men should do to you, do you even so to them.' That was the golden rule of our Lord, and it was ever the action of our brother.

"He would serve others as he would desire to be served were the circumstances reversed. Let us not forget the rule of which this man's life was a daily witness. Does a man need a passport to the other life? Certainly this man needed no passport, so white was his soul. We miss him, and we shall miss him, but there are those who will welcome him there, and he will welcome those who will be gathered to him. He will be missed in his home; he will be missed by his Masonic brethren, for there are none better among us. God help us to live as honest, as true, as he did."
PROCEEDINGS, JUNE 1908
From Proceedings, Page 1908-69:
"Oh! these are the Voices of the Past,
Links of a broken chain,
Wings that can bear us back to Times
Which cannot come again."
"Brother Way was the son of Sarah L. and Truman Way. He was born in Salem, Mass., March 25, 1855. His parents left Salem for the West iu 1856, and his boyhood was spent in Indianapolis, Ind. There he received his education, graduating from the Indianapolis High School.
"He left his home and returned to Salem. in l871,.where he went into the tannery of W. D. & S. Varney to learn the tanning and currying of leather, making his house with Mr. W. D. Varney. Beginning at the bottom as he did, this work was at first very distasteful to him, but he persevered until he had thoroughly mastered the trade.
"Thus was laid the foundation for his future success. He started for himself in Salem, in the year 1893, and established a most profitable business, building up a large foreign trade where the Way Leathers made a reputation of their own. Many of his customers never met him or knew him personally, and thousands of dollars' worth of his leathers were shipped abroad with a sight draft attached to the bill of lading, and the goods thus paid for long before their receipt. The quality of his product together with his square and upright methods made his business reputation an enviable one and held this splendid trade year after year.
"R.W. Brother Way was sought for by the citizens of his city and served as a member of the Board of Aldermen in 1897 and 1898, but declined further public honors. He was an honorary member of the Second Corps of Cadets, of Salem, and was a member of the Ancient and Honorable Artillery Company, of Boston.
"His Masonic career was a notable one. He was initiated in Essex Lodge, Salem, Mass., Feb. 2, 1886, passed March 2, and raised April 20, 1886, and served as Worshipful Master in 1889 and 1890. In 1896 he was elected Treasurer of the Lodge, which position he held until his decease.
"He was appointed Deputy Grand Master of the Grand Lodge of Massachusetts by M.W. Bro. John Albert Blake in December, 1906, serving one year.
"He was exalted in Washington Royal Arch Cbapter, of Salem, April 14, 1887, and was its High Priest in 1893, 1894 and 1895. He was elected Treasurer in 1899, serving continuously until his death. He served the Grand Royal Arch Chapter of Massachusetts as Grand Lecturer in 1894, 1895, 1896 and 1897. Dec. 7, 1897, he wae elected Deputy Grand High Priest of that Grand Body. Early in his year of office he was called upon to disebarge the duties of the Most Excellent Grand High Priest, which he did for the balance of the year. He received the Cryptic Degrees in Salem Council, Royal and Select Masters, in 1892 and was its Thrice Illustrious Master in 1904 and 1905.
"On Jan. 19, 1888, he was knighted in Winslow Lewis Commandery, Knights Templar, and served as its Eminent Commander from October, 1898, to October, 1900. He received the ineffable degrees of Scottish Rite Masonry in Sutton Lodge of Perfection Sept. 23, 1892, and presided over its deliberations from 1904 to 1906.
"Feb. 25, 1898, he became a member of Massachusetts Consistory and was elected Second Lieutenant Commander at the Triennial Rendezvous in 1906, holding that position at the time of his death.
"In September, 1907, he was elected to receive the high honor of a Sovereign Grand Inspector General, 33d Degree.
"Brother Way was married to Miss Sarah P. Nye in 1886 and is survived by his widow and two daughters, Misses Eleanor V. and Jessie Way.
"In our Brother's prominent and active career in Masonry be formed a large circle of intimate friends by whom he was greatly beloved.
"Often has he extended the helping hand to an unfortunate Brother. His assistance was of the substantial kind when needed, but it was given so quietly and unostentatiously that in very truth his right hand knew not what his left hand was doing.
"He was beloved by every one of his employees, and highly respected and esteemed by his neighbors and by the citizens of his native city.
"All honor to such a man, of whom we can truly say that the world has been better for his living.
"Good-night, good-night, as we so oft have said
Beneath this roof at midnight in the days
That are no more and shall no more return.
Thou hast but taken thy lamp and gone to bed:
We stay a little longer as one who stays
To cover up the embers that still burn."
Respectfuliy submitted,
William H.L. Odell,
Everett C. Benton,
George F. Cooke,
Committee.
---