MAGLACanedy
From MasonicGenealogy
ALBERT W. CANEDY 1914-1983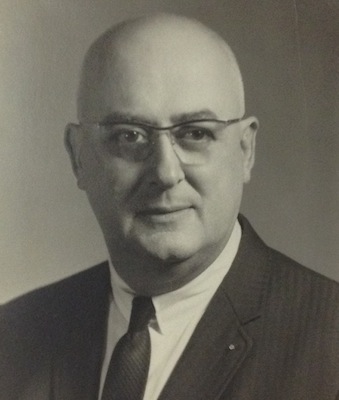 MM 1952, WM 1956, Massasoit
Grand Pursuivant 1958
DDGM, Fall River 30, 1959, 1960, 1964
Junior Grand Warden 1968
MEMORIAL
From Proceedings, Page 1983-135:
Right Worshipful Albert William Canedy was born in Fall River, Massachusetts on May 15, 1914, the son of William Shaw Canedy and Dora Wood Canedy. On May 5, 1983, ten days before his 69th birthday, he passed away in his sleep, while at his home in Fall River.
He was educated in the Fall River Public Schools, graduating from B.M.C. Durfee High School in 1931.
A practicing optician, he founded Canedy Opticians in 1935, which he operated until his retirement in 1977. He was also a founder and director of the First Federal Savings and Loan Association, serving as Clerk of the Board since 1946.
In Masonry, his service was both extensive and far reaching. Brother Canedy was raised in Massasoit Lodge in 1952 and served as its Master in 1956. At the time of his death, he was Lodge Treasurer, having served in that position since 1959. In 1962 he presided as Master of the 27th Lodge of Instruction. Brother Canedy also served his Grand Lodge in a number of capacities - Grand Pursuivant in 1958, District Deputy Grand Master of the Fall River 30th Masonic District in 1959 and 1960, and Junior Grand Warden in 1968. At the time of his death, he was serving as Grand Representative to Parana, Brazil. In 1968 he was awarded the Henry Price Medal for his Distinguished Service to the Craft.
Active in the collateral bodies, he served as Excellent High Priest of the Fall River Chapter in 1961 and as District Deputy Grand High Priest of the Third Capitular District in 1962 and 1963. In 1971 he received the Benjamin Hurd Medal for Meritorious Service. In 1959 he presided as lllustrious Master of Fall River Council. He served the Grand Council of Royal and Select Masters as Deputy Grand Master of Ceremonies in 1963 and as Deputy Grand Master in 1975. He served as Eminent Commander of Godfrey de Boullion Commandery No. 25 in 1959 and was serving as Knight Commander of Damascus Temple XXVI of the Holy Royal Arch Knight Templar Priests at the time of his passing. He served the York Rite faithfully as Puissant Sovereign of St. Matthew's Conclave of the Red Cross of Constantine in 1976, as Prior of Roger Williams Priory No. 48 of the York Cross of Honor in 1973, and as Governor of What Cheer York Rite College in 1978. He was a member of Colonial Council No. 19 Knight Masons of New England. In 1977 he received the York Rite Purple Cross in Detroit, Michigan.
Albert W. Canedy joined the Scottish Rite in 1952. He was a member of all the Scottish Rite bodies in Fall River as well as Massachusetts Consistory in Boston, He was a Charter Member of Old Colony Consistory and served as Commander-in-Chief from 1970 to 1973. He was also a member of the Royal Order of Scotland. On September 29, 1971, he was elevated to the 33rd Degree. He was also a member of Aleppo Temple Shrine of Massachusetts and Palestine Temple Shrine of Rhode Island as well as many other Masonic affiliated organizations.
He was a lifelong member of the North Christian Congregational Church, where he served in many capacities over the years. Funeral services were held in that sanctuary at 11:00 A.M., Saturday, May 7, 1983. He is survived by his wife, Mary; a daughter, Phyllis; and three sons, Albert Jr., Sherrill, and Clayton.
So closes the record of a useful and successful life. He was efficient in every work he undertook. In all matters of controversy, his voice always rang true. He was blessed with a genial disposition and a quiet sense of humor. He was always courteous, kindly and considerate. His many endeavors will make his loss keenly felt over a large portion of mankind.
Respectfully submitted,
James T. Watson, Jr.
Sydney Grunberg
John Sanson
Committee
---