MAGLABaury
From MasonicGenealogy
ALFRED L. BAURY 1794-1865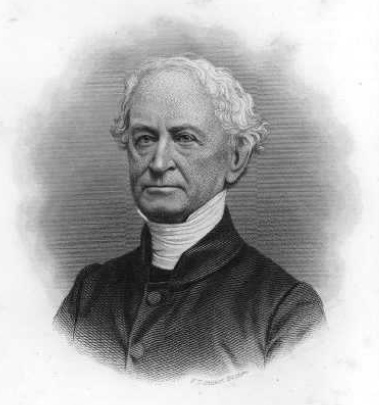 BIOGRAPHY
From Proceedings, Page 1873-326:
REV. ALFRED LOUIS BAURY, D.D., NEWTON, 1837. Episcopalian.
He was District Deputy Grand Master of District No. 4, in 1838, 1839 1840 and 1841.
DR. BAURY was the fourth son of Louis Baury de Bellerive, an officer of the Revolutionary army, and Mary, daughter of Elisha and Sarah Clark, of Middletown, Ct., where he was born, 14th Sept., 1794. He received his early education at Bacon Academy, Colchester, Ct. In 1809 he became a clerk in the service of Mr. Josiah Williams, of Middletown; and in 1814 began business there for himself, which, two years later, he transferred to Tarborough, N.C., where he passed three winters. Being frequently called upon, in the absence of a clergyman, to make addresses at funerals, and to read the burial service, he urged upon the people the establishment of public worship there with success; and in 1818 returned to New England, and began the study of theology with Dr. Titus Strong, of Greenfield, Mass. He removed soon after to Guilford, Vt., where he became a lay reader, and was instrumental in establishing there the parish of Christ Church. Sept. 28, 1820, he was admitted to deacon's orders by Bishop Griswold, but continued to officiate at Christ Church till May, 1822. Here his ministrations were both attractive and impressive; and his memory is still cherished. Removing to Newton, Mass., he was, in July, 1822, chosen rector of St. Mary's, continuing in its charge until 21st of April, 1851, having been ordained priest 28th of November, 1822.
Mr. Baury, on retiring from this post, did not lay aside the ministerial office. As early as 1832 he began to exercise a supervision of the ancient parish of St. Paul's, in Hopkinton; and after his retirement from the full duties of the pastoral office, he continued to officiate there, when the parish was not otherwise supplied, till the day of his death, which took place in Boston, 26th of Dec, 1865. He also undertook the care of the glebe belonging to this parish, acting as attorney for the Society for the Propagation of the Gospel in Foreign Parts, which has held this property in trust since 1742. In 1855-58 he was rector of St. Mark's Church, Boston, dividing his time between this and St. Paul's Church, Hopkinton. From 1833 to 1843 he was Secretary of the Convention of the Protestant Episcopal Church in Mass. As Treasurer of the "Society for the Relief of Widows and Orphans of Deceased Clergymen of the Diocese of Mass.", its funds were, through his exertions, largely increased. He received the Degree of A.M. from Yale College in 1848, and that of D.D. from Norwich University in 1865; admitted as successor of his brother Frederic in 1823. He was chosen Vice-President of the Cincinnati 4th of July, 1853, and President in 1865. In 1847 he was made a corresponding member of the New England Historic Genealogical Society.
Dr. Baury published, in 1841, a sermon on the occasion of the funeral of "Zibeon Hooker, an officer of the Revolutionary Army"; and a sermon entitled an "Historical Sketch of St. Mary's Church, Newton Lower Falls, being the 25th anniversary of the incumbent's first officiating in that church," in 1847. As a preacher, he was clear and impressive, modelling his style upon that of the old English divines. In his personal appearance he was tall, erect; in figure and movement, graceful and dignified. His fine, classical features, his silvered hair, his urbane, courteous, yet cordial manners, rendered him an agreeable companion; and he will long be remembered in Boston as one of the best specimens of a gentleman of the old school. Dr. Baury was married, 1st of July, 1829, to Mary Catherine, daughter of Daniel Henshaw, of Middlebury, Vt., who, with one son and three daughters, survives him.
— Memorials of the Society of the Cincinnati of Massachusetts. By Francis S. Drake. Boston, 1873.
Forty-four years ago, A.D. 1822, there were present at the Convention of the Diocese of Massachusetts, ten clergymen. Where are they now? Not one survives. The last that died was the Rev. Alfred L. Baury, D.D. He has just left us, but not left to be forgotten by those associated with him in the ministry for a long series of Dr. Baury was not a man to pass unnoticed through the streets. His fine physique, his silvered hair, his elastic tread, the careful arrangement of his dress, never failed to attract observation. Educated in the French school of polite manners, he was himself a model of courtesy and gracefulness, and his intercourse with men was distinguished for deference and urbanity. Such was the exterior man. His position in society as a refined gentleman, well sustained by ample wealth, his wide information of men and events, which was very minute, and his easy flow of choice language, made him always an agreeable and desired friend and companion. Honors were conferred upon him. Trusts were reposed in him. Descended from an officer of the American Army, he became a prominent member of the Society of the Cincinnati, and died as the President of that society. He was director and treasurer in charitable institutions, and labored hard to advance their usefulness. For a succession of years he was Secretary of the Convention of the Diocese of Massachusetts, the duties of which office he discharged with accuracy and alacrity, to the acceptance of the church. In the noonday of his life, and that a long noon, he was a prominent and active and useful Presbyter of the Diocese, cognizant of all its affairs, and diligent to advance its interests. His counsels were wise, his policy conservative, his plans judicious.
Dr. Baury was an exact, discriminating, and elegant reader of the liturgy of the church, with tones subdued, with manner reverential, with pathos and fervor, so that no man's good taste or devotion was ever imperiled in the hour of religious services. The same was true of his services in the pulpit. He was a careful composer and an artistic finisher of sermons, and he delivered them as an ambassador always should, as one who had no fear of man, and who desired, first of all things to glorify his Master's name. And the writer of this presents the recollections of a long portion of his ministry.
One of the most distinguishing honors of our departed friend was, that he carried to the fullest extent the entire confidence of that man of God, of blessed memory, the late Rt. Rev. Bishop Griswold. They were true to each other with unbroken friendship, and no man need be ambitious of a higher eulogy in matters merely earthly, than to have had the confidence and esteem of that great and good Bishop of the church. Dr. Baury is entitled to that eulogy, for the Bishop always named him with praise.
The chief work of Dr. Baury's ministry was in the parish of St. Mary, at Newton Lower Falls. Previous to his rectorship there he officiated most acceptably, in Guildford, Vt., where his memory is warmly cherished to the present time. His labors at Lower Falls commenced in A.D. 1821 or 1822, and ended A.D. 1852. The parish from a small beginning attained to a large and vigorous congregation under his rectorship.
After his retirement from his pastoral charge at Newton he retained supervision, for periods of time, of the churches in Hopkinton and Bridgewater. To the former of these two he was a constant and liberal benefactor, and to his enterprise alone it is owing that the church in Hopkinton has even a name to live. One of the last acts in the life of Dr. Baury was one that contemplated the rebuilding of that church, lately destroyed by fire, — a plan that would probably have been carried into happy execution had his life been prolonged through the present winter. But God seeth not as man seeth.
Another church in which he was deeply interested, and to which he devoted his earnest labors, was St. Mark's, of Boston. For three years he had a lively regard for both its spiritual and temporal prosperity; and there, certainly, his "labor was not in vain in the Lord."
When his services were not required in either of these places he was always ready to aid the clergy in Boston and vicinity with his acceptable ministrations. His whole ministerial record, for nearly half a century, stands fair and honorable as that of "a workman who needeth not to be ashamed." Far and wide, through our Northern and Western Dioceses, may many a good churchman and Christian be found who became interested in the church, and in their own souls' salvation, under the teachings of the friend we mourn — mourn without murmuring. For God gave him length of days and a successful pastorate, and he enjoyed that good name which is better than riches, and sank at last to sleep pleasantly in Jesus. It was kindly ordered that all his family were gathered around him save a son in the service of the government, just ordered away to foreign seas. We are not sorry, without hope, for such as die as our friend died.
The Rev. Alfred L. Baury, D.D., was the son of Louis de Bellerive Baury, Major U. S. A. in the revolutionary war. The brother of the late deceased was distinguished for bravery in the war of 1812, and received a sword, by vote of Congress, for his heroism. The subject of this notice received Deacon's Orders in 1821 or 1822, at the hands of Bishop Griswold, and Priest's Orders by the same hands at Newton, Nov. 28, 1822. He was married in 1830. Subsequently received the academic honors of a Doctor of Divinity, and died calmly and trustingly in his own home in Boston, Dec. 26th, A.D. 1865.
Funeral services were held at his house on Friday, Dec. 29th, the Rev. Dr. Lambert reading the beautiful service prepared by Bishop Griswold, and a large concourse of clergy received the body at the door of Trinity Church. The rich casket, decorated with costly flowers, was borne up the aisle, preceded by the Rt. Rev. Bishop of Colorado, the Rev. Dr. Edson, and the Rev. Dr. Bolles, who, with the Rev. Mr. Babcock, of Dedham, took the several parts of the burial service, appropriate to the church, the choir most tenderly chanting the psalms of the services. The pall-bearers were the Rev. Dr. Burroughs and the Rev. Dr. Wells, the Rev. F. D. Huntington and the Rev. S. B. Babcock, the Rev. Dr. Lambert and the Rev. Mr. Robinson, the Rev. Mr. Stickney and the Rev. Mr. Knight. The remains were conveyed to Newton, to the chosen burial-place of the deceased, accompanied by his widow and children, his sons-in-law, Dr. Jackson, Surgeon U. S. N., and Lieut. Com. Bradford, U. S. N., besides the Rev. Dr. Edson, the Rev. Mr. Sever, and other clergymen and friends. Thus ended a mortal life of seventy-one years, and thus, in joyful hope of the resurrection of the body, he was committed, "earth to earth, and dust to dust," one known, revered, and loved in our diocese for an honorable term of years.
— Christian Witness, December, 1865.
---