GMGridley
From MasonicGenealogy
JEREMY GRIDLEY 1701-1767
Grand Master, St. John's Grand Lodge, 1755-1767.
NOTES
FROM NEW ENGLAND CRAFTSMAN, 1905
From New England Craftsman, Vol. I, No. 2, November 1905, Page 60:
Funeral of Grand Master Jeremy Gridley
Extract from an unpublished Diary of John Rowe, Grand Master of the Grand Lodge of Massachusetts from 1768-1787.
(The Jeremy Gridley, whose funeral is mentioned in the following extract, was one of the Provincial Grand Masters who served prior to the formation of an Independant Grand Lodge, March 8, 1777).
12th. Sept. Saturday 1767. Cool & Fair Wind, in the Afternoon I attended the Funeral of Our Right Worshipful Jerry Gridly Esqr. Grand Master, as Deputy Grand Master, the Officers of his Regiment Marched in Order First, then the Brtthren of St. Andrew's Lodge, then the Stewards of the Grand Lodge, then the Brethren Promiscuously two & two, then the Wardens of the Second Lodge, then the Wardens of the First Lodge, then the Wardens of the Masters Lodge, then the three Masters of the three Several Lodges — then the past Grand Officers & the Treasurer, then the Grand Wardens then myself as Deputy Grand Master, then the Tyler with the Grand Masters Jewell on a Black Velvet Cushion — the Corpse — the Bearers were the Lieu't. Governour, Judge Trowbridge, Justice Hubbard, John Erving Sen'r Esqr, James Otis Esqr. & Mr. Samuel Fitch. Then followed the Relations—after them the Lawyers in their Robes — then the Gentlemen of the Town & then a great many Coaches Chariots, & chaises.— Such a multitude of Spectators I never Saw at any time before since I have been in New England.— after his Body was Interr'd wee Return'd in Form to the Town house (from whence his corps was taken from at the Beginning of the Procession,) in the Same Order as wee first Walked.— I do not much approve of Such parade & Show — but as it was his & his Relations desire, I could not well Avoid giving my Consent. I think the Number of the Brethren that Attended was 161. — upon the Whole it was as well Conducted & in As Good Order as the Nature of it would admit.
FROM NEW ENGLAND CRAFTSMAN, 1916
From New England Craftsman, Vol. XI, No. 4, January 1916, Page 129:
The Installation of Grand Master Jeremy Gridley.
There is a satisfaction in knowing that Freemasonry in the early days If its History in America was always treated with a dignity by its supporters that is not surpassed in modern time. This was shown especially on occasions where the public had opportunity to observe its movements. A good illustration is found in the account of the ceremony attending the installation of Grand Master Jeremy Gridley, Esq., October 1, 1755, which we quote:
"At a Grand Lodge held at Concert Hall this day, The Right Worshipful Jeremy Gridley, Esq., appointed Grand Master of Masons in North America, by the Right Worshipful the Marquis Carnarvon, Grand Master of Masons, was installed in that office (at Concert Hall). The three Lodges in this Town and the Master and Wardens of the Portsmouth Lodge in New Hampshire with a great Number of Brothers were present Cloathed with white aprons and Gloves, and after the Instalment, accompanied their Grand Master in Procession to Trinity Church in this order, First Walked the Sword Bearer, carrying a drawn Sword, in one hand and the Book of Constitutions in the other, Next came the Several Lodges according to their Juniority, closed with the Wardens and Master, cloathed with their Jewels, Four Stewards with white wands went before the Grand Treasurer and Secretary cloathed with their Jewels, who were followed by the Past Grand Officers, after these walked the Grand Wardens with their Jewels, and the Present and late Grand Master clothed with their Jewels and Badges, closed the Procession. At Church the Revd Mr Hooper read Prayers, and the Rev.d Mr. Brown Preached an excellent Sermon on the occasion to a Numerous and Polite Audience, after Service the Sword Bearer and Stewards walked before the Grand Master and the Procession was made in a reversed order back to Concert Hall, where an Elegant Dinner was prepared, and the afternoon was Spent in Harmony and Mirth. The whole Ceremony and attendance was with the greatest Decency, and made a Genteel Appearance."
BIOGRAPHY
FROM TROWEL, 1995
From TROWEL, Spring 1995, Page 31:
Of three Gridley brothers who came from Essex, England, about 1630, one died shortly after arrival and one settled in CT, while the third, Richard, settled in Boston and became a mason by trade. From this heritage, several generations later. Jeremiah Gridley was born to Richard and Rebecca Gridley on March 10, 1701. Throughout his adult life he used "Jeremy" in all law and court record.s and was appointed Provincial Grand Master of Masons in North America under that name.
Graduated from Harvard in 1725, he studied theology, law and journalism, and started a weekly newspaper. Though a critic called him "one of the most elegant and classical writers of his time, it was in law that he made his mark. Known as the "Father of the Boston Bar." he provided the professional education of such notables as Benjamin Prat (later Chief Justice of NY), James Otis, Samuel Quincy and John Adams. Later, Gridley was reported to have said of Otis and Adams that they were "two young eagles who would one day pick his eyes out."
Also active in politics. Gridley became a Representative to the General Court and Moderator of Brookline. where he acquired a gambrel-roofed house with five acres. Later, he served as Attorney-General.
Henry Price proposed Jeremy Gridley to the Craft. He was made a Mason May 11, 1748, in the First Lodge, now St. John's. In 1750 he was Raised in the Masters' Lodge and served as Master of First Lodge in 1754.
Brother Benjamin Franklin was a visitor at Grand Lodge, October 11. 1754, with Past Grand Master Price presiding, Thomas Oxnard having died. A petition was drawn and signed to the Grand Master of Great Britain to appoint Bro. Gridley Grand Master of Masons for North America. His installation by R.W. James Brydges, Marquis of Carnarvon. Grand Master of the Ancient and Honourable Society of Free and Accepted Masons, on October 1. 1755, in Concert Hall, was witnessed by members of the three Lodges in Boston at that time and the Master and Wardens of the Portsmouth Lodge in NH. During his term in office, the Grand Master issued Warrants and Charters for 22 new Lodges, five in MA. three in CT, three in NY. two in RI. two in NJ and one each in VA. NC. Louisburgh and Quebec, Canada; St. Christopher and Barbadoes. West Indies: and Surinam. Dutch Guiana. He granted his own brother. Richard, a Warrant on May 13, 1756 to congregate all Masons in the expedition against Crown Point, which resulted in Crown Point Lodge at Lake George.
On January 31, 1757, at a Grand Lodge Meeting at the Royal Exchange Tavern. Grand Master Gridley. also, appointed his brother, who was Master of First Lodge, to make Capt. Harry Charters; Capt. Gilbert McAdams; aide-de-camp Dr. Richard Huch; John Appy. secretary to the Earl of Loudoun; and John Melvill. Masons. The length of the list of Brethren attending and the notable names make it evident that this festival was one of the greatest in the early days of the Fraternity in this jurisdiction.
Using his previous Warrant. Richard Gridley granted a Deputation to the Master on November 13, 1758, to hold a Lodge in His Majesty's 28th Regiment of Foot at Louisburgh, Nova Scotia, and in 1759 a Lodge was Constituted at Providence. RI with Bro. Capt. John Burges as first Master. Also, in 1759. the Lodge at Newport, constituted by Oxnard in 1749 (TROWEL', Winter. 1994). in their enthusiasm exceeded their authority and made Master Masons. So proficient was their work that instead of penalizing them. Grand Master Gridley confirmed the degrees and appointed R.W. Bro. John Mawdsley to be "Master of a Right Worshipful Master's Lodge."
By a unanimous vote in Concert Hall on October 28. 1763. the Brethren decided to purchase that facility in which so many Masonic events were held for the agreed price of 1200 pounds. However, the next day the owner sold the building to another buyer.
On April 8, 1761, Gridley ordered that no member of a regularly constituted Lodge in Boston could appear at the Lodge of Scot's Masons in Boston, because it was not regularly constituted in the opinion of Grand Lodge. Yet, when Jeremy Gridley died on September 10. 1767. the Lodge of St. Andrew was permitted by St. John's (Provincial) Grand Lodge to march in the funeral procession as Masons. Sixty-four of the 161 who marched were members of the Lodge of St. Andrew and were recorded as such in St. John's Lodge book for that day.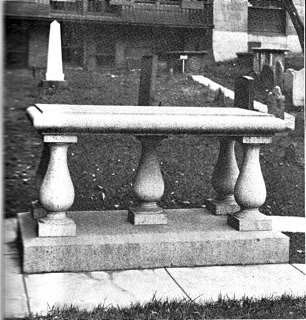 Our fourth Provincial Grand Master was buried September 12. 1767. in tomb #9 in the Granary Burial Ground. It remained unmarked until May 11, 1916. when a monument of Quincy granite was dedicated by Grand Master Melvin Maynard Johnson.
MEMORIAL
From Proceedings, Page I-117:
BOSTON,- September 14th 1767.

On Thursday Evening last at 11 o'Clock, departed this Life, the Right Worshipful Jeremy Gridley Esqr. Grand Master of Masons, over all North America, Attorney General for the Province of Massachusetts Bay, A Member of the Great and General Court of said Province, and a Justice throughout the Same, Colonel of the first Regiment of Militia, and President of the Marine Society, &c.
His Funeral was Attended on Saturday last, with the Respect due to his Memory, by the Members of his Majesty's Council, and the Judges of the Superiour Court in Town, the Gentlemen of the Bar, the Brethren of the Ancient and Honourable Society of Free and Accepted Masons, the Officers of his Regiment, the Members of the Marine Society and a great Number of the Gentlemen of the Town.
Strength of Understanding, Clearness of Apprehension, and Solidity of Judgment, were cultivated in him by a liberal Education, and close thinking: His extensive Acquaintance with Classical and almost every other part of Literature, gave him the first Rank among Men of Learning: His thorough Knowledge of the Civil and Common La'w, which he had studied as a Science, founded in the Principles of Government, and the Nature of Man, justly placed him at the Head of his Profession : His tender Feelings relative to his natural & civil Ties: his exquisite Sensibility, and generous Effusion of Soul for his Friend, were Proofs that his Heart was as good as his Head was sound; and well qualified him to preside over that antient Society whose Benevolent Constitutions do Honor to Mankind. He sustained the painful Attacks of Death with a Philosophical Calmness and Fortitude, that resulted from the steady Principles of his Religion. He Died in the 62d Year of his Age.
Written Extempore, on the Death of the late JEREMY GRIDLEY, Esqr. Barrister a't Law.
Of Parts and Learning, Wit and Worth possess'd,
GRIDLEY shone forth conspicuous o'er the rest:
In native Pow'rs robust, and srait with Fame,
The Genius brighten'd, and the Spark took Flame;
Nature and Science wove the laurel Crown,
Ambitious each, alike confer'd Renown.

High in the Dignity and Strength of Thought,
The Maze of Knowledge sedulous he sought,
With Mind superiour studied and retain'd,
And LIFE and PROPERTY by Law sustain'd.

Generous and free, his lib'ral Hand he spread,
Th' Oppres'd reliev'd, and for the Needy plead;
Awake to Friendship, with the Ties of Blood,
His Heart expanded, and his Soul o'erflow'd.

Social in Converse, in the Senate brave,
Gay e'en with Dignity, with Wisdom grave;
Long to his Country and to Courts endear'd,
The JUDGES honor'd and the BAR rever'd.

Rest, peaceful Shade! innoxious as thy Walk,
May Slander babble, and may Censure talk,
Ne'er on thy Mem'ry ENVY cast a Blot,
But human Frailties in thy Worth forgot.
An account of the funeral ceremonies for Grand Master Gridley begins on Page I-118.
---