DeltaC
From MasonicGenealogy
DELTA (CHINA)
Location: Canton, China
Dispensation Granted By: Dudley H. Ferrell
Charter Date: Never chartered; dispensation surrendered at the March 1927 Quarterly Communication.
Precedence Date: 03/21/1925 (1925-143)
Current Status: dispensation returned and charter not granted (Page 1927-43).
---
PAST MASTERS
Graham Kearney, 1925-1927
---
REFERENCES IN GRAND LODGE PROCEEDINGS
HISTORY
A MASSACHUSETTS LODGE IN CANTON
In December 1924, Bro. Graham Kearney, a Canadian engineer resident in Canton, China, wrote a letter to Rt. Wor. Irvin Van Gorder Gillis, District Grand Master for Massachusetts lodges in China, who resided in Peking. Bro. Kearney was a relatively recently made Mason; he had been raised in May 1921 in Star of Southern China Lodge #2013, English Constitution. He was a charter member of Hykes Memorial Lodge in Tientsin, where he was then resident.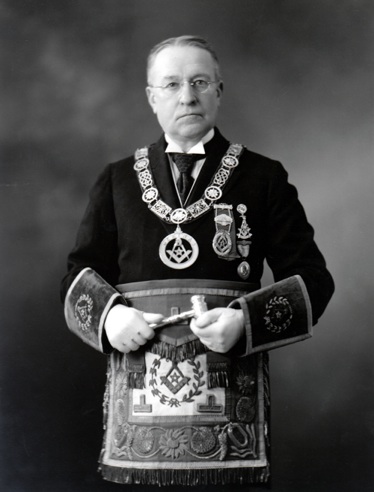 Rt. Wor. Irvin Van Gorder Gillis, District Grand Master (Massachusetts.)
His letter to Gillis inquired about the possibility of establishing a Massachusetts lodge in Canton, where there was only one lodge at that time - Star of Southern China #2013. He noted that the lodge owned its own building, had a Masonic Club, and counted "quite a number of Americans" among those who "took an interest" in it as visitors "and some as members. Many more do not, as you can understand from our experience in Tientsin." Two Americans had served as Master, and one of them discussed the possibility of an American lodge in Canton; these two, and the incoming Master of the English lodge, would be among "at least twenty petitions" from the American community. He believed that some English Masons might join and in any case, he felt "sure of the the whole-hearted support" of the English community.
In addition, he noted another advantage of having an American Lodge; Star of Southern China accepted applications from American Masons, but did not act on them "until they receive reports and waivers of jurisdiction . . . This is a hangover from war conditions in England."
Brother Kearney concluded his letter with a note that he would also write to a friend, Charles Burleigh, who had served in 1923 as Deputy Grand Master, to "get, entirely unofficially, the view of the Grand Lodge."
Gillis replied promptly by telegram:
"Referring to your letter of the 19th ultimo authorize you to take immediate action organize lodge in accordance with Massachusetts constitutions mailed to you to-day hearty congratulations all success to you."
He followed this up with a letter on January 11, 1925, expressing pleasure at the news, noting that "not ever having been in Canton I did not fully realize its possibilities from the Masonic viewpoint." With his best wishes, he encouraged Bro. Kearney to "get busy" in preparing a petition for a dispensation, and instructed his District Grand Secretary, Bro. Conrad Anner, to provide information.
THE BRETHREN ASSEMBLE
Encouraged by District Grand Master Gillis, Bro. Kearney proceeded to circulate information among American Masons in Canton. There is an unsigned essay (typed on the stationery of Anderson Meyer Ltd., Bro. Kearney's employer in Canton) asking why certain Grand Lodges did not permit dual membership, which made many Masons hesitant to sever "the closest Fraternal tie known to the Craft - the membership in our Mother Lodge. . . Is it possible," he asked, "to obtain a change of the regulations, or a special dispensation from the Grand Master . . ." or some other way to relieve the burden of demitting from one's mother lodge? This question remained unanswered.
Bro. Kearney's letter to Bro. Gillis on January 18 reported progress.
"I have not begun to get the names of the petitioners, but I am sure the list will run over twenty, and should not be surprised if it reached over thirty, and it will include one W. M. . . . and at least two P. M.s . . . No discussion has as yet taken place regarding the Principal Officers Designate . . .

"As Lodge Star of Southern China has held sway in Canton since 1883, we have felt that they should be consulted, and their cooperation asked for before taking any definite steps. . . I am now pleased to say that I have discussed the proposition fully with their oldest P. M.'s, and have received the most cordial assurances of their support and co-operation. The trustees of the Masonic Temple have promised us the use of the Lodge premises . . .

"I believe that a petition will necessarily have to be accompanied, or followed, by a report and recommendation from you. . . As to conditions, there is no question about the work that is awaiting an American Lodge. We shall have all we can do, I am sure, as there is a large missionary and educational community here (American), in which I know of several men who now wish to take degrees. In addition to this Canton is a U. S. naval station, and there is always one, or usually two gun-boats in port, one of which makes Canton its headquarters. . . So there is a definite work to be done by the proposed lodge, and has been for some time."
Gillis' response on February 3 indicated that he "heartily" approved of the constitution of such a lodge, and would recommend it to the Grand Master. A copy of the petition was sent shortly after to him, and on February 18 he wrote a letter to M. W. Bro. Ferrell, endorsing the petition, though he noted that the lodge name – "Delta of South China" – was somewhat inappropriate; "Delta" referred to the river delta, he noted, but he felt that "South" should be removed; it was done when the petition was submitted shortly after.
DISPENSATION AND CONSTITUTION
In a remarkable act of brevity, Grand Secretary Frederick W. Hamilton responded to the petition on behalf of the Grand Master in a cable to Conrad Anner on March 21. It read: "Dispensation Granted. Hamilton." The actual document was sent by regular mail, arriving some weeks later; it bore the following names:
J. W. Banbury
R. E. Chambers
Joseph L. Harvey
Graham Kearney
Harry Bauer
Osborn S. Watson
H. H. Proseus
L. A. Schotchmer
Henry H. Waples
Richard B. Falkenstein
B. B. Anthony
H. L. Decker
H. R. Burge
Leon D. Harriss
W. M. Shoemaker
Frank A. Crampton
Robert E. Beddoe
Harry L. Carter
Walter K. Belt
S. Job Fong
Henry Lowcock
Charles L. Shank
C. B. Shank
T. B. Brown
M. T. Rankin
W. C. A. Prahl
J. E. Featherston
D. F. Warren
With the Grand Master visiting the extraterritorial lodges in Panama, the dispensation was signed by Deputy Grand Master and Acting Grand Master Curtis Chipman. In his letter on March 24 to Bro. Kearney, Rt. Wor. Hamilton indicated his pleasure that one of the petitioners had a name "evidently Chinese", and hoped that Delta Lodge would "place itself in this matter beside International, Hykes Memorial and Chin Ling Lodges.
On March 29, Rt. Wor. Bro. Gillis commissioned Wor. Bro. Sidney R. Sheldon as his deputy to constitute the lodge and install its officers; Bro. Kearney, though he had not yet served as Warden, was given dispensation to be installed as Master, with Brothers Robert Beddoe and Henry H. Waples as his Wardens. Neither of these brothers was a Past Master either; this is ample evidence of the eagerness of the Grand Lodge to act quickly and aggressively to establish an American lodge in Canton.
The inaugural meeting of Delta Lodge took place in Freemasons' Hall in Canton on the night of April 9, 1925, and was opened by Wor. Bro. Sidney Sheldon as the representative of District Grand Master Gillis. A large number of petitioners and guests were present, and friendly and fraternal greetings and regrets were sent by other distinguished brethren, including Rt. Wor. and Hon. P. H. Holyoak, the English District Grand Master (who had expressed his earnest support to Bro. Kearney in a letter on April 6; he had to attend a special meeting of one of his own lodges that night. But he noted in his letter (annotated in his own handwriting to the typed text): "Anything I can personally do to help you in any way will gladly be done." Rt. Wor. Bro. Holyoak remained a strong supporter of Delta Lodge during his remaining time in China; he left for England in April 1926 due to illness and died there several weeks later.)

Rt. Wor. Percy Hobson Holyoak, District Grand Master (E. C.)
The ceremony of installation was reported as excellent and "in accordance with ancient usage"; Wor. Bro. C. H. M. Rustomjee, P. M. of Star of Southern China #2013, delivered a charge "ably and impressively", and the lodge was closed in form.
BUSINESS
In mid-April 1925, the lodge had prepared and submitted a set of by-laws, and during the next month the lodge began to work its first candidates. This was an exciting time in the China District: in June, Pagoda Lodge was to be instituted at Mukden in Manchuria, increasing the number of lodges in the district (including Delta U. D.) to nine; but it was reported by the District Grand Secretary in a June 14 circular letter that "owing to the present political conditions, the instituting of Pagoda Lodge of Mukden has been deferred for the present." It was finally instituted on August 22.
Unfortunately, though Delta continued to work its initial candidates, there were troubling signs. A violent conflict between protesters and British and Chinese troops led to a large-scale strike which had severe effects on the economy, especially trade. Some members of the original group of petitioners did what expatriates often do during troubled times: they departed the country for home or elsewhere; this included Bro. L. A. Scotchmer, the original secretary. The October 1925 Return of Officers reflected the ones appointed to the lodge under dispensation, but was highly inaccurate when compared to the roster of officers listed in the Minute Book. Indeed, in November 1925, Brother William Henry Tipton, who had received the first two degrees in Delta Lodge and had relocated to Shanghai, received his Master Mason degree in Sinim Lodge.
In March 1926, the lodge met to continue work on its third candidate, Bro. Harold H. Snuggs; only eight brethren were present, and Bro. Henry Waples performed the Master's work on the candidate. After the degree ceremonies were completed, the lodge undertook a serious discussion of the lodge's progress. Wor. Bro. Kearney, asked about the possibility of obtaining a charter, indicated instead that a request had been made to extend the period of dispensation, and that "by June next conditions would warrant an application to the Grand Lodge for a Charter, but present events did not appear to justify this hope. . . the point had been reached where the prospective benefit to the Fraternity did not appear to warrant the efforts and sacrifices of the few Brethren who were left to carry on." Bro. Waples disagreed; he felt that the brethren needed to make "more strenuous efforts" to continue the work; that the brethren in the lodge in Mukden "were probably undergoing trials similar to ours." The lodge voted that a circular be sent to all the members, and that the Master solicit the assistance of the District Grand Master.
On March 25, 1926, the Grand Master issued an extension of the lodge's dispensation, giving them some breathing room. In May Bro. Kearney exchanged letters with the District Grand Master, observing the continuing difficulties; it was observed in the reply that "things do not look very cheerful" and a suggestion was made that the Dispensation, so recently renewed, should be returned. Prior to the September communication, a letter was circulated to the brethren which urged them to attend the communication. It read in part:
Shortly before the recess, the Worshipful Master communicated to the District Grand Master the condition of the affairs of the Lodge, acquanting him fully with the difficulties of carrying on, and the poor outlook for the future. The Rt. Wor. District Grand Master, in his reply, advised no immediate action, but suggested that, should general conditions in South China fail to improve during the summer, a full meeting should be held immediately after the recess to consider the advisability of surrendering our Dispensation.

Nothing has occurred in the meantime to justify any hope of a successful future for Delta Lodge of China . . . In order that we may close the affairs of the Lodge, should all this be necessary, with a clear sheet, defrauding none, all brethren in arrears are requested to remit . . .

We shall have no reason to feel that the prestige of American Masonry in China will suffer through our inability to carry on.
At the September communication, it was voted that the lodge request the Grand Master to revoke the Dispensation. The Brethren "spoke to the motion feelingly and at length, expressing regret at the necessity of this action." A month later Wor. Bro. Kearney left China and returned to his native Canada, closing up the lodge's paperwork. The Dispensation was duly revoked by a vote of Grand Lodge in March 1927.
CONCLUSION
The account of this lodge is brief but in some ways it is quite revelatory. The initial establishment of Delta Lodge U. D. was made in considerable haste; none of the principal officers, including the Secretary, had ever served as Master; the location was propitious and there was support from the only other operating lodge in Canton, but the very nature of Western activity in China - particularly outside of Shanghai - was ephemeral and, in the 1920s, perilous. Ultimately there was simply insufficient support for the organization, and despite the best intentions it had to give up.
MEMBERS
BENJAMIN BENNETT ANTHONY 1891-1960
Employed by Standard Oil of New York, Canton; Minister
MM 1924, Star of Southern China #2013, EC, Canton, China
Petitioner
JOSEPH W. BANBURY d. 1956
Merchant in Canton; Past Master
MM 1924, Star of Southern China #2013, EC, Canton, China
Petitioner
HARRY FREDERICK BAUER 1890-1975
Banker at International Banking Corporation, Canton; originally from Jersey City, New Jersey
MM 1913, Star in the East #640, SC, Yokohama, Japan
Petitioner
ROBERT EARL BEDDOE 1882-1952
Medical Missionary at Tungshan, in Canton. Originally from Dallas, Texas
MM 1918, Tannehill #52, Dallas, Texas
Petitioner; SW under dispensation for Delta
Dr. Beddoe was a graduate of the Baylor University School of Medicine, then located in Dallas. He went to China in 1909 as a medical misssionary for the Baptist General Convention of Texas. He was in the Baptist compound at Tung Shan, Canton.

He met and married Miss Louella Houston, a teacher at the Wuchow Mission School in China, and two daughters were born to them in China. With the exception of furlough trips home, Dr. Beddoe remained in China until 1948, when he returned to the United States. He served for many years as administrator of the Stout Memorial Hospital in Wuchow. Upon his return to the United States, Dr. Beddoe became a member of the faculty of Oklahoma Baptist University at Shawnee, where he taught hospital administration. He also was in charge of the university hospital.

Dr. Beddoe was an accomplished musician who played the organ and piano. While in Dallas in 1930-1931 he gave many organ recitals.
WALTER KIPLING BELT 1899-1982
Teacher at Canton Christian College in Canton. Originally from Gresham, Oregon.
MM 1922, Oregon #85, Newport, Oregon
Petitioner; SD under dispensation for Delta
TRISTAM BURGESS BROWN 1885-1947
Insurance agent in Shanghai; originally from Stockton, California
MM 1917, Sinim
Petitioner
H. R. BURGE d. 1925
MM, Star of Southern China #2013, EC, Canton, China
Petitioner
HARRY L. CARTER
Missionary in Canton
MM ?, Keystone #778, Montgomery, Alabama
Petitioner
ROBERT EDWARD CHAMBERS 1870-1932
Minister at Tungshan in Canton, China. Originally from Locust Grove, Virginia; Past Master; died in China
MM ?, Ben Franklin #97, Baltimore, Maryland
Petitioner
American missionary with the Foreign Mission Board of Southern Baptist Convention.

Died of pneumonia at the Country Hospital.
FRANK A. CRAMPTON 1888-1961
Engineer in Canton; originally from California
MM ?, Santa Monica #307, Santa Monica, California
Petitioner
HARVEY L. DECKER 1896-1969
Engineer in Canton; originally from Wisconsin
MM ?, Clintonville #197, Clintonville, Wisconsin
Petitioner
RICHARD B. FALKENSTEIN 1899-1988
Teacher in Canton; originally from North Dakota
MM ?, Tuscan #44, Bottineau, North Dakota
Petitioner
J. E. FEATHERSTONE 1880-1925
Commissioner of Immigration for Canada in Canton
MM ?, Doric #16, Ontario, Canada
Petitioner
From a newspaper clipping in the archives of the Grand Lodge of Massachusetts, 1925:
The death occurred yesterday of a well known Canadian resident of Hongkong, whose passing away will be regretted by very many people in the Colony. The deceased is Mr. J. E. Featherstone who has been carrying out the duties of Canadian Immigration Officer for Hongkong and South China. Mr. Featherstone, who arrived in Hongkong early in February, 1924, was well known and very well liked by a large circle of people.

A native of Ontario he was about 45 years of age and a graduate of the McGill University, Toronto. For many years he had been in the services of the Canadian Government in the Emigration Department and was an expert in all matters appertaining thereto and a valued servant. When it was decided to establish an office here, Mr. Featherstone was offered the post and up till the time of the present trouble in China he was closely in touch with Canton and the Chinese here on matters of emigration.

He was a member of the Hongkong Club and also took a great interest in sports. Last season he was often to be seen at Happy Valley carrying out the duties of umpire in the newly established game here, baseball.

Mr. Featherstone has been living at Kingsclere, Kowloon, with his wife and small daughter and to them the sympathy of many will be extended.
S. JOB FONG
Merchant in Canton
MM ?, Star of Southern China #2013, EC, Canton, China
Petitioner
LEON D. HARRISS
Engineer in Canton
MM ?, Naval & Military #848 SC
Petitioner
JOSEPH L. HARVEY
Medical Missionary in Canton; Presiding Master of Star of Southern China #2013 in 1925
MM ?, WM 1925, Star of Southern China #2013, EC, Canton, China
Petitioner
GRAHAM KEARNEY 1883-
Manager, Andersen & Meyer; originally from Renfrew, Ontario, Canada
MM 1921, Star of Southern China #2013, EC, Canton, China
Charter Member 1922, Hykes Memorial
Petitioner; WM under dispensation for Delta
HENRY LOWCOCK 1894-
Engineer at Chinese Estates, Ltd.; born in Shanghai
MM ?, Star of Southern China #2013, EC, Canton, China
Petitioner
WILHELM CARL AUGUST PRAHL 1881-
A native of Norway; harbor master in Samshui, employed by the Customs Service
MM 1910, Union #1951 EC, Tientsin, China
Petitioner
H. H. PROSEUS
Merchant in Canton; originally from California
MM ?, Victory #474, San Francisco, California
Petitioner
M. T. RANKIN
Missionary in Canton; originally from Kentucky
MM ?, Wingate #169, Louisville, Kentucky
Petitioner
LEONARD A. SCOTCHMER 1891-1936
Merchant in Canton; originally from New York; died in China
MM ?, Urbana #459, New York
Petitioner; Secretary under dispensation for Delta
C. B. SHANK
Civil Engineer in Canton
MM ?, Garden City #141
CHARLES L. SHANK
Civil Engineer in Canton
MM ?, Garden City #141
W. M. SHOEMAKER
Engineer in Canton
MM ?, Naval & Military #848 SC
Petitioner
HAROLD HEBINGER SNUGGS 1897-1985
Missionary in Canton; born in Singapore, naturalized in Kentucky in 1922.
MM 1926, Delta U. D.
Candidate
ROBERT BISSELL STREEPER 1899-1962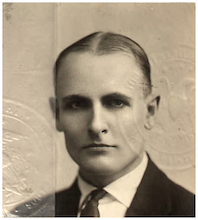 American Vice Consul in Canton since 1924; originally from Columbus, Ohio; died in Bremen, Germany
MM 1926, Delta U. D.
Candidate
American diplomat. US Vice Consul in Tientsin 1926-29; US Consul in Tehran 1932.

Son of Jacob Dewees Streeper and Clara (Bissell) Streeper.

Enlisted in the National Guard Enlistment at Columbus, Ohio on 19 May 1917.

Married 1) Martha Jane Wilson on June 19, 1923. Together they became the parents of Mary Ellen (Streeper) Derge [1925-1999] and Jane Anne Streeper.

Married 2) German-born Ursula Erna Unknown. Together they became the parents of Charles Frederick Streeper and Patricia Anne Streeper.
WILLIAM HENRY TIPTON 1875-1950
Minister in Tungshan, Canton; originally from Talbott, Tennessee
MM 1926, Delta U. D.
Candidate
HENRY HOWARD WAPLES 1889-1967
Architectural engineer, worked in the Missions Building in the Bund in Canton; originally from Philadelphia
MM 1918, Hiram #12, Richfield, Utah
Petitioner; SW under dispensation for Delta
OSBORN STONE WATSON 1890-1959
Trade Commissioner for the U. S. Department of Commerce at Shameen in Canton, China; originally from Decatur, Georgia
MM ?, Blackshear #270, Blackshear, Georgia
Petitioner
Born in Decatur Co, GA, to Charles WATSON and wife Ila Marion STONE. He was married to Greta LYCKHOLM.

1917, he registered for the draft in World War I.

13 Feb 1919, Osborn applied for a passport.

He made numerous trips to foreign ports according to several passenger lists.

1930, Osborn was in Province of Nyland, Finland with the US Department of Commerce.
D. F. WARREN
Fill in
MM ? Fill in
Petitioner
---
DISTRICTS
---
LINKS