BenjaminFranklin
From MasonicGenealogy
BENJAMIN FRANKLIN LODGE
Location: West Dennis
Chartered By: Winslow Lewis
Charter Date: 12/12/1855 V-591
Precedence Date: 02/12/1855
Current Status: unknown; Merged with Mount Horeb Lodge by "incorporation" 06/08/1859 (page VI-255), surrendered charter.
Note 1: This is the first recorded merger in the history of Massachusetts Freemasonry.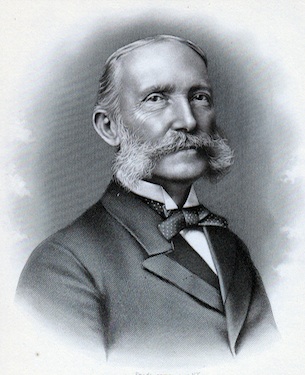 Henry W. Rugg 1826-1910
Note 2: One of the original petitioners for the Lodge in 1855 was Bro. and Rev. Henry W. Rugg (pictured above; raised in Fraternal Lodge in 1854), later Grand Master of Masons in Rhode Island. He wrote a book of sketches of the Presidents, as well as a short history of the Christian Church.
Note 3: See Memorial for Joseph P. Nickerson.
---
PAST MASTERS
Henry W. Rugg, 1855 (U. D.)
Veranus B. Nickerson, 1859
---
REFERENCES IN GRAND LODGE PROCEEDINGS
HISTORY
NOTES FROM THE 75TH ANNIVERSARY OF GATE OF THE TEMPLE LODGE, MARCH 1930
From Proceedings, Page 1930-226; Address of Grand Secretary Frederick W. Hamilton:
Ben Franklin Lodge has always interested me very much, for personal reasons. West Harwich and West Dennis are not very far apart and Ben Franklin Lodge was merged with Mount Horeb only shortly afterwards, in 1859. Ben Franklin Lodge was started under the impulse of a young Universalist clergyman, who was then preaching there, in one of his first pastorates. He was its first Master under Dispensation. He afterwards left the State, and some of the older of you will remember him very well in other capacities, the Reverend Henry W. Rugg, who was afterward Grand Master of Masons in Rhode Island, and was Grand Master of the Grand Encampment of Knights Templar when he died, and happened to be in later years (although much my senior) one of my closest personal friends. You will pardon the personal note which comes into the little story about the short life of Ben Franklin Lodge.
---
OTHER BROTHERS
---
DISTRICTS
---
LINKS