WSGKilwinning
From MasonicGenealogy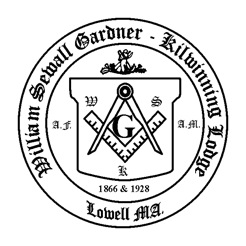 WILLIAM SEWALL GARDNER - KILWINNING LODGE
Location: Lowell
Chartered By: Jeffrey B. Hodgdon
Charter Date: 04/13/2007 2007-39
Precedence Date: 03/13/1867
Current Status: formed by the merger of Kilwinning and William Sewall Gardner Lodges, 04/13/2007.
---
PAST MASTERS
Wor. John S. Papleacos 2008-2012
REFERENCES IN GRAND LODGE PROCEEDINGS
VISITS BY GRAND MASTER
BY-LAW CHANGES
---
EVENTS
CONSOLIDATION, APRIL 2007
From TROWEL, Fall 2007, Page 22: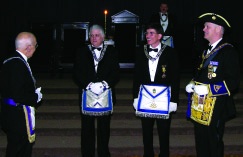 R. W. Max Ludwig, Jr., left, give a brief history of the Lowell Masonic Center to Wor. Bruce Karafelis, Wor. Michael Alexis, and M. W. Jeffrey Black Hodgdon.
Friday the 13th of April proved to be an auspicious date for two lodges in the 12th Masonic District. On that date, Grand Master Jeffrey Black Hodgdon conducted a merger ceremony of William Sewall Gardner Lodge and Kilwinning Lodge, the first such merger ceremony for lodges in Lowell.
The two lodges have shared a common connection ever since Kilwinning Lodge was first chartered in 1866. Most Wor. William Sewall Gardner, Grand Master 1869–1871, was the first Master of Kilwinning Lodge from 1866 to 1868. The merger created a new lodge under the name of William Sewall Gardner-Kilwinning Lodge, retaining the identity and heritage of both lodges.
Following the merger ceremony, a new line of officers was installed. The last Master of William Sewall Gardner Lodge, Wor. Bruce Karafelis, became the first Master of William Sewall Gardner-Kilwinning Lodge. Wor. Michael Alexis, the last Master of Kilwinning Lodge, became the first Junior Warden of the new lodge. The lodge's newest Master Mason, Bro. John William Moses, was installed as Inside Sentinel, having signed the bylaws that evening.
More than 100 people attended the merger and installation ceremonies, which included a starry-decked heaven light show set to music, and ended with a turkey dinner.
---
DISTRICTS
---
LINKS