MAGLWBaker
From MasonicGenealogy
WILLIAM WILSON BAKER 1822-1882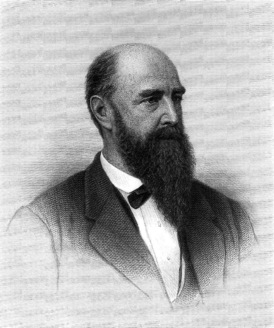 MM 1845, WM 1850, 1851, Columbian
Charter Member 1856, WM 1856, 1857, Revere
Grand Marshal 1860, 1861
DDGM, District 12, 1862, 1863
Senior Grand Warden 1863
BIOGRAPHY
From Moore's Freemason's Monthly, Vol. XX, No. 8, June 1861, Page 231; biographies of prominent members of Columbian Lodge:
Brother Baker, we need not say, is " the worthy son of a worthy sire" ; the son of one whose memory will be ever green in the recollections of the older members of this Lodge. The son was initiated in Columbian Lodge on the 6th of January, 1845. On his becoming a member, he, having at once qualified himself in the routine of Lodge-duty, advanced rapidly in the confidence and favor of his Brethren. He was elected Master in 1850, and again in 1851, and during his administration the Lodge was strengthened by large accessions to its membership.
In 1856, he, with other members of this Lodge, founded Revere Lodge of this city; now one of the most flourishing Lodges in the Commonwealth, It has had one hundred and twenty-five initiates, and its members number one hundred and twenty-four. Bro. Baker was its first Master and presided two years. To his exertions and position, it will not be invidious, we think, to ascribe a good deal of the influence which has given to this Lodge the high rank it occupies.
In Grand Lodge, Bro. Baker filled the office of J. G. Deacon in 1858 and 1859, and that of G. Marshal in 1860. This latter station he now fills. He, too, has held high and responsible positions in those societies which recognize what are popularly termed the " upper degrees."
MEMORIAL
FROM PROCEEDINGS, 1882
"William Wilson Baker was born in Boston, on the 4th day of May, 1822. He was the son. of Ruel Baker and Mary Newell. He received his English education at the public schools of his native city, but pursued the classical studies at Lexington Academy. From school he entered the wholesale drug business, and upon arriving at the age of twenty one was made a partner in the firm of Baker, Barnard, & Co., on Custom House Street, in Boston. After about five years he withdrew from the firm, and obtained the position of warehouse clerk. in connection with the Customs of this Port. In 1854 he accepted tlie position of book-keeper and general financial clerk in the Boston agency of the Bates Manufacturing Company of Lewiston, Maine. In this office he continued for twenty-five years, paying out many thousands of dollars in dividends, and serving with great acceptance, until the decease of Mr. Bates, in 1878, when, on account of failing health and impaired sight, he retired from active business life. With the exception of three years' service upon the Board of the School Committee of Boston, Brother Baker held no public office.
"On November 20, 1855, he was married to Miss Sarah B. Dennie, daughter of Alderman Dennie. by whom he has had two daughters, both of Avhom, with the. widow, survive him. His first Masonic light was received in Columbian Lodge, of Boston, in which he was made a Master Mason, Feb. 25, 1845, and admitted a member May 1 of the same year. He served in most of the offices of the Lodge, and was its Worshipful Master for the years 1850 and 1851; on retiring from the Chair he was elected an Honorary Member. He was a Charter Member of Revere Lodge, chartered March 11, 1851, and served as its Master while under Dispensation, and also for the first two years of its chartered existence; on retiring from the chair he was elected an Honorary Member. After serving the Lodge as Treasurer for the year 1859, he was elected Secretary, and continued to serve in that capacity until his death.
"The Capitular degrees were conferred in St. Andrew's Royal Arch Chapter, where he was exalted November 4, 1846. Here, as in his Lodge, he filled from time to time various offices, and finally served as High Priest for the years 1850-51. Honorary Membership was conferred upon him by this Chapter, November 3, 1858. The orders of Knighthood were received in Boston Commandery, April 21, 1847, and he affiliated as a member November 17, 1847. He was a Charter Member of St. Bernard Commandery, and its first Commander, in 1858, while it was under Dispensation; and was also elected Commander for the two years succeeding October .28, 1859, the date of its charter. He served for some years as Treasurer of the Commandery, and was made an. Honorary Member. He was elected R. Em. Grand Commander of the Grand Commandery of Massachusetts and Rhode Island for the years 1867-68. The degrees of the A. and A. Rite, to the 32° inclusive, were taken by him in the Boston Bodies of the different grades. He was Thrice Potent Grand Master of Boston Lodge of Perfection for the term of two years, and was made an Honorary Member of the Body. He was elected Sov. Grand Ins. General of the 33° and Honorary Member of the Supreme Council, by Letters-Patent, dated May 19, 1865.
Bro. Baker was an estimable citizen in all the walks of life, and a steadfast friend. As a Masonic officer he was energetic and efficient, but always modest and unassuming; more anxious to promote the success and prosperity of the Body he was serving, than solicitous about his fuII prominence and advancement. By all his Brethren, who remember his character and services, his memory will be cherished as that of a true and faithful Brother among us.
Respectfully submitted,
EDWIN WRIGHT,
CHARLES C. DAME,
RICHARD BRIGGS,
Committee.
FROM LIBERAL FREEMASON, 1882
From Liberal Freemason, Vol. VI, No. 9, December 1882, Page 271:
Death is said to be "the great leveler of all human greatness," for by it, all are reduced to the same state.
It may be said as safely, that it is an event which serves to bring the past into review; certainly so much of it as is comprised within the time bounded by the birth and death of the person deceased.
During the life of William Wilson Baker, Boston, the place ol his birth, grew from a town of 48,600, to a city with a population of about 365,000, celebrated for its advanced position in mechanical and mercantile pursuits, for its patronage of science and art, and for its foremost place in education and literature.
He was born on May 4th, 1822, a year in which the Grand Chapter of Massachusetts had thirteen subordinate Chapters on its roll, and in a decade which gave birth to that spirit of anti-Masonry in the seventh year of which the representation of Subordinates in Grand Chapter was reduced to two. William was the son of Ruel Baker, a zealous Mason, whose example of fidelity no doubt inspired the son to apply for Masonic preferment, which being granted, he was made a Mason in Columbian Lodge of Boston, on January 6th, 1845.
In 1846 he was Senior Deacon, a place which he held two years, and for the duties of which he was admirable fitted by nature and by education.
His person was tall, of good proportion, erect and commanding; his voice was clear, resonant and impressive; in form and feature, voice and gesture, he gave evidence of being the complete Master that he proved to be while occupying the East in 1850 and 1851.
He was one of the petitioners for the Dispensation to organize Revere Lodge; and this being granted on March 4th, 1856, he was its first Master, Treasurer in 1859, and Secretary from i860 until death, and an Honorary Member.
He was exalted to the Royal Arch degree in St. Andrew's Royal Arch Chapter, in Boston, June 3d, 1846, was elected High Priest in October 1850 and 1851, and to Honorary Membership, November 3d, 1858.
The orders of Knighthood were conferred upon him in Boston Commandery in the spring of 1847, but from this body he withdrew to aid in forming St. Bernard Commandery in 1859, of which he was the first Eminent Commander, and was afterward made an Honorary Member.
Early in his Masonic career he was admitted to Boston Lodge of Perfection in the A. and A. Rite, and presided over that body in 1849-50 and 51. On May 19th, 1865. he received the Thirty-third and last degree in that Rite, an honor he had earned by his zeal, fidelity and intelligence in diffusing masonic knowledge, and for which his labors were a full equivalent.
He was elected Grand Senior Warden of the Grand Lodge of Massachusetts in 1862, but had previously served as District Deputy Grand Master.
In 1859 he was Grand King of the Grand Chapter; and in 1867 and 1868 was elected R. E. Grand Commander of the Grand Commandery of Massachusetts and Rhode Island. It may be noted here that during this term of service, Brother Baker endured along period of sickness, from which he slowly recovered, but never to attain his previously good health.
The order of his mind as a Mason may be seen in an extract from his annual address in 1869, in alluding to the change in nomenclature in the jurisdiction —
"In conforming to the regulations of the Grand Encampment of the United States, the existence of the Grand Encampment of Massachusetts and Rhode Island ceases, and with it ends the twenty-third and last of your Grand Masters.

"Tomorrow we commence a new life as a Grand Commandery, and the next occupant of this chair will be your Grand Commander. Titles and names will be changed. The term Encampment, as applied to subordinates, will be unrecognized out of the jurisdiction, and remembered only by those within it, and that but for a short time. A new generation will hardly realize how wedded were their predecessors to old names, forms, and titles. The less conservative probably look upon the institution simply as an element of progress, and recognize only the necessity of keeping abreast of the foremost in the feverish race of life. Yet to many of us— to many of the older fraters of this Grand Encampment—there are many pleasing as well as many mournful recollections, which cluster around it and its older Subordinates.

"It was commenced in the day of small things; its early career, like that of the nine Knights who founded the order, was not marked by prosperity or success. Their numbers were few and their progress slow and uncertain. When they had, as it were, fought valiantly their way, and strength and success began to dawn upon them, the evil days came, and the years drew nigh, and darkness gathered over them, and over the whole masonic firmament in this section of the country. It was the anti-masonic crusade of 1828, an episode that finds its true level, its place in our history, with the days of the Salem witchcraft, and the persecution of the Quakers."
Brother Baker was eminently conservative, but in no case bigoted, in his conduct, of Masonic affairs: his mental grasp was comprehensive, and he was moved to counsel prudence in accepting material, which was being freely presented. His early associations in Freemasonry were with men who had been its guardians during the anti-masonic period — his father, Ruel Baker, died while occupying the chair of the Grand Master of Knights Templars of Massachusetts and Rhode Island, twenty-one years before him, and from him and his associates he had learned the wisdom of exercising prudence in the business of the craft.
Thorough as he was in Masonry, he was not less so in the affairs of business life. He had but mild regard for political life, and filled some minor offices in the city government — that most to his taste was on the School Committee for three years, commencing from 1854. From 1836 to 1848 he was a member of the Boston Light Infantry, and during part of that time served the company as clerk ; in this, as in all places where clerical work was required, he was methodical and efficient.
It was no secret to those who knew him that he was possessed of fine literary taste, and had he chosen he might have secured a recognition in such circles; occasionally, however, he contributed articles for newspaper circulation, generally with a strong vein of humor in them, characteristic of the man and pleasing to the reader,— but his best title to be gratefully remembered by us, is in his zeal, fidelity and attachment to Freemasonry, and the well proportioned work he did in it.
FROM COUNCIL OF DELIBERATION, 1883
From Proceedings of the Massachusetts Council of Deliberation AASR NMJ, 1883, Page 179:
This Illustrious and well-known Brother was born in Boston, May 4th, 1822.
He died in his native city, October 19th, 1882, having lived an active and useful life, both in our fraternity and in the business circles in which he moved.
Inheriting from his father, Ruel Baker, (a most zealous Mason,) a love and admiration for our Masonic Riles and principles, he applied for admission to the order in Columbian Lodge, where he was raised a Master Mason, January 6th, 1845, Being well fitted by nature for a leader among men, and Masons as well, he soon became prominent in his Lodge, and after filling several minor offices, was inducted into the chair as Worshipful Master, in 1850 and 1851. Subsequently he served the Grand Lodge as District Deputy Grand Master, and was elected Senior Grand Warden in 1862.
He was the first Master of Revere Lodge, a dispensation for the Charter having been granted himself and others, March 4th, 1856. He was its Treasurer in 1859, and Secretary from i860 till his death. He was also an Honorary Member of Columbian and Revere Lodges.
He was made a Royal Arch Mason in St. Andrew's Chapter, Boston, June 3d, 1846; was elected High Priest in October 1850 and 1851, and Honorary Member in 1858. He was elected Grand King of the Grand Chapter of Massachusetts, in 1859.
Boston Commandery K. T. conferred the Orders of Knighthood upon him April 21st, 1847, and he became a member the November following. In 1859 he dimitted from Boston to assist in forming St. Bernard Commandery, of which he was the first Eminent Commander, and subsequently made an Honorary Member. In 1867, and again in 1868, he was elected R. E. Grand Commander of the Grand Commandery of Massachusetts and Rhode Island. It was during these years that our Ill. Brother suffered from a long and severe illness, which undermined his health ever after.Soon after receiving his third degree. Brother Baker was admitted to Boston Lodge of Perfection, A. and A. Scottish Rite. He was its Presiding Officer during the years 1849, 1850, 1851, having received the intervening grades in due form. He was elected as Sow. Grand Inspector-General of the Thirty-third and last degree A. and A. Scottish Rite, May 19th, 1865, and thereby became an Honorary member of the Supreme Council for the Northern Masonic Jurisdiction, U. S. A.
In our Illustrious Brother's character were combined suavity of manners, dignity in office and a perseverance in accomplishing whatever he undertook. These qualities won him many friends, who will recall his many virtues while memory lasts.He leaves a widow and two daughters to mourn his death, and with them hosts of friends will join in sorrow at his transition from earthly scenes to the great unknown future.
Courteously submitted,
W. H. Chessman,
John L. Stevenson,
Edward Stearns.