MAGLHDillenback
From MasonicGenealogy
HIRAM I. DILLENBACK 1858-1923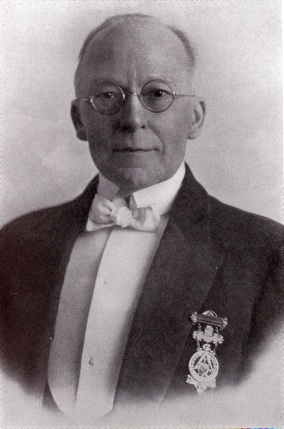 Deputy Grand Master, 1923 (died in office)
MEMORIAL
FROM PROCEEDINGS, 1923
From Proceedings, Page 1923-503:
Right Worshipful Hiram I. Dillenback was born in Boston, Mass., July 26, 1858, the son of Regina Uhlein and Hiram Peter Dillenback, M.D. He died at his home in Springfield, Mass., March 28, 1923.
Brother Dillenback was educated in Chauncy Hall School, Roxbury Latin, Boston Latin, and Harvard Coilege. After leaving school, he took up journalism, and was owner and editor of the Boston Sunday Times, and the Yankee Blade; later was editor of the Rutland, Vermont, Herald, Keene Cheshire Republican, Providence Telegram, Pawtucket Times, Providence Evening News, and Boston Post.
He then entered the theatrical field, and opened the first moving picture theatre in Providence, R. I. Later he became owner of theatres in several New England cities. At the time of his death, Brother Dillenback was connected with the Phelps Publishing Company, of Springfield., Mass.
Brother Dillenback was married June 2, 1885, to Mildred Aldena Kinchaid, who survives him. To them were born four children, Alden Irving Dillenback, Mrs. Harry R. Harwood, Emil Uhlein Dillenback, M.D., all of Springfield, and Mrs. Elliott Paddock, of Kansas City, Mo., all of whom are living.
Brother Dillerrback was Raised in Hampden Lodge January 30, 1912, and was Master oT that Lodge in 1920. He was exalted in Morning Star Royal Arch Chapter March 30, 1912. He received the Cryptic Degrees in Springfield Council, Royal and Seleet Masters, May 22, 1912, and was Knighted in Springfield Commandery May 27, 1912.
In the Scottish Rite he joined Evening Star Lodge of Perfection October 24, 1912, Massasoit Council, Princes of Jerusalem, November 21, 1912, Springfield Chapter of Rose Croix December 19, 1912, Massachusetts Consistory April 25, 1913. He was also a Charter member of Connecticut Valley Consistory.
Brother Dillenback served as District Deputy Grand Master for the Eighteenth Masonic District in 1921 and 1922, and was appointed and installed Deputy Grand Master of Masons in Massachusetts, December 27, 1922.
To know Brother Dillenback was to love him for his genial way and kindly regard for his fellow man, never speaking ill of anyone, and always carrying sunshine wherever he went. He was a devoted husband and father, a faithful friend.
His work here is finished, but his works still live. His example to follow is his best work. He has entered the Celestial Lodge Above where he heard the greeting "well done, good and faithful servant."
The funeral service was conducted by the Most Worshipful Grand Lodge of Massachusetts in Park Memorial Baptist Church, Springfield, Mass., March 31, 1923.
Dwight H. Keyes,
Howard G. Marshman,
Harry W. Tilley,
Committee.
FROM NEW ENGLAND CRAFTSMAN, 1923
From New England Craftsman, Vol. XVIII, No. 7, April 1923, Page 196:
Hiram Irving Dillenback, one of the highest Masonic dignitaries in the Massachusetts Grand Lodge, which he served as Deputy Grand Master, died in his home in Springfield, March 27th, in his 64th year. He was born in Boston, July 26, 1858, the son of Dr. and Mrs. Hiram Dillenback. He was graduated from Boston Latin School and spsnt two years in the class of 1822 at Harvard College. His first newspaper work was as a summer correspondent of the Boston Globe; later he was reporter on the East Boston Argus and the Boston Post. He was editor of the Boston Sunday Times and the Keene (N. H.) Republican; managing editor for the Rutland (Vt.) Herald and Providence Evening Telegram. He went to the Post as managing editor in October, 1892. Later he left the newspaper business and entered theatrical work in Providence and Springfield and in 1917 went to the Phelps Publishing Company in Springfield as promotion manager.
---