MAGLCHarris
From MasonicGenealogy
CHARLES HARRIS 1832-1909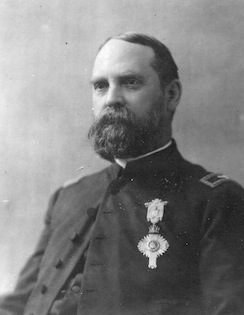 MEMORIAL
PROCEEDINGS, JUNE 1909
From Proceedings, Page 1909-60:
"Charles Harris was born in Cambridge, Mass., Oct; 2, 1832, son of Thaddeus William aud Catherine (Holbrook) Harris. His father was a physician, known as the "American Entomologist," and for twenty-five years Librarian at Harvard College.
"His grandfather, the Reverend Thaddeus Mason Harris, D.D., was eminent as an antiquarian and divine, and while Corresponding Grand Secretary of the Grand Lodge of Massachusetts often served as Grand Chaplain, as prior to 1796 clergymen were appointed from time to time, but not regularly by the M. W. Grand Master.
"On his mother's side he was grandson of Dr. Amos Holbrook of Milton, Mass., the first Vice-President of the Massachusetts Medical Society.
"Rt. Wor. Brother Harris was educated iu the public schools of Cambridge, and graduated from the Lawrence Scientific School at Harvard College, choosing the profession of civil engineering.
Fifty-two years ago he married Sarah Elizabeth, daughter of Phineas Brown Hovey, a well-known horticulturist of Cambridge. She, with a son, Reverend Thaddeus M. of Littleton, N.H., and a daughter, Mrs. Marion E. Pearce, of Waukegan, Ill., survives him.
"In January, 1906 was celebrated quietly and informally the golden wedding anniversary at which members of his Lodge attended and presented a loving cup to the happy couple.
"In 1864 he was elected superintendent of streets by the Boston City Council, and for a period of nineteen years served with honor and distinction in that capacity. Previously, for a period of twelve years, he was assistant engineer in the Engineering Department of Boston.
"While superintendent of streets he instituted many reforms and improvements in road building; the well-remembered round cobblestone pavement being replaced by the granite block and macadam. The stone for thee latter was brought from the Palisades on the Hudson, and broken up by hand by employees of the department; this was prior to the days of municipal stone-crushers.
"It was he who first caused snow to be removed from the business streets of Boston.
"Old Fort Hill was cut away ruling his administration, thereby adding greatly to the value of a large area of property.
"It was in Masonry that we knew and loved him, and he graced many positions of honor and trust during his fifty-five years' association in the Fraternity. In November, 1854, he was initiated in Amicable Lodge, Cambridge, crafted December 7, and raised Jan. 4, 1855. In 1863 he demitted, and was a Charter Member of Mount Olivet Lodge, Cambridge, becoming Worshipful Master in 1869. In 1870 he demitted, and took membership in Aberdour Lodge, Boston, and was elected Worshipful Master in 1880.
In the Grand Lodge of Massachusetts he held many offices: District Deputy Grand Master of the Second District in 1883, Grand Marshal in 1884, 1885 and 1886, and in 1887 he was elected Junior Grand Warden. At his decease he was a member of the Committee€ on Curiosities of the Craft.
"He was exalted in Cambridge R.A. Chapter April 15, 1865, and elected to the office of M.E. High Priest in 1868-69, and was District Deputy Grand High Priest of the Grand R.A. Chapter of Massachusetts in 1880-81. He also held the office of Vice-President of the Massachusetts Convention of High Priests. He was Thrice Illustrious Master of Roxbury Council of Royal and Select Masters in 1879-80. He received the orders of Knighthood in Joseph Warren Commandery of Knights Templars as follows: Red Cross Nov. 1, 1869, Knight Templar Nov. 15, 1869, and Knight of Malta Dec. 6, 1869, and was eminent Commander in 1876-77. He was a Charter Member of Cambridge Commandery of Knights Templars, and its Eminent Commander under dispensation, and at the Constitution of the Commandery Dec. 10, 1890, he was installed Eminent Commander, serving until June 3, 1891.
"His constant and punctual attendance at his Lodge and this Grand Lodge should teach many a younger and less zealous Brother what can be accomplished by devotion to duty. He often attended these meetings when physically unfit owing to infirmities of advancing years.
"A firm advocate of all that is good and true in life, as in Masonry, he abhorred sham and deceit, and was careful of taking a step until absolutely sure of his ground, and then vigorously asserted his rights.
"He was a member of the Society of Colonial Wars and of the Sons of the American Revolution.
"He died at his home in Cambridge, the 5th of May, 1909, after an illness of but three days, at the age of seventy-seven years, five months. Preceding the interment at Mount Auburn, services were held at the Church of the New Jerusalem, Quincy street, Cambridge, which society he was largely instrumental in forming, being Chairman of the Church Committee and on the Board of Management of the New Church Theological School.
"He was
"A quiet, modest man,
A neighbor and a friend.
He asked no man his creed,
But gave his hand in need,
Then went his way."
Fraternally submitted,
Henry M. Nourse,
James M. Gleason,
Henry G. Fay.
NEW ENGLAND CRAFTSMAN, JUNE 1909
From New England Craftsman, Vol. IV, No. 9, June 1909, Page 341:
Brother Charles Harris, one of the well known Masons of Massachusetts, died at his home. Cambridge, Mass., May 5th. Brother Harris will be remembered by many for his long time service as Superintendent of streets in Boston, serving nineteen years from his election Dec. 25, 1864. Previously he bad been connected with the engineering department, as assistant engineer, for twelve years.
Brother Harris was born in Cambridge on October 2. 1832. He was the son of Thaddeus William Harris. M. D., who is said to have been one of the most distinguished scientific men ever in the employ of Harvard University, he was known as the "American Entomologist." lie was twenty-five years librarian of the college. Brother Harris' father was a son of Thaddeus Mason Harris, D. D., the eminent antiquarian and divine, many of whose sermons, delivered at important Masonic functions, are still preserved.
Brother Charles Harris, like his distinguished grandfather, was deeply interested in Freemasonry and served its interests many ways. He was Past Master of Amicable Lodge, Cambridge, Past High Priest of Cambridge R. A. Chapter, Past Master of Roxbury Council Royal and Select Masters, and the first commander of Cambridge Commandery, K. T. He was a past commander of Joseph Warren Commandery, Roxbury, and vice-president of Massachusetts Convention of High Priests. He was a Past Grand Warden of the Massachusetts Grand Lodge, and also a permanent member of the Grand Royal Arch Chapter, Grand Council of Royal and Select Masters and Grand Commandery of Massachusetts and Rhode Island. Brother Harris was a genial companion, courteous and friendly in manner; all who knew him honored and loved him as a worthy Mason and an honest man.
---