Scouters
From MasonicGenealogy
SCOUTERS' LODGE
Location: Holden
Chartered By: Roger W. Pageau
Charter Date: 07/26/2011 2011-76
Precedence Date: 07/27/2010
Current Status: Active
This lodge's charter members are all Eagle Scouts or recipients of the Beard award.
---
PAST MASTERS
---
REFERENCES IN GRAND LODGE PROCEEDINGS
VISITS BY GRAND MASTER
BY-LAW CHANGES
---
EVENTS
INSTITUTION OF LODGE, JULY 2010
From TROWEL, WInter 2010, Page 24: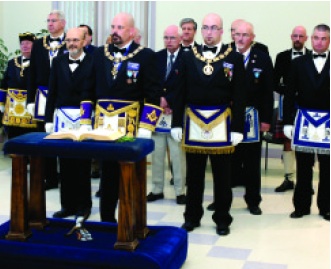 Petitioning brothers confirm their selection of Rt. Wor. Jay A. Jolicoeur as their first master.
Another new Masonic lodge has been formed in Massachusetts. The Scouters Lodge was instituted on July 27, 2010; the lodge will hold its meetings for the next year in Holden under dispensation from Grand Lodge. The institution ceremony, rarely seen in recent years, was performed by Rt. Wor. District Deputy Grand Master John K. Andrews.
Rt. Wor. Jay A. Jolicoeur (who is currently the deputy grand master) was designated by the Grand Master to serve as master of Scouters Lodge under dispensation.
The newly formed lodge will be open to members who
 are former Eagle Scouts in the Boy Scouts of America organization.
— Bro. John Doherty
GRAND LODGE OFFICERS
---
DISTRICTS
---
LINKS