RoseSharon
From MasonicGenealogy
ROSE OF SHARON LODGE
Location: Worcester; Charlton (1993)
Chartered By: Frank L. Simpson
Charter Date: 09/12/1928 1928-250
Restored as of 04/17/1993; Reported on 06/09/1993: 1993-52.
Precedence Date: 12/12/1927
Current Status: merged with Morning Star Lodge, 07/15/1974; restored and active at the Masonic Home.
---
PAST MASTERS
Rolland R. Greenwood, 1928
George D. Robertson, 1929
John Clayton, 1930
W. H. Smiley Kingsbury, 1931; Mem
Arthur E. Fairbanks, 1932; N
Harold H. MacGilpin, 1933
Arthur C. Glass, 1934
Donald G. Mix, 1935
Fred E. Churchill, 1936
John A. Jewell, 1937; N
Albert H. Woodward, 1938
Arthur D. Hatch, 1939
Amos P. Clarkson, 1940
Joseph B. Shaw, 1941
Herbert P. Sawtell, 1942
C. Warren Page, 1943
George E. Mosher, 1944
Will A. Gray, 1945; N
Myron F. Converse, 1946
J. William Shaw, 1947
John W. Fellows, 1948
Leslie B. Goff, 1949
Welcome G. Burbank, 1950
Edward A. Sawtell, 1951
Francis H. Jones, 1952
Frederick J. Underwood, 1953
Paul H. Marshall, 1955
Kenneth K. Williams, 1956
Ralph E. Quimby, 1957, 1958; N
Melvin T. Rafuse, 1959, 1972
Walter H. Gibbs, 1960
William D. Dugard, 1961
Laurie L. Palmer, 1962
James B. Denholm, 1963
Richard S. Mosher, 1964
William G. Lowe, 1965
James D. Graham, 1966, 1967
Bruce Edwin Neilson, 1968
G. Edwin Mosher, Jr., 1969, 1971
Tore S. Groening, 1970
Clifton B. Curtis, 1973
Alden R. Tilander, 1974
After Restoration of Charter
Edgar W. Darling, 1993-1996
John W. Hanson, 1997
Herbert F. Johnson, 1998, 1999
David P. Cerasoli, 2000, 2001
Theodore E. Cooledge, 2002, 2003
Mark S. Watson, 2004, 2005 PDDGM
Paul R. Hatch, 2006
James A. Gates, Jr., 2007
Richard J. Stewart, 2008 GM
Keith H. Krewson, 2009-2011
Christopher A. Ives, 2012
---
REFERENCES IN GRAND LODGE PROCEEDINGS
ANNIVERSARIES
VISITS BY GRAND MASTER
BY-LAW CHANGES
---
HISTORY
1943 (Notes on the lodge's founding in the 1943 history of Morning Star Lodge, 1943-139; see below)
NOTES ON FOUNDING, JANUARY 1943
From the Morning Star lodge history, Page 1943-39:
An event of special interest to Morning Star Lodge was the constitution of Rose of Sharon Lodge by Most Worshipful Frank L. Simpson on October 20, 1928. I am indebted to Right Worshipful W. H. Smiley Kingsbury and Right Worshipful Harold L. Fenner for the following excerpts from the records of Rose of Sharon Lodge:
During the Spring of 1927 a small group of Past Masters of Morning Star Lodge, influenced undoubtedly by certain ideas voiced by the administration of the Most Worshipful Grand Lodge of Masons in Massachusetts, and convinced of the soundness of these ideas, frequently discussed, informally, the possibility of the formation of a new Lodge.
Right Wor. Harold Luther Fenner, D.D.G.M. of the Brookfield 21st Masonic District, was particularly interested in this movement and bent his efforts toward the development of the plan. Associated with him from the first were Right Wor. Herbert P. Bagley, Past Deputy Grand Master of Masons in Massachusetts, Wor. E. Arthur Denny, Wor. W. H. Smiley Kingsbury, at the time Grand Standard Bearer of the Most Worshipful Grand Lodge, and Wor. Rolland R. Greenwood.
On December 6, 1927 a meeting of such Past Masters of Morning Star Lodge as were interested was held, and the choice of Brethren to be Charter Members was limited to members of Morning Star Lodge and Brethren residing in Worcester, but not members of any other Lodge in Worcester.
The name of the new Lodge, "Rose of Sharon," was suggested by Wor. Walter S. Young, a Past Master of Morning Star Lodge, as Biblically synonymous with the "Bright and Morning Star." The purpose of the new Lodge as resolved in discussion was that it would be in a marked degree the outgrowth of Morning Star Lodge, conceived under, and working for, those ideals for which Morning Star Lodge has ever steadfastly stood, where each man may know his brother well and where there may be the unbroken spirit of unity, fostered by the cement of brotherly love and affection.
Right Worshipful George D. Robertson was the first Master of Rose of Sharon Lodge and by far the greater number of Charter members were members of Morning Star Lodge.
NOTES ON RESTORATION, 2008
From TROWEL, Fall 2008, Page 22: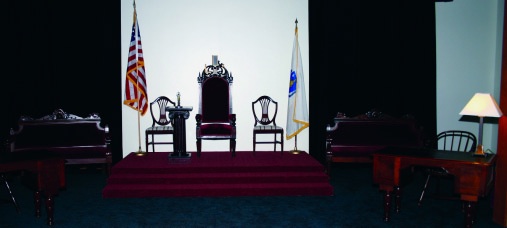 When the Overlook independent living community opened its doors in 2006, an abundance of vibrant, active seniors arrived eager to get involved and make their mark. By successfully revitalizing Rose of Sharon Lodge they have certainly made their presence felt.
"Since the Overlook is Masonically sponsored, it's vitally important that, as our seniors grow older, they have direct access to a lodge so they can continue to participate as they always have," said Bro. Win Bigelow, an independent living resident and a member of Rose of Sharon Lodge since 1952. "Having the lodge on campus affirms that Masons value the wisdom and history their senior brothers contribute."
Rose of Sharon has a long history in Central Massachusetts, opening in Worcester as a Saturday night lodge in 1927. To accommodate the lifestyle of brothers with growing families, who found it difficult to get away on a weekend evening, it transformed into a daylight lodge. Over the years, members recognized the need for a lodge at the Masonic Home in Charlton, as older Masons, with limited mobility, could not travel long distances to participate in the meetings and activities of their mother lodges. The decision was made to move Rose of Sharon Lodge to the Charlton campus and welcome all the retired Masons living in the Masonic Home as members.
By virtue of its location, Rose of Sharon membership became predominantly seniors living in the "rest home" and then residents in what is now the Overlook Masonic Health Center — a combination of the enhanced living and skilled nursing facilities.
When the independent living population arrived on campus, Bro. Bigelow immediately mobilized an effort to get brothers moving to the Overlook interested in participating in Rose of Sharon Lodge. In conjunction with Christine Chiasson, Overlook's program director, he set up a series of presentations to generate interest in the lodge. He targeted not only active Masons, but also "rusty brothers" who had not been involved for years, as well as men who knew little about the brotherhood and wanted to explore becoming Masons.
"Before the Overlook opened, attendance at Rose of Sharon Lodge meetings was very sparse," said Bro. Bigelow. "We were happy to get a dozen brothers attending. With the addition of the independent living residents, regular turnout more than doubled; we recently had a lodge meeting with approximately 55 people in attendance."
A once dwindling lodge has been revived and is now a wonderful mix of the very best qualities of old and new. Most lodge members (approximately 75%) are residents of the Overlook Life Care Community. Turnout has been so spectacular that the old location in the Overlook Hotel has been replaced by newly refurbished space in what was once the auditorium (above). This beautiful new location serves as the perfect spot for lodge meetings, ceremonies and other functions.
"I'll tell you what impacted me significantly—Ernie Goldberg becoming inspired enough to become a Mason even before moving to Overlook because of what he saw on campus," said Bro. Bigelow. "Since Ernie's membership, we have had three additional independent living residents become Master Masons and 15 more have affiliated."
In a touching act of brotherhood, the more active residents volunteer to transport brethren living in the skilled nursing center to regular lodge meetings. The revitalization of Rose of Sharon Lodge is evidence of what is possible when new life and energy is combined with the best of what is tried and true. As Overlook resident and recently raised Brother Goldberg said, "The Overlook campus and Rose of Sharon Lodge are living examples of what brotherhood can be."
---
GRAND LODGE OFFICERS
OTHER BROTHERS
DISTRICTS
1927: District 21 (Brookfield)
1993: District 21 (Brookfield)
---
LINKS