RIGMPresbrey
From MasonicGenealogy
WALTER ACKMAN PRESBREY 1867-1944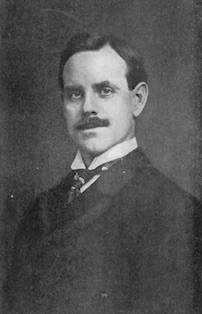 Grand Master 1906-1907
BIOGRAPHY
From New England Craftsman, Vol. II, No. 1, October 1906, Page 2:
Walter Ackman Presbrey, who was elected Grand Master at the Annual Communication of the Grand "Lodge on May 21st, was born in Providence, July 19th, 1867, and is the son of Allen A. and Ellen A. Presbrey.
After graduating from Point Street Grammar School in 1882 he entered the High School, but remained there but one month, leaving school to enter the office of John Howe, civil engineer and surveyor, with whom he remained for six months, when he secured a position at the City Hall in the office of the City Engineer, Samuel M. Gray, where He remained until 1886. While in the Engineer's office he prepared for college, and in the fall of 1886 he became a student at Brown University, graduating in 1S90 with the degree of Bachelor of Philosophy. During his college course he employed his vacations and odd hours in the City Engineer's office, and after his graduation he was appointed an assistant engineer by City Engineer J. Herbert Sliedd, and in this capacity he continued until 1895, when he accepted a position as surveyor in the office of the Board of Tax Assessors, but after a few months he left the employ of the city and in June 1895, upon the retirement of his father's former partner, Mr. Myrick, he became a member of the firm, the name in consequence-being changed to A A. Presbrey & Son.
In 1901 Brother Presbrey was elected to the City Council from the Seventh Ward and served in the lower body until March 1904, when he was elected Alderman, which position he continues to occupy.
Brother Presbrey was made a Mason in Saint John's Lodge, No. 1, Providence, in the fall of 1890 and in the following December he was appointed Junior Deacon and in 1894 was elected Master. While serving as Master a pleasure was accorded to him most unusual, that of making his father a Mason.
In the Grand Lodge he received his first appointment — District Deputy — in 1899, since which time he has advanced step by step to his present position. Brother Presbrey in 1892 married Miss Adah H. Moore, daughter of John A. and Charlotte Moore of Providence. Three children — Helen Moore, Louise Augusta and Walter A.. Jr., —have blessed this union.
---