MAGLWBaker
From MasonicGenealogy
WILLIAM W. BAKER 1822-1882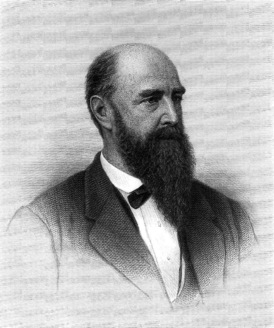 Senior Grand Warden, 1863.
MEMORIAL
"William Wilson Baker was born in Boston, on the 4th day of May, 1822. He was the son. of Ruel Baker and Mary Newell. He received his English education at the public schools of his native city, but pursued the classical studies at Lexington Academy. From school he entered the wholesale drug business, and upon arriving at the age of twenty one was made a partner in the firm of Baker, Barnard, & Co., on Custom House Street, in Boston. After about five years he withdrew from the firm, and obtained the position of warehouse clerk. in connection with the Customs of this Port. In 1854 he accepted tlie position of book-keeper and general financial clerk in the Boston agency of the Bates Manufacturing Company of Lewiston, Maine.. In this office he continued for twenty-five years, paying out many thousands of dollars in dividends, and serving with great acceptance, until the decease of Mr. Bates, in 1878, when, on account of failing health and impaired sight, heretired from active business life. With the exception of three years' service upon the Board of the School Committee of Boston, Brother Baker held no public office.
"On November 20, 1855, he was married to Miss Sarah B. Dennie, daughter of Alderman Dennie. by whom he has had two daughters, both of Avhom, with the. widow, survive him. His first Masonic light was received in Columbian Lodge, of Boston, in Avhich he was made a Master Mason, Feb. 25, 1845, and admitted a member May 1 of the same year. He served in most of the offices of the Lodge, and was its Worshipful Master for the years 1850 and 1851; on retiring from the Chair he was elected an Honorary Member. He was a Charter Member of Revere Lodge, chartered March 11, 1851, and served as its Master while under Dispensation, and also for the first two years of its chartered existence; on retiring from the chair he was elected an Honoraiy Member. After serving the Lodge as Treasurer for the year 1859, he was elected Secretary, and continued to serve in that capacity until his death.
"The Capitular degrees were conferred in St. Andrew's Ro3ral Arch Chapter, where he was exalted November 4, 1846. Here, as in his Lodge, he filled from time to time various offices, and finally served as High Priest for the years 1850-51. Honorary Membership was conferred upon him by this Chapter, November 3, 1858. The orders of Knighthood were received in Boston Commandery, April 21, 1847, and he affiliated as a member November 17, 1847. He was a Charter Member of St. Bernard Commandery, and its first Commander, in 1858, while it was under Dispensation; and was also elected Commander for the two years succeeding October .28, 1859, the date of its charter. He served for some years as Treasurer of the Commandery, and was made an. Honorary Member. He was elected R. Em. Grand Commander of the Grand Commandery of Massachusetts and Rhode Island for the years 1867-68. The degrees of the A. and A. Rite, to the 32° inclusive, were taken by him in the Boston Bodies of the different grades. He was Thrice Potent Grand Master of Boston Lodge of Perfection for the term of two years, and was made an Honorary Member of the Body. He was elected Sov. Grand Ins. General of the 33° and Honorary Member of the Supreme Council, by Letters-Patent, dated May 19, 1865.
Bro. Baker was an estimable citizen in all the walks of life, and a steadfast friend. As a Masonic officer he was energetic and efficient, but always modest and unassuming; more anxious to promote the success and prosperity of the Body he was serving, than solicitous about his fuII prominence and advancement. By all his Brethren, who remember his character and services, his memory will be cherished as that of a true and faithful Brother among us.
Respectfully submitted,
EDWIN WRIGHT,
CHARLES C. DAME,
RICHARD BRIGGS,
Committee.
---