MAGLSKay
From MasonicGenealogy
STANLEY I. KAY 1926-2013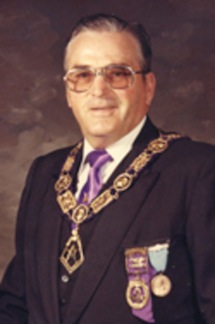 SPEECHES
FEAST OF ST. JOHN, DECEMBER 1980
From Proceedings, Page 1980-234:
Most Worshipful Grand Master, Distinguished Guests, and my Brethren:
I am very humble as I stand before you tonight. As yet I know not the full extent of my duties. But I tell you, I'm learning fast.
Most Worshipful Sir, I am keenly aware and deeply grateful for the honors you have accorded me on this day. I give you and the Brethren my assurance that I will try to fulfill my duties in such a way that I might merit the confidence and trust that has been reposed in me.
As we start the new year you who are Masters of Lodges and Past Masters are going to hear that age old question, "What is wrong with Masonry?" We see far too many empty seats on the sidelines. We get luke warm responses when we ask for volunteers and when certain functions are being held. It seems the only time we get them out is when we have Past Masters' Nights and free meals.
We have to begin to wonder whether our teachings of the bygone days refer to our day and age. But I am sure you must all share my convictions that the virtues today are as valid as they have always been, perhaps more applicable to today's period of time than at any time before.
In the days ahead there are plenty of Masonic activities to be accomplished. Someone has to do it. Someone has to be you and I, Brethren. Masonic work doesn't do itself. Keeping that in mind, when Masonry is well fed, well served by you and me, it begins to grow. If we ill serve it, it begins to thin out; we get stagnant, we get lazy;
I would remind you that if you do no other piece of Masonic work during the year than to interest one man now not interested, one Mason in name only, in becoming a real member of your Lodge, you have indeed squared a good stone in the quarry to earn your Master's wages.
During the year I ask you as individual Masons to practice the domestic and public virtues, that temperance chasten, fortitude support, prudence direct you, and justice be a guide of all your actions and be especially careful to maintain in their fullest splendor those truly Masonic ornaments, Brotherly Love, Relief and Truth.
I am sure that with your dedication to the Craft of Masonry in this area, Masonry in Massachusetts will continue to grow and prosper and those empty chairs in those Lodge rooms will soon be filled.
I now speak, Most Worshipful Sir, for all your appointed Officers and express our sincere thanks to you for the opportunity to further serve Masonry, our Grand Lodge, and you personally in the ensuing year. We are most happy to be a part of your first team and hope that our efforts will prove sufficient to the need.
To the Brethren I wish you a Happy New Year of achievement and service, service to God, our country, our family and last, but not least, to this great Fraternity of ours. Thank you.
MEMORIAL
From Lawrence Eagle-Tribune, January 15, 2013:
Stanley I. Kay, 86, former resident of Lawrence and Delray Beach, Fla., passed away at his current home in Wolfeboro, N.H. on January 11 surrounded by his loved ones. Born in Lawrence on September 24, 1926, he was the son of George W. and Rebecca (Jolley) Kay and was a graduate of Lawrence High School, class of 1944. He served in the Navy during World War II and was stationed in Pensacola, Fla.
A devoted and long-time employee of H.K. Webster Co. in Lawrence, he began as a truck driver in 1949 and ended his career as Operations Manager in 1989. Upon retiring he moved to No. Miami Beach and then Delray Beach, Fla. where he enjoyed golfing and a rich social life.
During his years in Lawrence, Mr. Kay was active in community and church organizations serving as president of the Lions Club and Senior Warden of Grace Church.
His affiliation with the Masons was an important part of his life for over fifty years and he attained the status of the 33rd Degree in 1978. He was both Master and Secretary of the Phoenician Lodge and a member of Scottish Rite, Lodge of Perfection, Aleppo Temple, and Rose Croix. He was also an advisor to DeMolay and President of the Lawrence Masonic Association. His proudest achievement came in 1981 when he was installed as Deputy Grand Master of the Grand Lodge of Massachusetts. While living in Florida, he continued his active involvement serving as President of High-Twelve in Lantana and Representative to the State of Florida from Grand Lodge in Massachusetts.
He is survived by his loving wife of 66 years, Marilyn (Wright) Kay with whom he traveled extensively to conventions throughout the United States in conjunction with his Masonic work and throughout Europe and the Caribbean with other H. K. Webster Co. employees.
Mr. Kay will be greatly missed by his wife, his daughter, Linda Pacheco and son-in-law, George Pacheco of Wolfeboro, N.H.; grandson, Joshua Pacheco and his wife, Erin of Albany N.Y.; and granddaughter, Jennifer (Pacheco) Rooney and her husband, Matthew of New Rochelle, N.Y. Mr. Kay's family also includes five cherished great-grandchildren, Everett, Cora and Elise Pacheco and Jack and Declan Rooney. He is also survived by his sister, Caroline Bateman of Topsfield, and several nieces and nephews.
---