MAGLRJohnston
From MasonicGenealogy
ROBERT JOHNSTON 1922-2017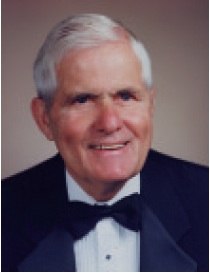 Junior Grand Warden, 1983
BIOGRAPHY
MEMORIAL
MASSFREEMASONRY.ORG, 2017
From the Grand Lodge web site, January 2017:
R.W. Robert "Bob" Johnston, our past Junior Grand Warden, passed to the Celestial Lodge Above in the early hours of January 5, 2017. He was 94.
Brother Johnston was born and raised in Somerville, MA and graduated from Somerville High School. He was 20 years old and working at the First National Bank in Boston when he answered his nation's call to serve in World War II just after the attack on Pearl Harbor.
He joined the Marine Corps and was assigned to the 4th Marine Division. In 13 months they participated in four major amphibious assaults in the battles of Kwajalein, Saipan, Tinian, and Iwo Jima. Of the 19,000 Marines in the Division, more than 17,000 suffered casualties and 8,000 died.
Commissioned a Second Lieutenant on Iwo Jima, Bro. Johnston received two Purple Hearts for injuries sustained at Saipan and Iwo Jima. He was also awarded a Bronze Star for getting men off Iwo Jima onto a ship.
After four years of service, Bro. Johnston was discharged from the Marine Corp. He attended Boston University and received a degree in Electrical Engineering from Wentworth Institute.
Brother Johnston joined Somerville Lodge in 1957. He served as Worshipful Master in 1969, and was subsequently appointed District Deputy Grand Master of the Arlington 6th District in 1971 through 1972.
He was elected to serve as Junior Grand Warden, the third highest elected position in Grand Lodge, in 1983. In the same year he was awarded the highest honor the Grand Lodge can bestow — the Henry Price Medal. He continued to serve Grand Lodge throughout most of the remainder of his life: as a Grand Lecturer between and 1984 and 2002 and again from 2004 through 2011; he was named Grand Lecturer Emeritus in 2011; he was also as a Grand Representative to Connecticut, from 1985 through 2013.
An active member of many Masonic organizations, Brother Johnston was particularly noted for his Scottish Rite Valley of Boston membership. He served as Treasurer between 1989 and 2002 and held the title of Treasurer Emeritus. He was received his 33° in 1990 in Milwaukee, WI. He was also a member of the Aleppo Shriners Drum Corp.
He was well known for his passion for golf.
Bro. Johnston's beloved wife of 66 years, Claire Tryder Johnston, passed away in 2012. He is survived by his son, Robert T. Johnston.
MASSMASONS.ORG, MARCH 2017
From Massmasons.org, March 2017:
No Masonic symbol so represents the tenets of our profession like the cable-tow. There is nothing more that a Brother, a Lodge, or our Fraternity can expect than for a Mason to go to the length of his ability to help. Few, if any, exemplified the cable-tow better than our late brother, R. W. Robert Johnston.
R. W. Bro. Johnston was a true American hero. He served with the Fourth Marine Division during World War II and saw action in Kwajalein, Saipan, Tinian and Iwo Jima. He received a battlefield commission on Iwo Jima, the Bronze Star, two Purple Hearts, as well as many other service awards.
A Freemason for nearly sixty years, R. W. Bro. Johnston was a Past Master of Somerville Lodge, a Past District Deputy Grand Master, a Past Junior Grand Warden and a Past Grand Lecturer. He was the recipient of the Distinguished Service Medal and Henry Price Medal, and received similar awards in the York Rite, Scottish Rite and Shrine. Just as he served in World War II, R. W. Bro. Johnston was where the action was in Freemasonry.
To know R. W. Bro. Johnston, though, was so much more. He was the Brother who would greet you and make you feel welcome when you were new or visiting his Lodge. He was the Brother who would quietly do the jobs that no one liked or noticed. He was the Brother that every person loved to be with. We say that it is a credit to have live respected and die regretter. When R. W. Bro. passed to the Celestial Lodge on January 5, 2017, he epitomized that sentiment.
R. W. Philip A. Drouin, Past Junior Grand Warden
---