MAGLPAnderson
From MasonicGenealogy
PAUL WILLIAM ANDERSON 1920-2004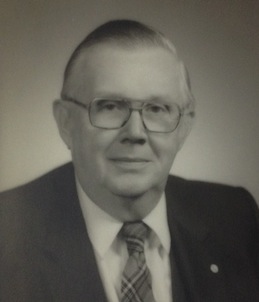 BIOGRAPHY
From TROWEL, Spring 1985, Page 7:
Born and raised on a street that is now part of Logan International Airport, Bro. Anderson is a resident of Randolph where he makes his home with his wife, the former Mary Patricia Campbell. They were married in 1942 and are the parents of daughters Mary P., Karen, and Priscilla. Much of their pride and joy are found in their nine grandchildren.
A graduate of the Boston public schools, Colby College in Waterville, ME, and continuing education at Northeastern U., Paul has been employed in the construction industry, working his way up from foreman to superintendent. He is retired from the General Electric Co.
Raised in Mt. Tabor Lodge, Boston, in 1943, he was its Master in 1969 and 1972. He still holds the busy job of Lodge Secretary to which he was first elected in 1975. He was the D. D. G. M. of the Boston Third, 1982-83; he holds membership in Revere Lodge; he is an honorary member and Chaplain of Seaview and Ocean Lodges, and a Past Master and Chaplain of the First Lodge of Instruction.
A 32nd-Degree Mason in the Valley of Boston, his York Rite affiliations are with Dorchester-Saint Matthew's and Saint Andrew's Royal Arch Chapters; Boston Council, Royal and Select Masters, and he is a member and Prelate of St. Omer-Joseph Warren Commandery #21, Knights Templar. He is a member of Aleppo Temple, A. A. O. N. M. S.
Bro. Anderson is Past President and Secretary of the Port of Boston Marine Square Club, a member and Chaplain of the First Worshipful Master's Association, a Past President of the Engineer's Blue Room Club, and a former lay-reader and church school teacher of the Episcopal Church.
MEMORIAL
From Proceedings, Page 2004-59:
Paul William Anderson was a devoted family man, a dedicated Mason, a devout Christian and a hands-on Craftsman. He was born May 17, 1920, in Boston, Massachusetts, and was educated in the Boston Public Schools, Colby College and Northeastern School of Continuing Education.
He is survived by his wife, three daughters, two brothers, two grandsons, seven granddaughters and thirteen great-grandchildren, all of whom he loved dearly and was loved dearly in return.
Paul was initiated in Mount Tabor Lodge on March 18, 1943, passed on April 15, 1943 and was raised on May 20, 1943. His Masonic history included the following:
Worshipful Master Mount Tabor Lodge, 1969, 1972
Secretary, 1975-2003
Secretary of Temple Lodge
District Deputy Grand Master of the Boston 3rd, 1981-1983
Grand Representative, Gabon, Africa having exchanged Christmas cards with the President of Gabon, who also was the Grand Master
Senior Grand Warden 1985
He was a life member of Mount Tabor Lodge.
He was presented the Henry Price Medal in 1985 and the Grand Lodge Veterans Medal for 50 years as a Mason in 1993.
His membership in affiliated organizations included the York Rite as well as the Shrine.
He was honored with a dinner at Lombardo's in Randolph on his 60th anniversary as a Mason. His wife and family also attended.
Paul was an active Episcopalian of the Church of Our Savior in Milton, and a true Anglican. He was a working Craftsman in that he was a pipefitter, a life member of the Pipefitters Union, having worked at several major companies.
He will be greatly missed as a gentle and caring man by all who had the good fortune to know him.
Fraternally,
Robert E. Godbout, Jr.
David F. Howard
Shant L. Chebookjian
---